Yellowstone visitors are getting so comfortable with approaching wildlife that park officials are asking them to stop
One elk calf and another bison calf were both killed due to human interaction.
As the weather warms and visitors flock to the oldest national park in the U.S., the number of disturbing human-wildlife encounters has prompted Yellowstone officials to beg guests to maintain their distance.
Several events in recent weeks at Yellowstone National Park have led to the endangerment of both humans and wildlife, as well as the death of wildlife, the National Park Service announced on Thursday.
The message to tourists who spot wild animals in a campsite, trail, boardwalk, parking lot, road or in a developed area: "Leave it alone and give it space."
The most recent encounter circulated on social media the day the NPS made its plea. A woman at Yellowstone was filmed on May 20 standing dangerously close to a fully grown bison to take a selfie.
The bison seemed unperturbed as the woman posed for the camera next to it, remaining still on the ground, only moving to graze on nearby grass.
Visitors are required to stay at least 25 yards away from all wildlife, including bison, elk and deer, and at least 100 yards away from bears and wolves.
Bison are especially unpredictable and have injured more people in the park than any other animal, park officials said.
Disregarding these regulations can result in fines, injury and even death, park officials said.
A visitor from Hawaii was ordered on May 31 to pay a $500 fine and make a $500 payment to the Yellowstone Forever Wildlife Protection Fund for the charge of intentionally disturbing wildlife after he pleaded guilty to picking up a bison calf on May 20, causing the animal's herd to reject it, according to the U.S. Attorney's Office in Wyoming. The calf was then euthanized so it would no longer be a hazard to itself and humans.
The man approached the struggling newborn bison calf after it got separated from its mother when the herd was crossing the Lamar River, prosecutors said. The man pushed the calf up from the river and onto a roadway.
The calf was euthanized after park rangers repeatedly tried to reunite it with its herd so it would no longer be a hazard to itself and humans, The Associated Press reported.
The park is also investigating a range of other recent bison incidents, officials said.
Another calf -- this time elk -- was picked up on U.S. Highway 191 and placed in a car by tourists who drove it to the police department in West Yellowstone, Montana, according to the NPS. The elk later ran off into the forest and its condition is unknown.
The dangerous encounters with wildlife have become so commonplace that an Instagram profile with the handle "@touronsofyellowstone" -- with "touron" being a combination of the words "tourist" and "moron" -- has garnered more than 271,000 followers.
Recent posts include a man getting out of a car to chase a bear and a woman narrowly escaping a male elk trying to charge at her. There are also more posts of people standing perilously close to bison to take photos, including a video of a teenage boy posing in front of a bison while an adult snaps the photo and another of an adult standing inches away from an approaching bison while holding a traditional camera.
While part of the magic of Yellowstone is seeing America's most iconic animals living in the wild, "devastating consequences" can occur when visitors get too close and fail to respect the boundaries of wild animals, Wendy Keefover, senior strategist of wildlife protection at the Humane Society of the United States, told ABC News.
"The chance at a photo is not worth risking your life, the lives of other visitors or that of an animal," Keefover said. "If you ever see someone putting themselves or wildlife in danger, speak out and call 911 to alert law enforcement immediately."
Animals are also being struck and killed on Yellowstone roadways.
On the afternoon of May 28, a male black bear was struck and killed on U.S. Highway 191 in the northwestern section of the park, near milepost 14, officials said. Later that evening, another male black bear was struck and killed on U.S. Highway 191 at milepost 29.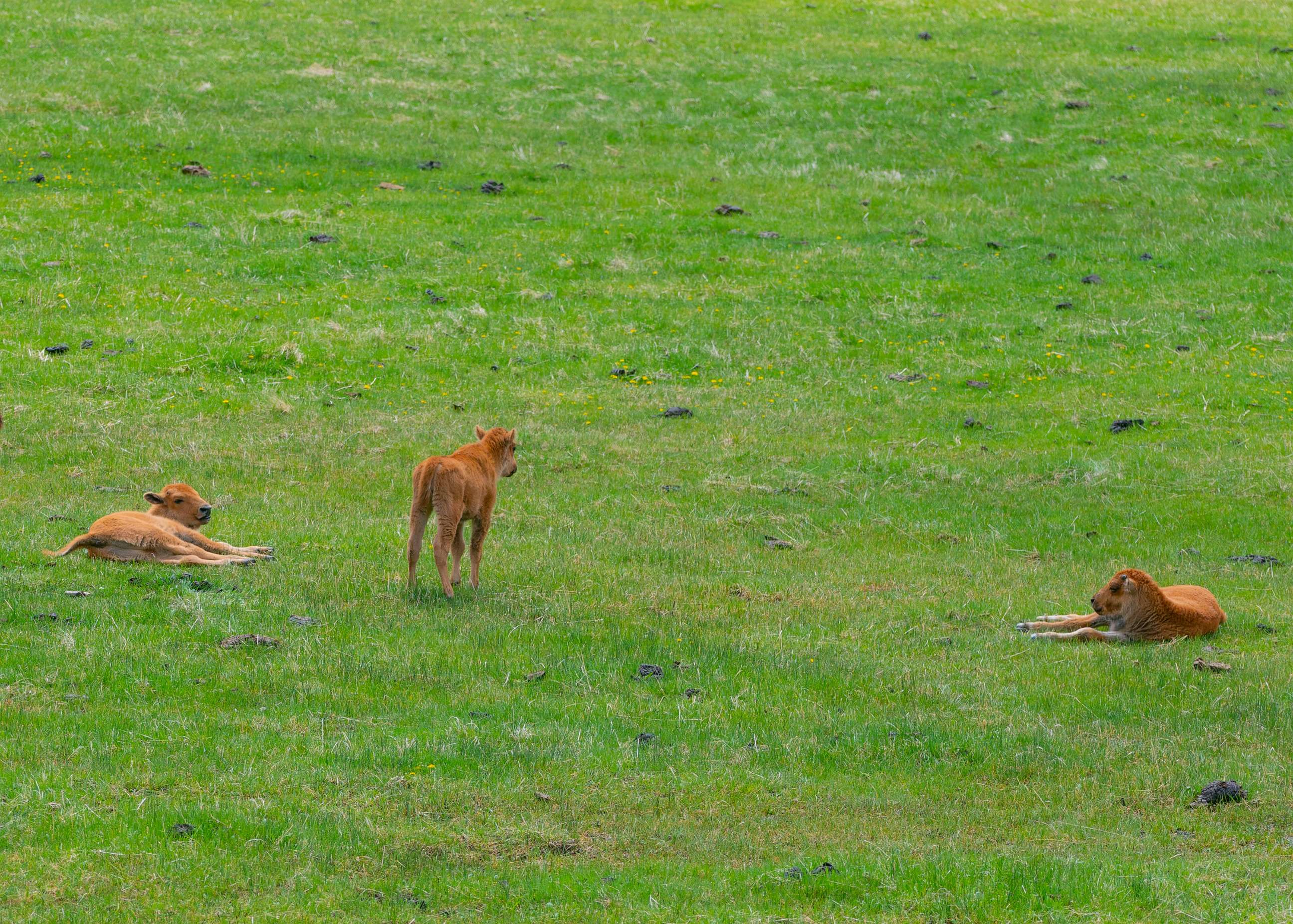 One elk and one bison were also struck by separate vehicles in recent days, according to the NPS, which reminded visitors to travel at 55 mph or less on U.S. 191.
In addition, calving season began on May 19, and cow elk are much more aggressive toward people and are more likely to charge at or kick visitors, according to the NPS.
Attacks can be unprovoked and unpredictable, the NPS said, advising guests to find shelter in their vehicle or behind a tall, sturdy barrier if they see an elk running toward them.
Last year, attacks by bison included a 71-year-old woman who was walking back to her vehicle with her daughter and inadvertently encountered a bison, a 34-year-old man who was walking with his family near Giant Geyser at Old Faithful, and a 25-year-old woman who was gored after approaching the animal near a boardwalk at Black Sand Basin.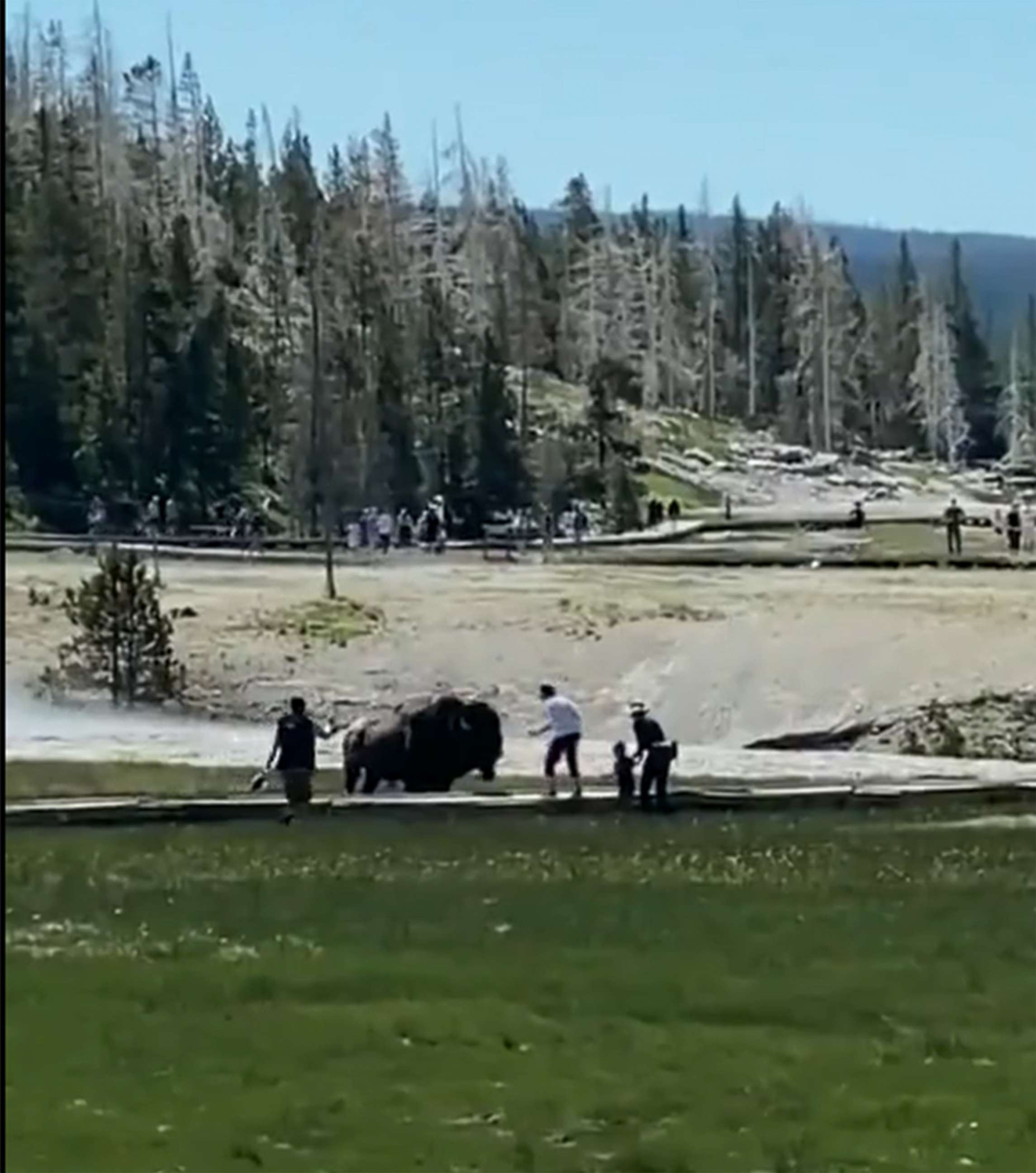 In 2019, a bison was seen charging at a 9-year-old girl before tossing her in the air. Another bison calf was euthanized in 2016 after a visitor placed it in his car and it was rejected by its herd.
The NPS's urges to the public to protect wildlife and respect safety regulations are so dire that it is encouraging guests to take the "Yellowstone Pledge," a personal promise made to oneself and the park.
"The park calls on visitors to protect wildlife by understanding how their actions can negatively impact wildlife," the NPS said in a statement.