— -- When Shammah Hammideh gets married next weekend near Chicago, by her side will be both the ordinary -- her groom, her family, her bridal party -- and the extraordinary, the police officer who saved her life 21 years ago.
Hammideh, 20, and a recent nursing school graduate, was just two months old in December 1993 when she stopped breathing.
The first emergency worker to respond to her family's Yonkers, New York, home was Joe Barca, at the time a sergeant in the Yonkers Police Department.
Barca performed CPR on Hamideh as the pair traveled to a local hospital. By the time they reached the emergency room, according to Barca, she was breathing on her own.
"Her father said years ago that he gave her life the first time and I gave her life the second time," now-Capt. Barca told ABC News today. "That's the way they've been treating me ever since."
Just a few months after the rescue, the Hammideh family invited Barca and his family -- his wife, Helen, and their three sons -- to dinner at their home, Barca said. They kept in touch even when the Hammidehs moved nearly 400 miles away to Buffalo in 2003.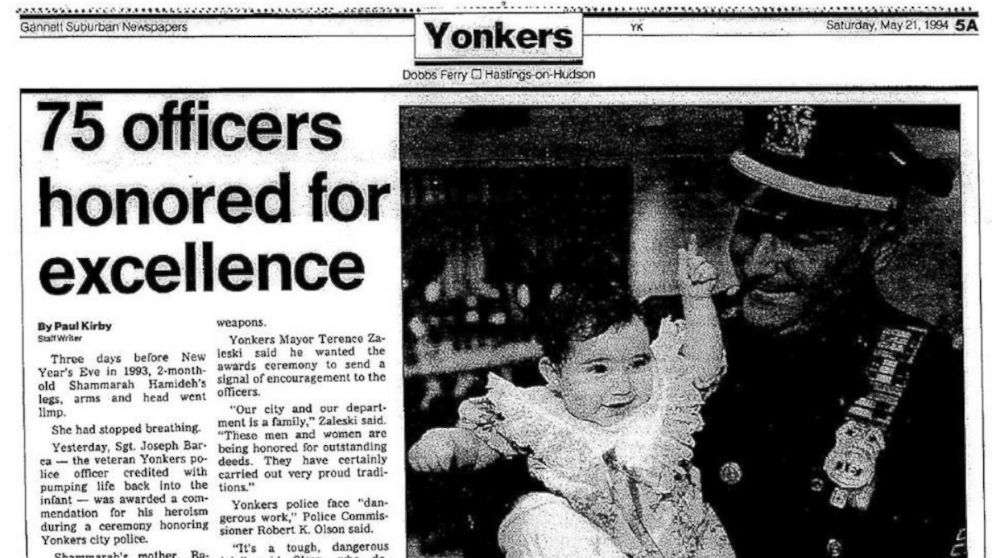 "When we moved to Buffalo, we started talking through emails and cards, and every year they remember my birthday and at Christmas they send a card and check," Hammideh told ABC News. "They always look out for me and ask how I'm doing."
Last year, Barca received a phone call from Hammideh with the happy news that she was engaged to be married.
"I consider him a second father," said Hammideh, who invited Barca and his wife to attend both an engagement party and her actual wedding this Sunday.
Barca said he arranged his vacation schedule so he could travel to Chicago and watch the woman he gave a second life to start her own new life with her soon-to-be-husband, 24-year-old Mohammeed Salah.
"I'm looking forward more so than just being an invited guest," Barca said. "Even though we haven't seen each other much, we feel that attachment."
Barca will mark 45 years of service with the Yonkers police force in September. The year after the rescue, in 1994, he was awarded a commendation for his heroism in saving Hammideh's life.
"Anytime you have an impact like this on a family, saving a family member, especially an infant, that's always going to leave an impact," Barca said. "But the gratitude of this family, it's always there."
Now that Hammideh is pursuing a career of her own, in nursing, she says she is following in the footsteps of the man she calls her "hero."
"I hope that I can help other people like the way that he helped me," she said.