The Afghan government is conducting secret meetings with Taliban leaders who are so significant that if the U.S. was not helping them enter Afghanistan, they would likely be killed by U.S. Special Forces.
"Any insurgent seeking to enter into talks could be subject to that kind of targeting," Mark Sedwill, NATO's senior civilian representative in Afghanistan, told ABC News in an interview.
The journey usually begins in Quetta, the headquarters of the Afghan Taliban leadership and a city located in the Baluchistan province of northwest Pakistan.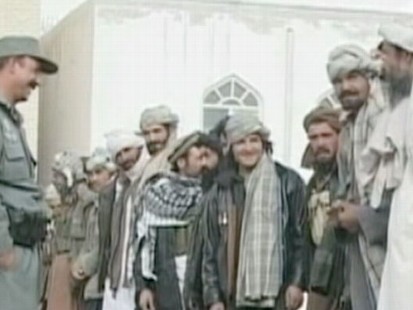 The Afghan Taliban leaders drive in several vehicles northwest over the border into Kandahar in southeast Afghanistan.
Then, they either are sneaked onto NATO aircraft and flown to the Afghan capital of Kabul or driven there. The U.S. military tracks the vehicles in the air and on the ground, clearing roads to ensure their occupants are not harmed by coalition forces.
Officials hope that the high-level talks will lead to low-level Taliban fighters turning in their weapons with a promise to stop fighting, and a pledge of allegiance to the Afghan constitution, but stress that the talks with the Taliban are only in the very initial stages.
"At this stage, it's really channels of communication ... open between some significant leaders of the Taliban and the government of Afghanistan," Sedwill said.
"I don't think it's gone beyond that," he said. "I don't think we're at the stage of real negotiations. I know that [Afghan] President [Hamid] Karzai hopes we'll reach that point, but at this stage it's really ... early steps."
And the foreign forces are eager to show they are in the back seat of the effort.
"The Afghan government is, in the end, leading this effort and will continue to do so," Sedwill said.
"President Karzai has put a peace process out there," he added. "He's organized the peace jirga. There is now the peace council. He's made sure that there is now a respectable and honorable route back into the mainstream for these people if they're willing to take it."
With the war losing support among the American public, officials are under pressure to show progress by President Obama's December review, and certainly by the spring.
President Obama Meets With National Security Team on Afghanistan and Pakistan
Meanwhile, Obama met with his national security team today for his monthly meeting on Afghanistan and Pakistan.
A White House statement issued after the meeting did not mention the talks, except for President Karzai's establishment of a high peace council to support Afghan-led reintegration and reconciliation.
ABC News' Kristina Wong and Richard Coolidge contributed to this report from Washington, and Alexander Marquandt contributed to this report from Kabul.