For more than a decade, New Yorker Lori Berenson has lingered in stark prisons in Peru -- 3,629 miles from her family.
At the age of 27, she was sentenced by a hooded military tribunal to 20 years in prison for consorting with left-wing rebels.
Despite desperate appeals by her parents, vows that they would not abandon her until she is brought home, and intervention by the U.S. State Department and two American presidents, Berenson has been in prison so long she has created an entire life for herself.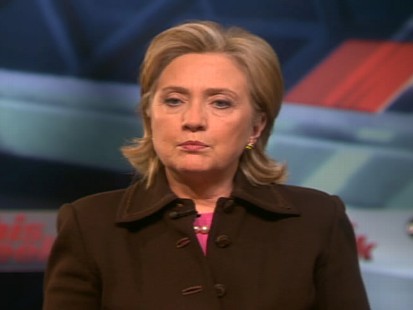 She has married a fellow prisoner, and this year gave birth to a baby at the age of 40.
"I think what was hardest for me was the knowledge that she was being unjustly deprived of living fully in the prime years of her life," said her mother, New York University physics professor Rhoda Berenson.
Now the parents of Amanda Knox -- the Seattle college student who was convicted in Italy last week of murdering her British roommate -- are hoping that legal appeals and the State Department will prevent their 22-year-old daughter from serving out the 26 year prison sentence imposed by the Italian court.
If Knox serves her entire sentence, she would come out of prison at the age of 46.
Sen. Maria Cantwell, D-Wash., has made an appeal to Secretary of State Hillary Clinton on behalf of the Knox family, but Clinton has not committed to taking up the case. "I stand ready to meet with anyone who wishes to discuss this case further," Clinton said Monday, hardly a battle cry.
Click here for complete coverage of the Amanda Knox case
The Knox family has much to learn from the Berensons. Both families estimate they have spent more an $1 million on legal and travel fees to defend and support their daughters. And both families have been consumed by worrying about their daughters' medical and emotional well-being.
The two women and their legal cases are very different. Knox was a 20-year-old college student studying in Italy who a jury says murdered her roommate in a spate of fury over repeated criticism of her character and an accusation that Knox stole rent money.
Berenson left MIT to follow her ideals in Peru, a country that in the 1990s had a record of human rights abuses.
There are limitations to what officials can do in these cases, and generally the U.S. respects the sovereignty of other nations, as seen in the Berenson case.
Pressure from Presidents Bill Clinton and George W. Bush, as well as an army of diplomats, including former Secretary of State Colin Powell and former presidential candidate H. Ross Perot, has so far done nothing to free her.
U.S. Rep. Maxine Waters, D-Calif., took an interest in Berenson's cause a decade ago and even visited her in prison.
"We broke records for the number of congressmen who signed letters," Rhoda Berenson, 66, told ABCNews.com.
Berenson was plagued with medical problems, many of which developed in her first two years at a frigid maximum security prison with no heat and running water at 12,800 feet above sea level near the Bolivian border.
She developed Raynaud's syndrome from the freezing cold and eye problems after long periods of darkness during security lockdowns, according to her father, Mark Berenson, 68.
"I've seen her age," Berenson, a statistics professor at Montclair State University in New Jersey, told ABCNew.com. "It was a miracle she could become pregnant."
Just this November, his daughter underwent seven hours of surgery to repair a slipped disk in her vertebrae.
Berenson's story began in 1995, when she was arrested at the age of 26 on suspicion of aiding leftist rebels.
She was sentenced at first to life imprisonment, but a civilian court retried her in 2000 and convicted her of a lesser crime of terrorist collaboration and reduced her sentence. All along, she has denied any wrongdoing.
The Inter-American Court of Human Rights, the legal arm of the Organization of American States, upheld the civilian court's ruling in 2004, ending Berenson's last chance to appeal her sentence.
In prison, she met Anibal Apari, now a lawyer and former member of the Tupac Amaru Revolutionary Movement, which was best known for its four-month takeover of the Japanese ambassador's residence in 1996 in Lima.
Berenson married Apari in 2003 when he was released from prison and gave birth to his son, Salvador, in November and is raising him as a "single mom," according to her father.
Berenson's Parole Rescinded
Berenson was up for parole in November of this year, but a new antiterrorist law was enacted in October, eliminating parole for all such crimes.
Whether their daughter will get out as planned is "an open question right now," said Rhoda Berenson. "We are still appealing it."
More likely, Berenson will serve her full sentence until 2015, when she will be expelled from Peru. By law, her son, who has dual U.S.-Peruvian citizenship, is only permitted to remain with her in prison until he is 3.
Mark Berenson said he and his wife would take custody of Salvador if their daughter is not released before then.
"One of the really sad things is that when she had the baby it was with the expectation of her being on parole," said her mother. "But if there is no parole, she is going to have to relinquish the baby."
Rhoda and Mark Berenson have made numerous trips to Peru -- about six a year over the last 14 years -- to visit their daughter in a variety of prisons. They were with her in Lima for the birth of their grandson May 6 and again before Thanksgiving for her spinal surgery.
"It was really horrible in the beginning, but it has improved for Lori and all the prisoners," said Rhoda Berenson. "We can spend all day together with no screens between you."
The concrete prison where she now lives in Lima has few amenities. Water comes only once a day and prisoners store it for personal use. There are no regular toilets.
"She does a lot of squatting and is exposed to the elements, but it's not that cold," said her mother.
But her parents see a happier daughter emerging. She does handicraft work in prison and looks after Salvador, though with her back injury, she needs help lifting her son.
"The baby has had a huge effect on her in a very positive way," said Rhoda Berenson. "In 14 horrible years, something really wonderful came of it. Giving birth to Salvador meant that in spite of the Peruvian government's attempts to ruin her life, they didn't deprive her of motherhood."
Long Road Ahead for Knox Family
Lori Berenson still wants to help others and even though it's too late to become a doctor, she mentions to her mother than she would like to do something "medically related" when she gets out of prison.
"She is still more interested in helping people than becoming rich," said Rhoda Berenson. "Those things haven't changed."
"Although the prison conditions are certainly stark -- particularly during the early years in the Andes when it was bitter cold -- and I had many concerns about Lori's health over the years, I always knew Lori was strong and would endure."
Amanda Knox's parents have vowed to keep up their own daughter's fight in an appeal of her guilty verdict in Italy.
"No way can she stay in prison 6,000 miles away," said her father, Curt Knox, on "Larry King Live" Monday night.
"I have to keep fighting for Amanda," said her mother, Edda Mellas.
Mark and Rhoda Berenson have never ended their fight for their daughter, and even stopped working for several years to focus on her release.
"If someone told me 14 years ago that this would happen, I would say I am just going to go in a cave and disappear," said Rhoda Berenson. "But you manage it. You have to prepare yourself somehow by trying to even out the ups and downs."
"We ask why us, why is this happening?" said Mark Berenson. "Amanda's parents must be saying the same."
"It's been a horror," he said. "Nothing could be worse for a parent."