In a case that must keep public relations executives awake at night, a satirical BP Twitter account has been dominating dialogue on the site, far outpacing BP's official account in both followers and buzz.
Each sharp-edged tweet drills into BP's missteps in the Gulf of Mexico, with some targeting the company's beleaguered CEO.
"Taking the day off to go fish fighting with the boys. Tony Hayward punched a dolphin so hard it puked!" said a tweet posted Sunday.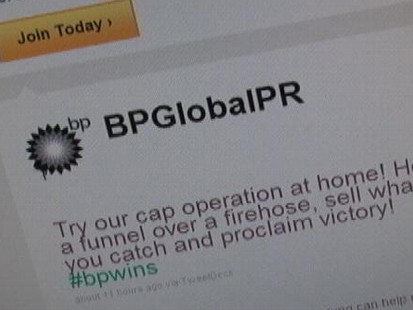 "By reading this tweet, you have agreed to a nondisclosure agreement," tweeted
another June 4
.
"I've gotta say, at night the gulf really doesn't look that bad," read a May 30 tweet.
BPGlobalPR is fake, but its 130,000-plus followers are real. In contrast, BP's verified account, BP America, has fewer than 12,000 followers.
Today on the Conversation, ABC's Dan Harris speaks with the shadowy figure behind BPGlobalPR. He asked ABC News to conceal his identity, though he kept up his satirical performance throughout the interview.
What's his Twitter mission? Is he surprised by the success, and what does a BPGlobalPR mouthpiece do when he spills coffee on his pants?
All that in today's Conversation. We hope you'll watch.