The New Orleans Saints, who won the 2010 Super Bowl, stopped by a bird rescue center in Louisiana today to raise awareness for the Gulf oil spill and announce plans to raffle off a championship ring.
The team hopes to raise $1 million for the organizations helping those affected by last month's spill and its aftermath, quarterback Drew Brees said.
"These are the front lines whether you're a resident or a regular responder," Brees told the media outside the International Bird Rescue Research Center in Venice, La.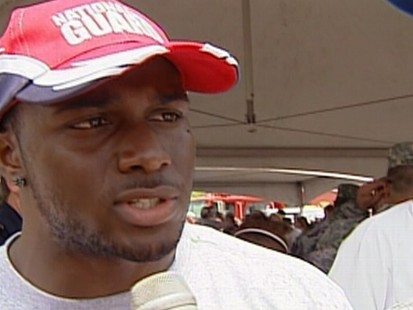 The center is a nonprofit organization that has been
contracted by BP to help save the birds
.
"[Raising money for the spill] is a great cause, and it's unprecedented what we're doing," Brees said, referring to the raffle. "But desperate times call for desperate measures."
The entire Saints team spent part of the morning touring the rescue facility, where birds that are rescued from oiled water and marshland are brought in for cleaning.
Brees and his teammates peered into the pens holding the pelicans and could hardly believe what they saw.
"We saw a bird just completely covered in oil," Brees said. "We saw areas where the birds are recovering and where they nurse them back to health.
"It's tough to see, hard to see, especially when you know this is their home and habitat," he added.
Hundreds of locals turned out for the event, during which Louisiana Gov. Bobby Jindal also spoke, pleading still for more help to clear the Gulf of oil.
"The Saints are a living testament to why we believe in comebacks and to why we know victory can be born out of hard work and even after years of setbacks and losses," Jindal said. "After 43 long years, the New Orleans Saints persevered through great odds and won their first ever Super Bowl."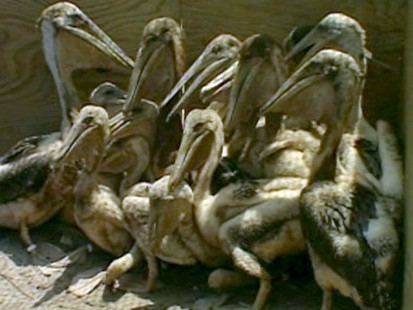 Others, simply there to see their state's team, waited in long lines for autographs and photographs with the players.
Running back Reggie Bush also attended the event, saying he was shocked at the condition of many of the birds.
Winner to be Announced at Season Opener
"It's pretty devastating how much this is affecting our wildlife," Bush said. "We're here to hopefully bring awareness to what's going on so we can help."
Each raffle ticket will cost $2, with a minimum purchase of $10 dollars. The winner of the authentic ring will be announced at the team's season opener against the Minnesota Vikings Sept. 9, Brees said.
Asked what the ring will look like, Brees smiled and said, "Just like mine.
"It just won't say Brees on it."