An Israeli attack on an aid flotilla bound for the Gaza Strip caught the world by surprise Monday, sparking international outrage. The ships were trying to break Israel's blockade of Gaza, but many have expressed anger over what they call excessive force used by Israeli forces.
The Israeli attack on the Turkish-backed ship has further escalated tensions between those two countries. Turkey's prime minister called the flotilla attack a "bloody massacre," and Turkey has withdrawn its ambassador to Israel.
Russia and the European Union have now condemned the use of violence and have called for an investigation of the attack that killed 10 people. Today, Egypt temporarily reopened its border to allow the flow of aid to Gaza.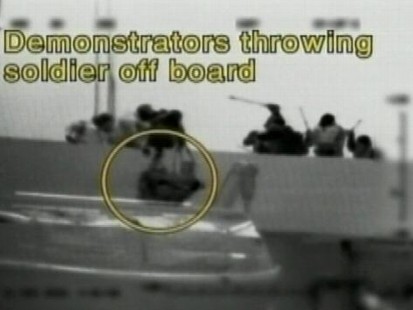 Israel and Egypt imposed the blockade in 2007, after Hamas violently seized the Gaza Strip.
This latest Middle East crisis came as Israeli Prime Minister Benjamin Netanyahu was about to meet with President Obama, and a fresh round of U.S.-sponsored peace talks was about to begin. The last round of talks was canceled when Israel announced an expansion of housing in East Jerusalem, an area that the Palestinians see as a future capital of their country.
The U.S. is standing by Israel, though, with Obama said to be focused on the long-term goal of Middle East peace.
"The president has always said that it will be much easier for Israel to make peace if it feels secure," a senior administration official told ABC News.
What does this attack mean for the Middle East peace process? And what has the Israeli public's response been to the international criticism? ABC's John Berman poses those questions to our correspondent in Israel, Simon McGregor-Wood, in today's Conversation.
ABC's Jake Tapper and The Associated Press contributed to this report.