Last week, "World News With Charles Gibson" reported on Kristin Elliott, 18, who has been fighting an aggressive form of cancer since she was 16. That was when the all-state volleyball player had a massive tumor removed from her leg.
When the Make-a-Wish Foundation asked Kristin what she wished for, she asked for help to build an AIDS orphan house in Zambia. The foundation contributed $2,600 and by the time "World News" aired her story, Kristin had collected $6,000 more. Then you, our viewers, responded, and Kristin has not only received the $60,000 she needed, but over $40,000 more and counting.
"It's overwhelming," Kristin's mother, Terri Elliott, said. "It's amazing … the outpouring that's come her way. It took us way back."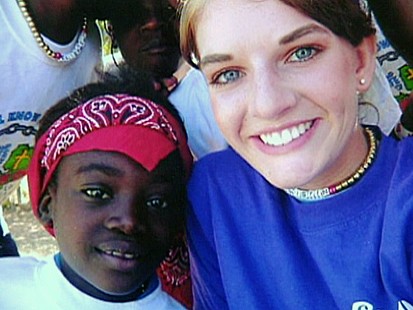 Kristin told ABC News, "They were planning on building a hospital already, and so we decided to have the extra funds go to a wing in the hospital. It'll be called, I think, Kristin's Miracle Clinic for AIDS Patients."
Learn more about Kristin's orphanage Faith West Academy.
"All this attention and kind of flattery, and saying, I'm an inspiration is kind of, I'm not used to it," she said.
Her mother, Terri Elliott, said, "With her type of cancer, it's very rare, the statistics are not good. And like 2 percent of the population of the world have it, and they don't survive past a year."
Kristin's endured multiple surgeries and radiation, and she has kept playing on.
"All through it, she didn't miss any school, she didn't miss her volleyball. She lived, she pulled us along," Terri said.
Kristin even traveled to Africa on a church trip during a remission. And when in Zambia, she and her sister worked with children orphaned by AIDS.
"In Africa I saw kids that needed a voice. They wanted to be loved, they wanted to be held, that's all they wanted, and I knew that's something I could give," she said. "Kids are my passion, any type of kids, American kids, Zambian kids ..."
She found a love for them that would never change.
When Kristin came home, doctors found the cancer had spread to her lungs, and she had more surgery. Doctors contacted the Make-a-Wish Foundation, which grants wishes to young people with life-threatening medical conditions.
"They asked me what I wanted, if I wanted a vacation, to meet an actor, or to get something, you know a camera, computer, stuff like that."
The most common request is a Disney trip, but Kristin wanted something more than make believe.
"I told them that I wanted to build an AIDS orphanage house in Africa, and I wanted them to help," she smiled, "if they could."
Teri Andrepont of the Make-a-Wish Foundation said, "We've never, never had that request before -- never, never an orphanage."
"There was a man there with me, and he just kinda looked at me like, 'Are you sure? That's what you want?'" Kristin recounted. "Of all the things you could ask for, are you sure? And I just thought, Yeah, that's what I want. I can't imagine anything else that I would need."
"How Kristin-like! It didn't surprise me, that Kristin would make a request as selfless as that," her brother Brandon said.
Her father, Darryl Elliott, said, "We tried to talk her out of it -- really didn't talk her out of it -- but just 'You sure? You sure you really want to do this?' This is big."
And so the Make-a-Wish Foundation gave her $2,600. Kristin is raising donations on her own Web site, and now has $8,000 to put toward her orphanage.
"The power of one person can do a lot, I guess, I mean it just takes one thought, one decision, to change a whole lot of things." Kristin said.
Learn more about Kristin's orphanage Faith West Academy.