Mike Fritschner seems like your average high school senior. But as he plans to go to college, talk to any of his friends and they'll tell you he's already taught as many lessons as he's learned.
Before his sophomore year, the 6-foot-4 athlete from Bell Canyan, Calif., earned a spot on the varsity football team. Fritschner, always an athlete, had been a captain and MVP of every team since 5th grade. The varsity team was the next step in his dream to play quarterback at the University of Texas.
But before the season started, Fritschner went on a family vacation to Hawaii and decided to try surfing for the first time.
"I was probably out there for like, 20 minutes," Fritschner said. "And then, I stood up on one leg. I felt like a little pop in my back."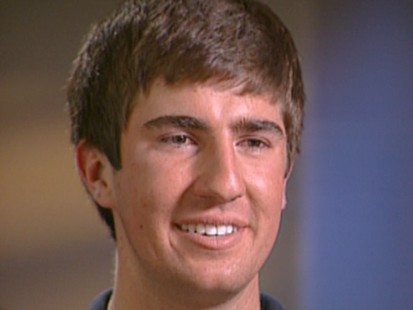 As Fritschner paddled back in, his father sensed immediately that something was wrong.
"He said, 'Dad, my back just really, really hurts,'" his father, Walt Fritschner recalled. "And I said, 'Well, can you walk?' He said, 'Well, I, I think so.'"
At that moment, Fritschner's legs collapsed. After an MRI, Mike was diagnosed with a condition known as "surfer's myelopathy." Doctors believe that while arching his back on the surf board, Fritschner's spinal cord was hyper-extended, starving it of oxygen.
The extremely rare phenomenon often causes paralysis, as it did for Fritschner. He was paralyzed from the waist down.
Fritschner immediately began physical therapy, hoping to one day walk again. He consistently defied doctors' expectations and took his first step.
"I pretty much, like, disregarded everything my therapist said and just like, started walking, because I guess I wanted it so bad," Fritschner said. Walking for the first time was "just unbelievable. The best feeling you could ever ask for."
Though he primarily uses a wheelchair, Fritschner is working hard to walk with leg braces, meeting with physical therapist two to three times a week.
"It's almost like, why me? Anyone can ask that question, though. That's not how to get anything done. You got to take action," Fritschner said.
Senior Trades Sports for Bigger Dreams
Since his accident, the self-proclaimed "jock" changed his life. Leaving sports behind, Fritschner is earning good grades for the first time, interns at a hospital and mentors younger students. But the friends he's made have been the biggest gift.
"I have the best friends in the whole world. And from this I've been, like, a little bit out of my comfort zone, because I'm always comfortable with all the athletic guys. But now it's like, I meet all different kinds of people," he said. "I'm friends with kids in drama, kids in band. It's helped so much. There's so much more to me now."
And all of those new friends would soon help him campaign. Before his senior year, Fritschner, a political novice, decided to run for student body president of his high school, Chaminade College Preparatory. He won.
Fritschner is not only the school president, but also the reigning homecoming king.
He said that he is a better-rounded person than he was before his accident, with a diverse set of ambitions and goals. He's been part of a mentoring group to help first-year students' transition. In the spring, he hopes to host an Olympics event through student council to raise money for Darfur. He's also going to President-elect Barack Obama's inauguration in January through a non-profit group that brings AP government students to Washington for living history lessons.
In college next year, Fritschner hopes to study medicine to become a neurologist so he can one day work on spinal cord injuries. This summer, he took his first step into the medical world, shadowing medical professionals and learning basic procedures during an internship at the Children's Hospital of Los Angeles.
"I'll celebrate when we get there, but we're not there yet," he said.