Long before sunrise, seven days a week, Tom McCarthy, 75, begins his labor of love: training racehorses.
A former high school principal in the Louisville school system, McCarthy juggled his day job with the horse trade, holding onto the sport -- not for the money, but for the dream.
"I'm in it for the dream of being in the Derby, I think, more than anything else," he said.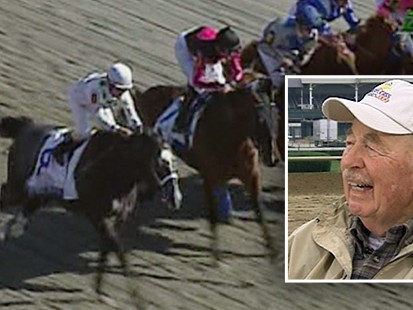 Since 1955, he's watched the
Kentucky Derby
race from the Churchill Downs grandstands. And that's as close as the small-time trainer thought he would ever get.
"Dad would always say before they went into the gate, 'Someday I am going to have a horse there,'" said McCarthy's son, Tim.
For decades, Tom McCarthy always trained horses on the side, but none ever qualified for the Kentucky Derby. Then, last year, he picked up General Quarters at a claiming race for $20,000 after the previous owner cast him off as too slow.
"I looked at him, and I watched him walk," McCarthy said. "A big gangly colt, good looking colt, and I thought he was bred very well."
After months of losses and training, General Quarters turned out to be the investment of a lifetime. Earlier this month, McCarthy entered his horse in the prestigious Toyota Blue Grass Stakes at the Keeneland racetrack.
"I have a lot of faith in him. He's a wonderful horse. When he runs, he'll give it his all," McCarthy said. "When he got the lead at the top of the stretch and just kept on increasing it, I knew they'd never catch him."
Stunning expectations, General Quarters edged out the competition to win the Blue Grass Stakes and a coveted spot to race in the Kentucky Derby, May 2.
"It was quite a feeling. I didn't know what to do," he said with a hearty laugh. "Euphoria just enveloped me. It was just, a wonderful feeling."
The crowd erupted in applause, chanting General Quarters' name, and giving the small-time, relatively unknown trainer a standing ovation.
"I'd never experienced anything like that in my life," he said. "I was just so happy, so glad. I knew I had to keep on moving or I thought I'd cry."
The $465,000 purse was more than McCarthy had ever made in a race. For a man who has always been a one-man band in a one-horse stable, the win marked "one of the high points" in a life of ups and downs.
Victory Puts Training Community in Spotlight
"I thought it was all over when I got to a certain point," McCarthy said. "I didn't think you could fight the million-dollar horses and things of this nature, and the stables that had 50 and 60 horses, and it was just, you know, I thought it had gone by."
McCarthy trained with other small-time horsemen at the Trackside Training Stables, just six miles and yet, a world away from millionaire's row at Churchill Downs.
"We live a different life than they do," said Trackside trainer Sam Dorsey. "The big-time trainers, they fly in for the race ... they wouldn't even know the horse unless somebody pointed it out, really."
McCarthy knows he's a long shot to win the Derby, but with the support of the Trackside community behind him, he's confident that General Quarters will run another "good race."
No longer in the shadows, in the autumn of his life, McCarthy has finally earned his royal place in the sport of kings.
"I'd just like to see the little guy beat the big guy every now and then," said "Bronco" Billy Gowan, a trainer at Trackside. "It's a win for all of us."