Beleaguered British Prime Minister Gordon Brown delivered what is being touted as a devastating blow to his reelection campaign today by being caught on a live microphone calling an elderly woman he met on the campaign trail "bigoted."
The prime minister, struggling to keep his reelection hopes alive in next week's election, later apologized profusely on the air to the woman and then made a pilgrimage to her house to apologize in person, further sending the British media into a frenzy.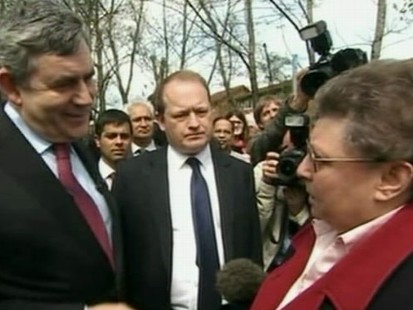 "This is a disaster," BBC News' Political Editor Nick Robinson immediately claimed. "He insulted a member of the public and not just any member of the public....the very sort of voter Labour [Gordon Brown] needs in this election....white, working class people...the sort of people who vote."
For Brown, whose Labour Party is trailing in the three way race, the gaffe came at a critical time in the campaign and with a critical type of voter.
Brown was out on a "walkabout," part of a new campaign strategy to woo voters face-to-face. He was talking to Duffy about a range of issues, including education, taxation, the economy and perhaps most importantly immigration.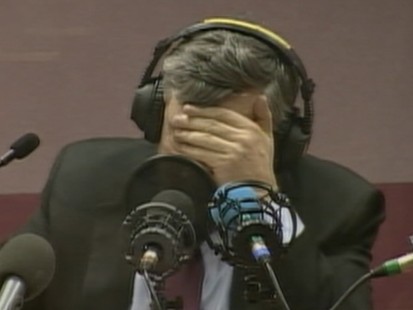 Duffy questioned Brown on why so many "Eastern Europeans" were being allowed into Britain. Brown calmly explained that as many Brits had moved to Europe as Europeans had moved to Britain.
After Brown's remarks were leaked, he appeared on a radio show in which his comments were played back to him.
"That was a disaster...should never have put me with that woman. Whose idea was that?" Brown could be heard railing at an aide over the hot mic. The prime minister dropped his head in his hands as the tape continued. "She was just a sort of bigoted woman who said she used to be Labour."
Brown immediately apologized "profusely" on the radio show to Gillian Duffy, the woman he called bigoted.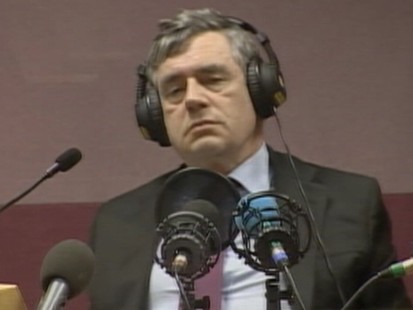 "I do apologize if I've said anything that has been hurtful," Brown said on the air.
He followed it up with a phone call to the 65-year-old woman, and then went in person to Duffy's house to apologize again.
Before Brown reached her, Duffy was furious when she heard what the prime minister said about her.
"He's an educated person, why has he come out with words like that?" Duffy asked. "He's calling an ordinary woman who's just come up and asked questions ... a bigot."
"I thought he was understanding but he wasn't, was he?" she said.
Brown's trip to Duffy's house became a major political spectacle in Britain. He was greeted by a frenzied crowd of journalists. "Has this ruined your campaign?" one journalist asked. "Mr. Brown, Mr. Brown do you regret your comments to Mrs Duffy?" others yelled.
Brown, his head stooped, went inside the senior citizen's home and remained there for over half an hour.
"Absolutely crazy isn't it?" political commentator Simon Hoggart told BBC News as he waited outside Duffy's house in northern England.
"This is the prime minister and he's going around asking for forgiveness like a medieval penitent."
Gordon Brown Claims Gillian Duffy Accepts His Apology
Brown emerged from Duffy's house and gave a statement to reporters, strangely echoing Hoggart's words. "If you like I am a penitent sinner," he said.
"I wanted to come here and say to Gillian that I was sorry," the prime minister said.
According to Brown, Duffy understood that there was a misunderstanding and has accepted his apology.
Duffy is, for now, declining to comment after her meeting with the prime minister. The media is making much of whether she has accepted Brown's apology and if she will now vote Labour as she has done for previous elections.
Not only has this incident diverted the media attention away from the Liberal Party leader Nick Clegg, who has so far been this election's "media darling", but will also provide ammunition for Brown's two rival parties.
"I think Gordon Brown has apologized. Quite right, too, because if you are answering peoples' questions, you have got to answer those questions with a sense of respect, whatever you think of them, not insult them." Clegg told Sky News.
David Cameron, the Conservative Party leader has yet to comment but his number two, Shadow Chancellor George Osborne, said "That's the thing about general elections, they do reveal the truth about people."
All three leaders are due to appear in the final television debate this Thursday before the May 6 election.
Opinion polls largely show the Conservative party in the lead, the Liberal Democrats in second place and Brown's Labour Party in third place.
Gordon Brown's "Bigotgate" Spreads Across Web
Hoggart played down the political ramifications of the incident, quoting previous public stumbles by politicians that have in fact had little bearing on the polls.
Some commentators even raised the possibility the episode could garner sympathy and support for Brown.
The bumble was soon all over the web, "Gordon Brown" and "bigoted woman" becoming hot topics on-line. On Twitter the group "bigotgate" was bandying comments back and forward.
Opinion was divided as to whether Brown's comments were being blown out of proportion, or if this behaviour has truely damaged his campaign.
"He said a woman was a bigot? Why is this awful??" one tweet by ntraynor86 asked.
"Watched #bigotgate on the news. It looks very bad. The old dear who dared to voice her opinion and the imperious PM who attacked her for it," jamesgibbon wrote.
"I still have no idea what Brown apologized for, what's wrong with calling a xenophobe a bigot?" another tweeter called gedrobinson asked.
But Gary O'Donoghue, BBC political correspondent, was certain of the damage Brown had caused.
"People often talk about political gaffes in terms of car crashes. But this is no car crash, this is a multi-lane, multi-vehicle pile-up of enormous proportion," he wrote on the BBC news website.