Secretary of State Hillary Clinton arrived in Pakistan today for one of the longest visits by a U.S. diplomat in years, an attempt to combat rising anti-Americanism here and convince a skeptical Pakistani public that the United States is a long-term, dependable ally.
"I hope on this trip I will be able to start that ball rolling, so to speak, so that maybe some in your country will say, 'I really didn't have a good opinion before -- I thought it was all about, are you going to be with us or against us on the war on terrorism? But this is a new day,'" Clinton told Pakistan's leading English newspaper, Dawn, ahead of her trip.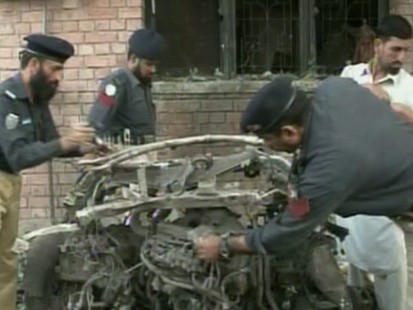 "That's why we're turning a new page. And I hope part of what I can convey on my trip is exactly that message."
Her three-day visit, conducted under extraordinary security, comes in the middle of one of the Pakistani military's most important operations since 9/11, a 30,000-troop offensive into South Waziristan, where Pakistan says more than 80 percent of the attacks in the country are planned.
Militants have timed an onslaught of attacks with the beginning of the operation, including a frontal assault on the military's headquarters and multiple assassination attempts in the capital, Islamabad.
About 200 Pakistanis have been killed in terrorist attacks in the past three weeks, including at least 80 today in a market bombing in Peshawar.
The U.S. has been pushing for just such an army offensive, officials say, believing it will help eliminate a Taliban and al Qaeda sanctuary, likely reducing militancy in both Pakistan and Afghanistan.
But the army warns that even though it is receiving significant assistance from the United States for the operation, publicly admitting such aid would risk losing the support of the Pakistani public.
Clinton's chief challenge is fighting that sentiment, Pakistani and U.S. officials admit: trying to shift public attitudes so that a U.S.-backed military operation and a U.S.-backed government are not immediately dismissed by increasingly anti-American Pakistanis.
'Stop Interfering Here'
"What we desire and what we have planned is for this to be seen as a pure Pakistani military operation without any outside interference or without any outside support; because that is at the cost of public support," said chief military spokesman Maj. Gen. Athar Abbas. "The moment it gets connected with something outside, then the public starts getting other ideas."
Many Pakistanis blame the deteriorating security situation on the United States' involvement in neighboring Afghanistan. "If I could talk to her I'd say to stop interfering here," said Shahid, using only name, while shopping in an Islamabad market. "Wherever in the world they've been involved, there is no peace."
Shahid said he was dismayed by the security situation in the capital, usually a leafy, relatively quiet city that is now filled with dozens of checkpoints. Intelligence agents here say they fear militants are trying to launch a major attack inside the heart of the city.
For Shahid, what affected him most was an unprecedented step the government took in the past 10 days: shutting all public schools. "I took my son to school, but at the gate they told me that the school is closed. I felt like crying when my son asked why the school was closed.
"Now -- what should I tell him? Should I tell him at this small age that, 'Son, there are bomb blasts and that are at danger from terrorists?'
"I see no hope. I think terrorism is an endless activity."
Standing around the corner, Syed Rehan Jaffery, selling kebabs to drivers passing by, said deteriorating security had cut his business to a fraction of what it used to be. And he blamed the United States.
"Take America out of Pakistan so that the conditions of the country becomes better so that we can live peacefully," he said.
U.S. Carries Long-Term Commitment to Democracy
Clinton acknowledged the effect that the operation was having on the country, an admission that U.S. officials admit they have not made often enough.
"I think it's important for Americans and others to recognize the high price that Pakistanis are paying," she said on the way to Islamabad. "Too often, people outside of Pakistan don't know or don't acknowledge" that.
The Obama administration tried to redefine the relationship earlier this year when it championed and then passed the Kerry-Lugar bill, an infusion of $7.5 billion primarily for economic development. It was designed to define the relationship through a long-term commitment to democracy, rather than short-term worries about terrorism -- a message she carries with her on this trip.
But the Pakistani government's political opponents, as well as the army and the media, portrayed certain conditions in the bill as infringing of the country's sovereignty and trying to control the civilian-military relationship.
The reaction across many circles was fury. Some commentators on popular television shows even accused the United States of trying to interfere with the country's nuclear weapons.
"The U.S. should be slapped with the paper the bill is written on," screamed one opposition politician on a talk show.
Clinton defended the bill while speaking to reporters on the way into Islamabad, calling it a "commitment we are putting forth to demonstrate our good will toward the Pakistani people.
"It doesn't help when we do something like this, and people question our motives."
Clinton to Meet With Citizens and Civil Society Leaders
While she will meet with Pakistan's political and military leaders, her greatest effort here may be meetings with civil society leaders and average Pakistanis.
She will travel to Lahore, Pakistan's cultural capital, for a town hall meeting with students and a round-table discussion with business leaders. In addition, she will meet tribal leaders from Waziristan and hold three different sets of interview with Pakistani reporters.
Her public relations blitz began before she left for Pakistan. In two interviews with Pakistani reporters based in Washington, she emphasized how fond she was of Pakistani culture.
"I love the food, I wear shalwar-kameez. Give me a seekh kabob and daal I'll be a happy person," she told Dawn.
She admitted to journalists traveling with her from Islamabad that changing Pakistani minds will be a long, difficult process.
"There's just a lot of scar tissue," she said.