Americans at both ends of the country spent today digging out and cleaning up from punishing storms over the weekend.
In Washington, D.C., the snow was still so deep that federal government employees were urged to stay home, costing the country an estimated $100 million in lost productivity.
D.C.-area residents ventured out of their homes this morning for a look at what the mid-Atlantic snowstorm left behind. Snow plows and shovels were working overtime. People spent part of the day clearing sidewalks and driveways. Government officials tried to get the city up and running again. The area's major airports were closed over the weekend.
Dulles Airport reopened Monday morning using two runways with crews working to reopen a third. At Reagan national, which opened at 10 a.m. EST, only one runway was operational, forcing carriers to operate on a limited basis. Both airports, as well as nearby Baltimore-Washington International, were still experiencing delays and cancellations from the storm.
Rail service in the area fared a little better. Amtrak's Acela Express between Boston and Washington, DC is operating on a full schedule while northeast regional rail service was still dealing with cancellations.
The storm didn't just affect the capital. Baltimore and Philadelphia are struggling to plow through two feet of snow dumped over the weekend as well.
There is something of a rush. The next snowstorm is expected Tuesday night.
In 150,000 homes in New Jersey and around Washington, residents spent a third freezing day without electricity.
In Bethesda, Md., Marja Snyder spent her free time bundled up, reading by candlelight. "It's 40 something," she said. "It's uncomfortable, really."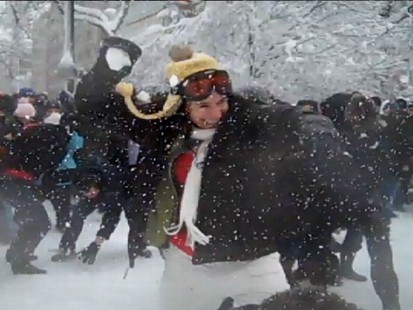 Snyder's neighbors took a different approach. They used a generator to power their home.
"Natural gas heat. It keeps us pretty warm," said Mike Conley. "The most important thing is the cable is on," He hosted a Super Bowl party in the dark Sunday night for his family and friends.
East: Snow. West: Mud
On the West Coast, the story wasn't snow, but mud.
Residents in California spent the day taking stock of their losses after a powerful storm dumped three to four inches of rain in the area of La Canada Flintridge, triggering massive mudslides.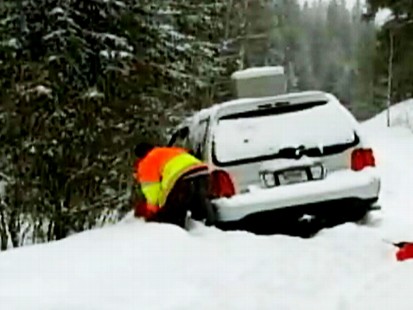 Winter Weather Hits East and West Coasts
Karineh Mangassarian rushed to get her two kids when the storm hit without warning. "By the time I looked up, my truck was floating, just swimming," Mangassarian said. She got her children to safety.
The swift-moving mud sent debris down hillsides, crashing into homes and business and forcing the evacuation of 500 people.
Those evacuation orders have since been lifted.
The mudslides completely destroyed nine homes and damaged 41 others, some severely.
Sunday night, hundreds of volunteers helped homeowners dig their homes out of several feet of mud. Those volunteers were gone today, replaced instead by city work trucks, front-end loaders and backhoes.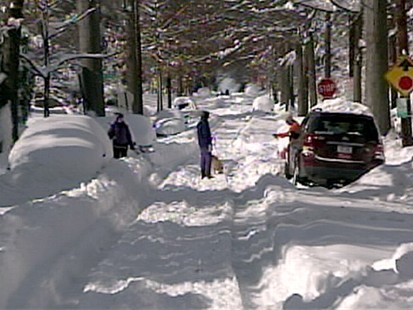 Officials say much of the damage came when large boulders -- some weighing ten to twelve tons -- rolled down hillsides and clogged debris basins, specially created to protect the area from just such crises.
Surveying the damage, Gov. Arnold Schwarzenegger said he was confident the homes could be repaired: "If everyone works together, I think all of this can be cleared up."
As devastating as the damage is, it's compounded by the fact that homeowners now have to figure out how they're going to pay for it. Most were not able to get mudslide insurance and are hoping instead that fire insurance will cover the damage. The homeowners say wildfires destroyed the vegetation on hillsides, killing trees that would have held the ground in place.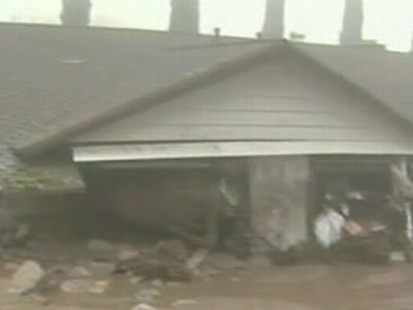 There's no word yet on whether insurance companies are willing to pick up the tab.