ABC's Neal Karlinsky took a ride to the top of the Icelandic volcano that has been spewing massive ash clouds that have grounded air traffic in Europe for five days, stranding travelers around the world.
At every turn, Karlinsky reports, he witnessed one jaw-dropping sight after another.
It may seem like the most dangerous place on earth at the moment, especially to fly to, but scientists gave the pilot of our helicopter the go ahead to land on the edge of the volcano for five minutes – and not one second more. We set down on the north side, just over two hundred yards from the exploding crater.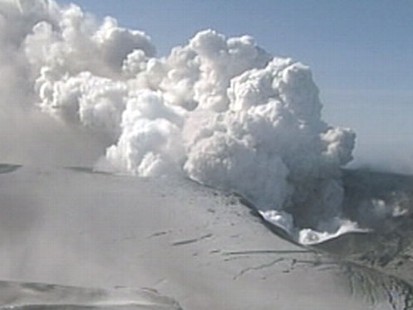 It was surprisingly easy to get close to the crater, as the wind was blowing the ash in the other direction – towards waiting flight paths. The surface looked like pure ash, and temperatures in the area were below zero. The falling ash was mixed with snow. The explosions coming from the volcano were astonishingly quiet and could not be felt through the ground. The only things audible were the wind and the sounds of the helicopter rotor.
750 tons of ash are released every second from the volcano – enough to fill an Olympic size swimming pool in three seconds.
ABC News also drove into the fallout zone in Iceland earlier today. It was like another world, a world where birds feed on ash and flowers are encased in a grey shell.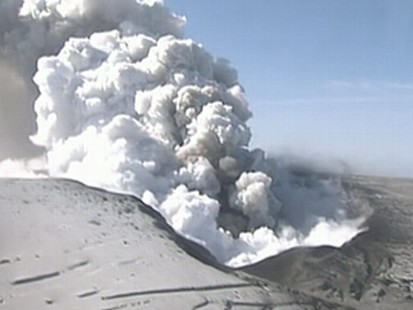 On Saturday, the same area was pitch black – although it should have been broad daylight – because of the extremely heavy curtain of ash that was falling to the ground. The rain that fell Sunday soaked the fallen ash, leaving farmers to dig out from a paste-like layer of muddy ash. Today brought another thick ash cloud, that turned the ground into something worse.
Standing on the exact same spot I visited 24 hours earlier, I could see where I rubbed my boot in the mud the day before, but now the ash has dried almost like cement.
It is not healthy for people to be in the area, as the clouds do not bring smoke, but tiny particles of rock – and volcanic glass. Magnus Palsson, a local resident, told ABC News that despite his efforts, some ash was seeping into his home.
Still, many of the stoic and sturdy farmers have stayed. The question remains what will be left of this normally beautiful farm country when the mountain goes back to sleep.