A judge has sentenced the anti-abortion activist who shot and killed prominent Kansas doctor George Tiller to the maximum possible sentence -- life in prison with the possibility of parole only after 50 years.
Scott Roeder, 52, faced a mandatory life sentence, but it was up to Sedgwick County District Judge Warren Wilbert to decide whether he would be eligible for parole after 25 or 50 years. Wilbert said he chose the harsher sentence because of evidence Roeder stalked Tiller before killing him.
Earlier, Wilbert dismissed motions for a new trial and an acquittal.
Tiller, 67, a father of four and grandfather of 10, was handing out programs at church in May 2009 when he was killed.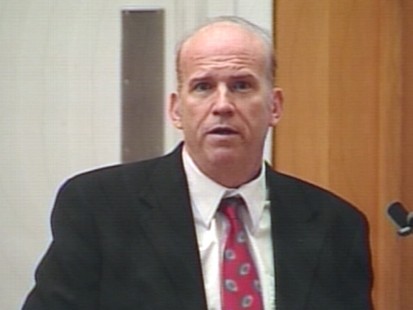 In January, Roeder was found guilty in Tiller's murder as well as of assault charges stemming from his attack on Tiller. It took a jury just 37 minutes to find him guilty.
During today's day-long sentencing hearing, Roeder read a lengthy statement in his own defense that included details descriptions of abortion procedures and the fetal reactions to them.
Roeder admitted that he killed Tiller and compared an abortion to premeditated murder. He said that the state of Kansas was to blame for the abortion "holocaust" through its law legalizing abortions.
"The blame of George Tiller's death lies more with the state of Kansas than with me," he said. "George Tiller was their hit man."
The statement cited the Old Testament of the Bible, as well as a book by Paul Hill entitled, "Why Shoot an Abortionist?"
Roeder also criticized the court's handling of his trial, arguing at one point that prosecutors were allowed to show "pictures of George Tiller lying a pool of blood," but he was not allowed to introduce pictures of aborted fetuses.
After about 40 minutes, the judge interrupted Roeder and said the statement was meant to address his sentencing.
"It's not a forum to get on a political soap box for your entire political beliefs," the judge said.
Ex-Tiller Lawyer on Roeder: 'An Evil One Lives'
Lee Thompson, a one-time lawyer for Tiller, spoke as a representative for the family, claiming Tiller's murder was a hate crime, anarchist and domestic terrorism.
"If he's set free, he'll do it again and again and again," Thompson said of Roeder, adding that while a courageous man was dead "an evil one lives."
"The public knew George Tiller as an abortion doctor, but he was so much more than that," Thompson said, as Tiller's family wiped away tears behind him.
Thompson described the doctor as a family man, part of three generations of doctors, and said he would pay tuition for his employees and comfort his patients, some of whom were experiencing the worst moment of their lives.
Prior to the hearing, Wilbert told the courtroom audience that any outbursts would be treated as contempt of court and warned Roeder's character witnesses that any attempt to turn their statements into a forum on abortion or Tiller's profession would be immediately cut off.
That's exactly what happened to the first of Roeder's first witnesses.
Eugene Frye used his time to recite Bible verses relating to children during his time at the microphone, telling the judge, "He had no other reason to do what he did other than abortion."
When Wilbert told him for the third time to discontinue his anti-abortion comments, Frye left the podium.
Roeder Confessed to Abortion Doc Murder on the Stand
At his trial in January, Roeder bluntly told the court that he had no regrets about killing the Kansas abortion doctor, arguing that he took a life to protect other lives.
Defense attorney Mark Rudy said the case was virtually hopeless after Roeder took the stand and confessed.
"I've never seen anyone lay himself out as much as Mr. Roeder did," Rudy said after the verdict.
Roeder: 'If I Didn't Do It, Those Babies Would Die'
Roeder's frankness did not win him the possibility of lighter sentence as he had hoped. Instead, it prompted a swift reaction from the trial judge who told the jury they would not be allowed to consider a lesser charge of manslaughter.
In Kansas, a murder charge can be downgraded to manslaughter if the defense can prove the suspect had an unreasonable yet honest belief that killing another person was justified.
"If I didn't do it, those babies would die the next day," Roeder testified, describing how he shot and killed Tiller in a church vestibule.
Roeder's testimony, gruesome at times, proved immensely difficult for Tiller's family, who openly cried in court. He detailed how he walked up to Tiller at the Reform Lutheran Church, put a gun to the doctor's head and pulled the trigger.
He told the jury of how his religious faith had convinced him that what Tiller was doing was wrong and how he had considered cutting off the doctor's hands with a sword. When told Tiller's clinic had closed and asked if he felt regret, Roeder replied simply, "No I don't."
The Associated Press contributed to this report