It started with big, wet, sloppy snowflakes. In some places, it has been just rain, though a lot of it. In other places, it's gone back and forth between rain and snow.
Then there is the wind -- which forecasters said might reach 60 mph, and perhaps 70 mph in a few places. Some private forecasters -- though not the National Weather Service -- said this storm could qualify as a "snowicane" or a "snow hurricane." Yes, a hurricane. In February.
"It's not just a snowstorm," said Bob Oravec of the National Weather Service in Camp Springs, Md. "There's all this flooding in New England, and when you have a storm this strong, you can have hurricane-force winds."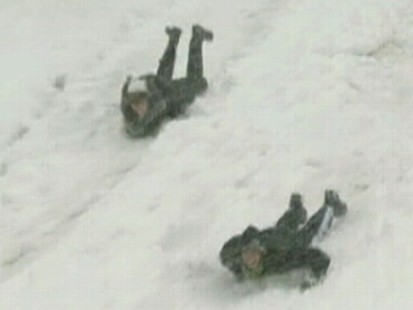 The wind and the heavy, wet snow pulled trees down and threatened power lines. In
New York's Central Park, a 30-year-old man was killed when a tree limb snapped
and came crashing down on him.
For the Eastern seaboard, centered on New York City and its suburbs, the latest snowstorm of this unusually trying winter is turning out to be messy, changeable, unpredictable -- and long. Late this afternoon the government extended its winter storm warning until 6 a.m. ET Saturday. It said there will still be snow showers through the weekend.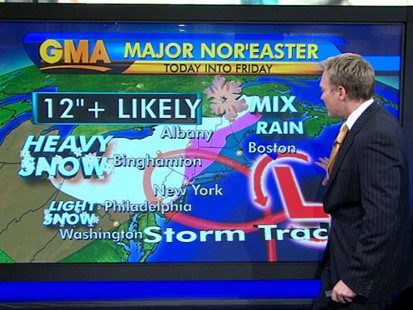 The National Weather Service forecast 9 to 16 inches of snow for New York City by the time it's all over. But no one local forecast tells the story. Scranton, Pa., normally a two-hour drive west, will likely get 1 to 2 feet of snow. Riverhead, Long Island, a two-hour drive east, will get flooding rain.
It is not a terribly unusual storm, said meteorologists, but it just happens to be hitting one of the most densely populated parts of the country. More than 50 million people, by one estimate, will be affected by this one low-pressure system.
Click Here to See the Latest Weather Forecast for Your Region
"It will get better," said a man in Ramsey, N.J. "It can't get much worse, right?"
"I'm totally done with the snow," said another man in Pennsylvania's Lehigh Valley. "Ready for spring."
The weather service said the system posed "a very challenging forecast," since the line between heavy rain and heavy snow happens to be just east of downtown Manhattan. On one side is moist but relatively mild air from the Atlantic, protecting the coast from snow. On the other side is colder air from the north and west.
"We're only talking a 15-mile shift," said John Koch of the National Weather Service office in Bohemia, N.Y., which covers the New York City area. "But there happen to be a few million people living right under it."
Airlines and Power Lines
Philadelphia, two hours down the New Jersey Turnpike from New York, can expect 6 to 12 inches of snow before the storm is over. The city has already set a record with more than 70 inches of snow this season.
On the other hand, snow-battered Baltimore and Washington are on the southern fringe of the storm area, and are unlikely to get more than a couple of inches from this storm. Boston and the rest of southern New England, meanwhile, were under a flood warning today.
Philadelphia International Airport said about a fifth of the flights for today had been canceled. USAirways told ABC News it canceled 300 flights, mostly regional commuter jet flights. Continental Airlines canceled 70 departures from Newark Liberty Airport; American canceled 70 nationally.
Snow, Rain, Wind Build around New York, Northeast
It has been a stormy winter for much of the country, though the Pacific Northwest has had record warmth. Oravec said to blame two large factors: a giant air pattern known as the North Atlantic Oscillation -- NAO for short-- and the patch of warm Pacific water known as El Nino.
The NAO is the airflow caused by two air masses, one centered over Iceland, the other off the coast of Africa. It shifts, depending on which is stronger. Since the beginning of this winter, the NAO has been in a "negative phase," meaning that cold Arctic air blows toward the Eastern U.S.
An El Nino is a vast bulge of warm water that forms periodically in the equatorial Pacific, releasing warm, steamy air into the jet streams above it. An El Nino tends to bring stormy weather to California and the Southern U.S., sometimes reaching to the East Coast as well.
The NAO and El Nino have conspired this winter to bring repeated storms. The NAO, according to the government's Climate Prediction Center, will not shift to its "positive phase" again until March.
In the meantime, Easterners went about their business, knowing their commutes on Thursday night and Friday morning could be rough.
In Allentown, Pa., 52-year-old Jim Yourgal walked three miles to his job as a valet at an orthopedic center. He said he figured he wouldn't be driving home in a foot of snow. His dedication was no big deal, he said.
"What else am I going to do, read a book at home?" he said. "I can do that on the weekend."
ABC News' Matt Hosford and Scott Mayerowitz contributed to this report. Additional information came from The Associated Press.