Politics has the Kennedys, music has the Osmonds, and the Olympics has the Lopezes.
The Lopez family from Sugarland, Texas, is unquestionably the first family of tae kwan do. This year three siblings, Steven, Mark, and Diana Lopez, are all heading to the summer Games to compete in Beijing.
"How many families get to experience walking into the opening ceremonies of the Olympic Games together?" Steven, 29, said.
It's the first time an American family will send three siblings to the summer Games since 1904, when Edward, Richard and William Tritschler were on the same U.S. gymnastics team.
And the Lopez parade does not stop there; a fourth Lopez will be at the Games. Thirty-four-year-old Jean, the oldest son, is the coach of the U.S. Olympic tae kwon do team.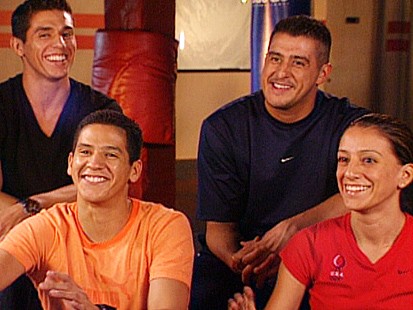 It was Jean who began the family's winning ways in tae kwon do, winning national and international competitions in the 1990s. His role as Olympic coach gives the Lopez siblings support.
"A lot of times he doesn't need to say anything," Steven said. "I can just look in his face, and it gives me what I need to go out and do it."
As a coach and brother, Jean knows his siblings' strengths and weaknesses better than anyone else.
"The big difference is that I expect a lot more from them," Jean said. "Because I know what their full potential is."
Tae kwon do, the Korean martial art, became an Olympic sport in 2000. With its relatively new status, nations are limited to four competitors, two men and two women, in eight different weight categories.
Competitors earn points by landing kicks; a kick to the body or back scores one point, to the head earns two, and below the waist is off limits.
Beijing marks Steven's third Olympic run. A two-time gold medalist from the Sydney Games in 2000 and Athens in 2004, Steven is one of the sport's international stars and has received corporate endorsements from Coca-Cola, Visa and other companies.
After he qualified to compete in Beijing, Steven made it his priority to get his younger siblings, Mark, 26, and Diana, 24, on the team.
Diana had come close in 2004, but in the Olympic trials she lost out in overtime to Nia Abdallah, who went on to win the silver medal in Athens.
The siblings' dedication and their training with their older brother apparently paid off this time around, though, because Mark and Diana, who compete in the bantam/featherweight class, are heading to Beijing with Steven and Jean as their coach.
"It is cool," Steven told ABC News. "In all honesty, it is something we did plan."
Tae kwon do has been a Lopez tradition since the 1970s, when the Lopez siblings' father, Julio, an immigrant from Nicaragua, began signing his children up for lessons in the martial art. A fan of Bruce Lee and martial arts movies, Julio Lopez believed tae kwon do would instill values of dedication and hard work in his children.
They have internalized this strong work ethic and discipline, training together all day, every day toward their goal. While they push one another to reach their potential, the constant togetherness can wear down any family.
"Sometimes you just want to block out everyone and scream or something," said Diana.
But their devotion to one another is clear and constant.
"I would rather her win than me," Mark said. "She's my little sister, and I want to see her happy."
As the first family of tae kwon do goes for gold, family comes first.