Were the months of preparation, organization, sweat and tears worth it? Even though they never took the field, Super Bowl Sunday was one of the biggest days of their careers. No, not the fans or the coaches, the team owners or even the hotdog salesmen. On the biggest night of football, it was the advertisers who were biting their nails the hardest.
Would there be there enough viewers to make the millions of dollars they paid for a 30-second commercial worthwhile? Would their ads be talked about for days to come at the watercooler, like the Budweiser frogs or Coca-Cola's famous 1980 Mean Joe Greene ad? We look at a few gambles that paid off.
Snickers and the Golden Girl
Humor is usually a big winner on Super Ad Sunday, and this past weekend seems to have been no exception. The most popular ad of the Super Bowl was the
Snickers ad
featuring Betty White of The Golden Girls TV fame. In the spot, White is viciously tackled into the mud while playing pick-up football with a group of young guys. It is then revealed that White is in fact a hungry young man who simply needs the nutty candy bar to get back on his game. The spot seems to have worked for Snickers as it is the talk of the blogosphere. And, if Facebook can serve as a barometer of pop culture, the
group "Betty White to Host SNL (please?)!"
jumped from 8,500 fans morning to 80,000 and growing.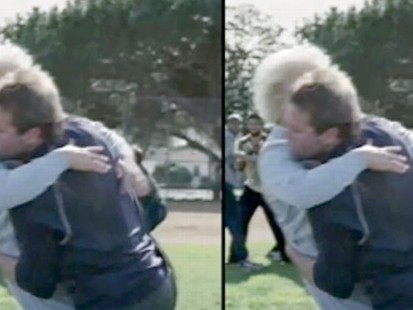 Letterman, Leno and Oprah walk into an Ad
Arguably the most surprising ad of yesterday's Super Bowl was
the commercial for The Late Show with David Letterman
featuring Letterman, Jay Leno and Oprah Winfrey. Just a few weeks after his controversial feud with Conan O'Brien on The Tonight Show, Jay Leno advertised his competitor's show while also starring with his rival host. Good thing Oprah Winfrey was there to keep the peace! It took Cold War-era tactics to make the spot without any word leaking out. Leno and Oprah both took secretly-planned trips to New York for the 30 minute shoot. Leno even donned a fake mustache to shake any tails he may have had.
No Waste for Google
This was the first year that Google bought commercial time during the Super Bowl, and they chose the "tried and true" method by using an ad that had already been making the internet rounds for 3 months.
Google chose to show off its search technology
through showing a series of searches made by an English-speaking man trying to seduce a French woman. Google CEO Eric Schmidt wrote in a rare post on the official Google blog that "you might have watched [the ad] before, because it's been on YouTube for over three months. We didn't set out to do a Super Bowl ad, or even a TV ad for search. Our goal was simply to create a series of short online videos about our products and our users, and how they interact." With a relatively minimal investment, Google was able to broadcast a penny-pinching ad that still managed to create a stir.
Doritos' Dog Has His Day
Because Doritos was the official sponsor of the Super Bowl they really needed to bring their A-game for their commercials, so they challenged their customers to create the best Super Bowl ad. After asking for contest submissions, Doritos aired 4 user-generated commercials during the Super Bowl,
including this one
featuring a dog that uses its electrified collar to outsmart a man for his bag of Doritos. The ads have been a success for the brand, ranking high in several ratings of commercial popularity. In addition, the creator of the dog collar commercial stands to win $600,000 as part of the promotion because the ad has been ranked the second most popular by USA TODAY.