Typhoon Lupit, which means "fierce" in Filipino, is taking dead aim at the already storm battered Philippines, which will make it the 18th typhoon to hit the country this season.
Here in Aparri, Cagayan, on the northern tip of the main island of the Philippines, tens of thousands of residents are braced for the storm.
"This is a serious situation," Aparri Mayor Ismael Tumaru warned residents. "So they [shouldn't] tend to relax because then they might be caught in [a] surprise."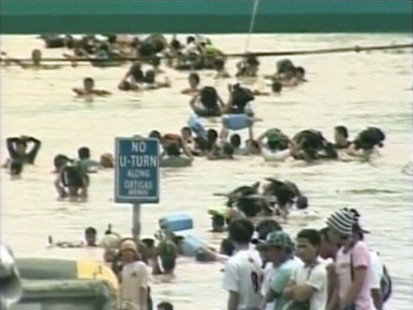 Over the last month two storms, Ketsana and Parma, struck the country, causing flooding and landslides. Over 800 people were killed.
The Philippines expects even more storms to hit in the coming months as typhoon season continues through December.
Wearing a bright yellow raincoat, Tumaru walks through San Antonio, a coastal neighborhood smack in the middle of the storm path.
"I'm afraid that lives may be lost," said Tumaru. "I think that will be unforgiveable. We can prevent this from happening."
Residents, mostly wearing t-shirts, shorts and flip flops, gather around him. Others work to clear debris the storm has already caused.
"They should monitor, open their radios," Tumaru tells ABC News about the area's evacuation plans. "When the wind becomes strong and the waves become bigger, they should leave immediately."
Weather bureau spokesperson Nathaniel Cruz said the storm, with 100 miles per hour (160 km per hour) maximum sustained winds, was stationary, but landfall is expected anytime from Friday to as late as Monday.
Residents are now on a daily storm watch. "The province will be more exposed to rough seas and strong wind, and the people living in coastal areas should watch out for storm surge," Cruz said.
Some residents have already started evacuating their families.
"I'm afraid because I'm next to the wall," said 52--year-old Eduardo Robles. "And once the wall collapses the house will be ruined."
Residents Forced to Evacuate
Last night Robles evacuated his family to a nearby school, which is being used as a shelter. He stayed behind to protect his home.
Divina Robles, Eduardo's wife, holds two of her grandchildren at an evacuation center. "The water rose, that's why we got scared," she told ABC News. "We left because we wanted the children to be away from the water so they will be safe."
Edward Alcantara evacuated all eight members of his family just in time. His house was swept away by waves overnight. The room where they slept is gone.
"If there would be anyone who could help us, I would build another home, even if small. I can't live here again because the sea is a dangerous place," Alcantara said.
Marian Pausanos contributed to this report