The Catholic Church has spent the past week embroiled in a series of new sexual abuse scandals across Europe. But this morning the New York Times is reporting that the church is facing fresh accusations that top Vatican officials failed to take action against a priest in America, who had been accused of multiple accounts of sexual abuse.
Documents obtained by the New York Times reveal that when Pope Benedict XVI was still Cardinal Joseph Ratzinger he "failed to defrock an American priest who molested hundreds of deaf boys," in Wisconsin, even though numerous American bishops had written letters begging him to act against the accused. Two lawyers have now filed lawsuits against the Archdioceses of Milwaukee, claiming they didn't take enough action against Reverend Lawrence Murphy, who died in 1998, still a priest.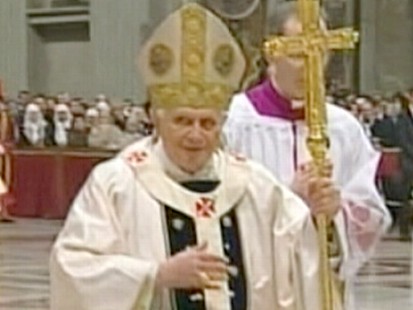 At the time of the scandal, Murphy wrote a letter to Ratzinger asking that he be allowed to simply live the rest of his life in the dignity of his priesthood.
However, the Vatican is defending itselve against these new claims, and released a statement that said Murphy's poor health and a 20-year period in which no new allegations had surfaced, were factors in their decision not to defrock him.
Our question to you today: Did the Catholic Church Try to Cover Up More Sexual Abuse Allegations?