Chocolate Marquis
Ingredients:
Hazelnut Sauce:
5 egg yolks
2 2/3 cup milk
½ cup hazelnut paste
Chocolate Marquis:
8 ounces bittersweet chocolate
5½ ounces butter
3 egg yolks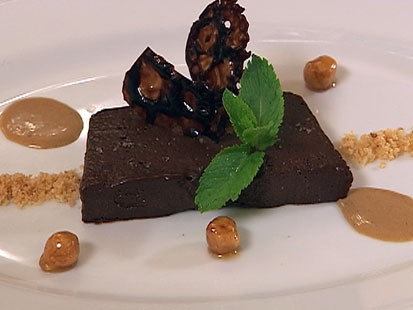 ½ cup sugar
2 tablespoons cocoa powder
3/4 cup heavy cream
3 egg whites
½ tablespoon sugar
Method:
Hazelnut Sauce:
Fill a large bowl of water half way with ice water.
In a medium saucepan over low heat, add the milk and hazelnut paste and bring to a boil.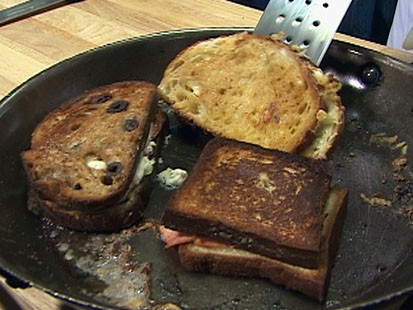 In a bowl whisk the egg yolks and sugar together until pale yellow ribbons form. Remove the milk mixture from the heat and whisk one third of it slowly into the egg yolks. Pour the tempered egg yolk mixture into the remaining milk mixture and return the saucepan to the heat. Cook over medium-low heat until the custard thickens enough to coat the back of a wooden spoon, approximately 8 minutes. Do not let boil. Remove from the heat and strain the sauce through a fine mesh strainer set over a bowl. Set the bottom of the bowl in the ice water and stir the mixture to chill it as quickly as possible. Cover the sauce and chill in refrigerator for at least 1 hour and set aside.
Chocolate Marquis: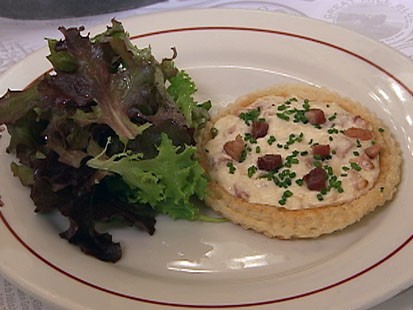 Line a half loaf pan with a piece of plastic wrap, extending the plastic 2 inches over the sides of the pan. In a double boiler set over simmering water, melt the chocolate butter, heavy cream, and cocoa powder, stirring them into a uniform mixture. Remove the chocolate from the double boiler.
In a bowl whisk the egg yolks and the ½ cup of sugar together until pale yellow ribbons form. Add to the chocolate mixture while it is still hot. Set aside.
Meanwhile, put the egg whites in the bowl of a standing mixer fitted with the whisk attachment. Whisk on medium speed until the whites begin to form soft, foamy peaks, then gently sprinkle in ½ tablespoon of sugar and mix on high speed. Continue to beat until the whites hold their shape, but do not overmix. Using a spatula gently fold the egg whites into the chocolate mixture.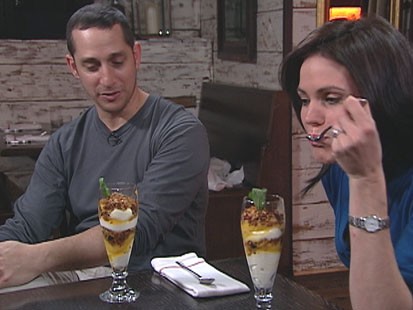 Pour mixture into the loaf pan. Cover with plastic wrap and refrigerate overnight.
Remove the loaf pan from the refrigerator and cut the terrine into slices about 1 inch thick each.
Set aside a bowl of hot water. To serve, slice the terrine with a knife, dipping the knife in the water in between slices, and set on 4 10-inch dinner plates. Drizzle ½ tablespoon of the hazelnut sauce over the terrine.
Serves 4.