Brie Larson plays the first solo female Marvel superhero in the new "Captain Marvel" movie, but there was another female icon she wanted to be as a kid.
"I wanted to be Princess Leia," Larson, 29, said Wednesday on "Good Morning America." "[When] I was probably 8-years-old, I bought a shirt that was for like maybe my size now because I was going to play her at some point."
"I kept it in my closet," Larson said. "I'm sure my mom has it in the garage somewhere."
Princess Leia was, of course, played by the late Carrie Fisher, who is just one of the female acting icons Larson said she looked up to as she dreamed of becoming an actress.
"It was really Toni Collette when I was younger that I looked up to and then eventually got to work with her," Larson added about her "United States of Tara" co-star.
(MORE: Aerie debuts 'Captain Marvel' line and it's pretty badass)
The Oscar winner stars alongside another one of her acting icons, Annette Bening, in "Captain Marvel," which hits theaters Friday.
"We have really long scenes together in this movie, so you get to play scene partners with somebody who is just incredible," Larson said of her co-star.
Larson transformed mentally and physically to play a superhero in "Captain Marvel." She described the workouts she did -- many of which she shared on Instagram -- as "hard, really hard," but also mentally transforming.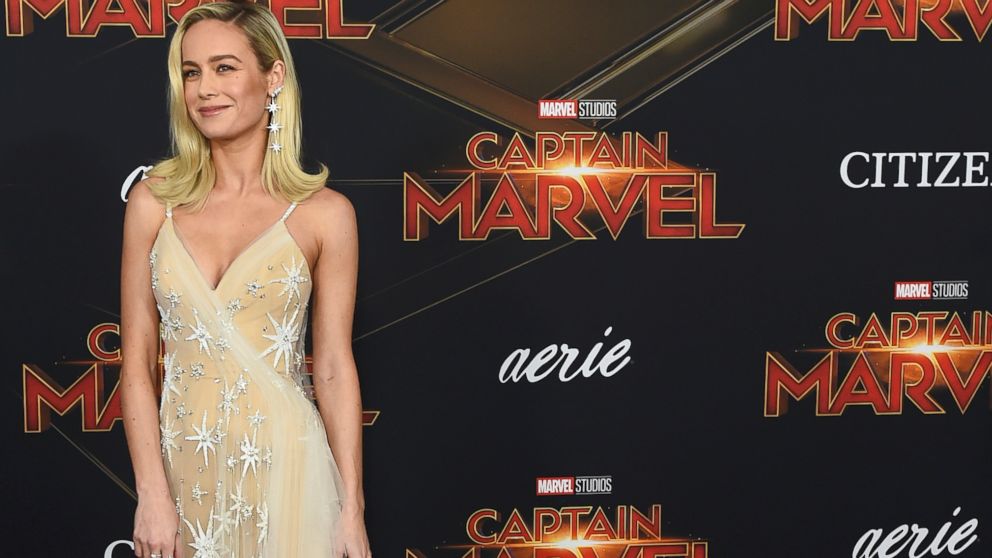 "It changes everything. It changes your mind. It changes the way you carry yourself, but it's such a sacrifice," Larson said, admitting she "cried a lot in the gym."
"It's such a full-time commitment but I loved it. I really loved it," she said.
(MORE: 6 superhero-inspired moves to train like 'Captain Marvel' star Brie Larson)
One workout Larson shared on Instagram that quickly went viral showed the actress pushing a nearly 5,000-pound Jeep up a small hill.
"It really started as a joke with my trainer because Captain Marvel can move planets in the comic. So I was like, 'If she can move planets I should at least be able to push a car,'" Larson recalled. "After a couple months of training I walked into the gym one day and he's like, 'Alright, today's the day.'"
Larson said she didn't believe she could push the Jeep but did it with her trainer's encouragement.
"You realize the importance of good teachers, too, in those moments," she said. "A good coach is kind of everything because I would have never thought that I could do that, and then [had] that experience of doing it and realizing that I could do more than what I previously limited myself to."