He may play out most days kicking around the ball with the big boys, but next Monday David Beckham will take a break from his soccer schedule to spend the morning with the women of "The View."
Beckham will be a guest on the April 26 edition of the ABC daytime talk show, "View" executive producers Barbara Walters and Bill Geddie announced today. Beckham follows in the footsteps of his wife, Victoria, who co-hosted "The View" in February.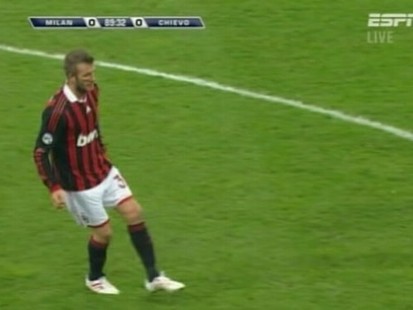 Beckham, a worldwide superstar and longtime player in the British and Spanish professional soccer leagues, signed a contract in 2007 with Major League Soccer's Los Angeles Galaxy that made him the highest player salary in MLS history.
He has launched a successful soccer school, The David Beckham Academy, with locations in both London and Los Angeles, but his celebrity transcends his sport. Instantly recognizable, the name David Beckham has provided him status beyond the playing field, with hundreds of endorsement deals, charitable work, films and magazine covers, making him a financially successful entrepreneur.
The Galaxy star is currently on the mend after rupturing his Achilles' tendon while on loan to the Italian team AC Milan, but he still hopes to make it onto the field for England when the 2010 World Cup kicks off in South Africa in June. He is expected to travel to the event to help promote England's bid to host the 2018 World Cup.
"I think that already there is an indication that he will come with the England team and he will work for the 2018 bid," World Cup organizer Danny Jordan told The Associated Press late last month. "So we will meet him when he comes here."
But not before the women of "The View" get to chat with him, of course. Catch the international soccer star/sex symbol Monday on "The View," 11 a.m. ET on ABC.