The year 2009 brought political highs and lows, convulsions in the world economy and stunning job losses.
It's little wonder people turned to television for escape, and, this year, reality-television stars -- along with those aspiring to that level -- had people talking about their outrageous behavior.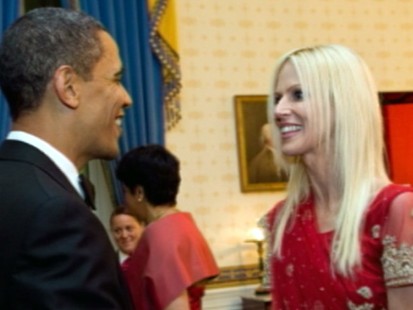 From the Colorado skies to the Jersey shore, and even at the White House, we witnessed some outrageous behavior by people looking for their 15 minutes fame. This was the year that the phrase "
Balloon Boy
" came into being, and the
White House party-crashers
pulled a stunt that had the world questioning the president's security.
But what does our fascination with them say about us? Do they act out because we watch? Or do we watch because they act out?
Balloon Boy Parents Richard and Mayumi Heene
For the Balloon Boy's parents, Richard and Mayumi Heene, 15 minutes of fame ended with a thud.
The Heenes sparked a nationwide panic when they called 911 to report that their 6-year-old son, Falcon, had climbed inside a saucer-shaped balloon that became untethered in the backyard of their Fort Collins, Colo., home.
Local, state and federal authorities followed the runaway balloon while sheriffs fielded hundreds of phone calls with suggestions about how to get the boy safely to earth. Television audiences across the country watched as the silver balloon purportedly carrying the boy soared across the sky.
"It was riveting," said Jessica Shaw, senior writer at Entertainment Weekly magazine, which has published special issue on the best and worst of 2009, including reality stars. "I was sitting in my office thinking what must these parents be going through."
It eventually landed and Falcon was not inside. A few hours later, he was found hiding in his home. But in an interview on CNN, the boy said the family "did this for a show."
Richard Heene, 49, eventually pleaded guilty to a felony charge of attempting to influence a public servant. Mayumi Heene, 48, pleaded guilty to false reporting, a misdemeanor. The couple will serve jail time in connection with the October incident.
"Part of the sentencing is that they can't cash in on their story for four years," Shaw said. And if they do get a reality show in four years and one day, she added, "there is something very wrong with our culture."
How Far People Go for Fame
The Real Housewives of New Jersey
Life imitated art when "Desperate Housewives" gave way to real housewives, actual people more riveting that their fictional counterparts. The finale of the "Real Housewives of New Jersey" ended with a tirade-laced argument and a flipped table at a restaurant.
The success of the "Real Housewives" franchise, which also has a series in Orange County, Calif., and New York City, is evidence of how much viewers have been drawn to these shows.
"We love watching people's loss of dignity," said Matea Gold, a staff writer at the Los Angeles Times. "Viewers want to see that."
White House Gate-Crashers Tareq and Michaele Salahi
But even more shocking was the "Real Housewives of D.C." Michaele and Tareq Salahi were being considered for the show when they crashed a White House state dinner, prompting calls from an investigation of the president's security.
"I think what we've seen is that behavior that in the past would have been regarded as shameful is now something that just gets you your 15 minutes," the Times' Gold said. "That's given a lot of people pause."
The reality-TV industry is considering a "real reassessment" of casting procedures, she said.
"A lot of producers are talking about 'responsible reality,'" she said, and working to "emphasize best practices in the industry."
Jon and Kate Gosselin
The Heenes didn't get their reality show but the Gosselins did. "Jon and Kate Plus 8" showcased life in the home of the large family for five seasons.
"There are so many opportunities to actually get real fame from these shows," Gold said.
Then, things stopped being so rosy.
The Gosselins got their 15 minutes of fame this year because of the meltdown behind the scenes.
The Gosselins split, their show ended and the public feuding that led up to their divorce this month made for some dramatic television moments.
'Octomom' Nadya Suleman
Nadya Suleman, the other parent of a large family, was dubbed "Octomom" by the media. A single mother from La Habra, Calif., Suleman faced harsh criticism for her decision to add to her family of six children through in vitro fertilization.
She bore octuplets earlier this year and plans to write a book and finish her master's degree.
Susan Boyle
While reality television has brought 15 minutes of fame and shame, there were notable exceptions.
Take Susan Boyle, the ordinary Scottish woman with the extraordinary signing voice who captivated audiences around the world with her participation in "Britain's Got Talent."
Boyle's fame may endure. Last year, she was an unknown. Now, her debut album, "I Dreamed a Dream," is on track to being one of the top-selling CDs of the year.
Click here to return to the "Good Morning America" Web site.