With the temperature rising, discover how your hair can beat the summer sizzle and the frizz it causes.
Allure Magazine beauty editor Kristin Perrotta gives tips and best products for prevention, styling and treatment.
Preventing Frizz
Preventing frizz really starts in the shower. The more you can lock down the cuticle, the less water will be able to penetrate during the day.
Look for shampoos labeled "smoothing" or "frizz-fighting" and that contain reparative ingredients like keratin.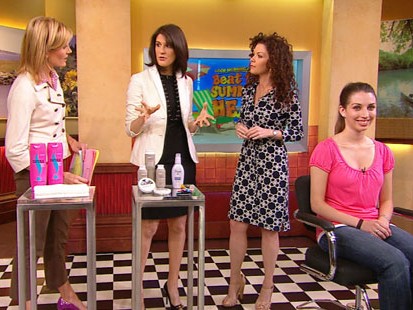 Allure magazine loves the Sunsilk Hydra TLC shampoo and conditioner, which is $4.50. It works to smooth your hair and protect it from heat damage.
Remember to leave the conditioner on for a full five minutes before rinsing.
Choosing the Right Towel
Using the right towel is important.
A microfiber towel is more absorbent than a cotton one, which means it cuts down on drying time and damage.
Allure magazine likes the Aquis Microfiber Hair Towel, which is priced at $18.
Tips for Styling
You should stay away from products that have alcohol in them, like hairspray, because they can cause the hair cuticle to swell.
Serums and taming creams should act as a lightweight glue to lock down the scales of the cuticle as much as possible and to keep out those pesky water molecules in the air.
One of the best products is from No Frizz. It was developed by an MIT engineer who found a formula that plugs the gaps in the hair cuticle like spackle.
No Frizz costs $14 to $48. It coats and soaks into each hair strand, making it repel moisture more effectively, even after shampooing and between applications.
It also doesn't make your hair greasy like many hair tamers. It works on all hair kinds of hair.
Handling Thick Hair
If you have thick hair, Allure magazine suggests The Body Shop Coconut Oil Hair Shine. It costs $10. And, for fine hair, the magazine chooses Dove Frizz Control Therapy Taming Cream. It is priced at $4.75.
The Perfect Pony
If you're looking for a hairstyle that won't emphasize frizz, try a chic ponytail. This year's ponytail is a little different. It should be high and tight.
Just slick the top five inches of hair to your head, place in the elastic holder and leave the pony product free. Allure magazine likes hair ties from Emijay, which are $11 for eight.
They are satiny, come in great colors and won't pull your hair.
At Home Treatments
Once a week, use a deep conditioning mask, it helps quench parched hair and protect it from damage. We like Pantene Pro-V Restoratives Replenishing Mask, which is $6.00.
At home treatments can help seal your cuticle for a longer amount of time, and also they add lots of shine.
John Frieda Clear Shine Luminous Color Glaze. At $9.99, the gloss is great and it really intensifies the shine in your hair and makes hair extra smooth.
Liquid Keratin 30 Day Straight At Home Kit is $69 and it takes about an hour and a half. But it did make hair pin-straight and frizz-free. Even after washing hair a few times, the hair remained smooth.