Goldstein said the so-called Western diet, which is full of highly-processed grains and meat, leads to a series of health problems that can affect one's sex life: metabolic syndrome, obesity, high cholesterol and even erectile dysfunction.
On the other hand, Goldstein said the Mediterranean diet helps the body's circulation, and therefore, the person's love life.
"The best Valentine's gift would be an evening dinner that is constructed of Mediterranean diet components," said Goldstein.
NEW and OLD: Exercise
People may not have realized that working in the field was helping their sex life, but doctors say the benefits of daily exercise extends to the bedroom in a number of different ways.
Similar to taking capsaicin, exercise can improve your overall well-being because ofendorphins. Boyle explained that the endorphins released during exercise "are similar to the ones we believe are released during sex."
"Research has shown that women who exercise regularly have a more active sex life and are easily aroused," said Boyle. "Why is that? Is that because they feel better about their bodies? Is it because of the endorphins, is it because they have more energy?"
Boyle didn't know the answer. But however it works, doctors say trips to the gym pay off, and not just for women.
"Sedentary lifestyles are associated with erectile dysfunction," said Goldstein.
Goldstein recommended most kinds of exercise to help you next Valentine's Day, except for one: biking.
"Running, jogging, tennis, racquetball and swimming are all pro-sexual and beneficial," said Goldstein. "Against that trend, bicycle riding, is very deleterious to male and female sexual health because it's very harsh on the [groin area]."
NEW: Enzyte and Other 'Natural' Pills for Libido
Anyone with an e-mail account and a spam folder can see the popularity of herbal supplements for "male enhancement."
But while most e-mail sales pitches are laughable, sexual health doctors say they often see men who've turned to supplements for a while before coming to the doctor.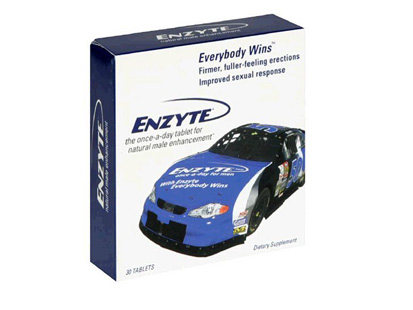 "A lot of my patients don't want to go to the doctor. They don't want to think there's something wrong with them," said Boyle.
Instead, Boyle said they used to turn to something called Extenze -- an herbal supplement that ran afoul with the Better Business Bureau and the FDA after making what critics said were false claims.
A separate supplement, called Enzyte, does not promise an increase in length, like Extenze. However, the company has paid for TV spots promoting male "enhancement."
The ingredients in Enzyte are fairly similar to the Sexlets Gum, containing some minerals or herbs known to have a very minor effect -- such as zinc and ginseng -- and some that doctors say do nothing at all for your sex life like L-Arginine and animal testicle tissue.
"While natural supplements work differently for everyone, over 5 million men have tried Enzyte, and we have utmost confidence in the potency of Enzyte's formulation," Enzyte spokeswoman Cheryl Childers wrote in an e-mail. "We worked with a pharmacognosist to develop the Enzyte proprietary blend, which includes ingredients such as Korean Red Ginseng, Pine extract, and Ginkgo Biloba. These and other ingredients work in tandem to support natural male enhancement and firmer, fuller-feeling erections."
Aside from Enzyte, L-Arginine is another supplement widely sold alone as supplement for erectile dysfunction.