Valerie Oteme used to live in Brooklyn, N.Y. Now, he and his family are sharing food out of a tin pot surrounded by the rubble of the earthquake that rocked Haiti Tuesday.
"I can't be in the house," he said. "The house is cracked and the wall is cracked."
The Otemes consider themselves lucky. Wednesday night, Valerie watched as seven dump trucks picked up the bones of people who didn't make it.
The Otemes and other survivors have gathered in what used to be an open-air market in Port-au-Prince, Haiti, that has become an open-air camp.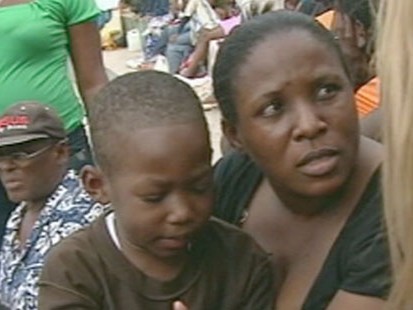 No food or water was being distributed but the people were sharing what they had just to survive.
One man at the camp said he used to work for the U.S. Embassy. Now, he doesn't know what he will do or how he will support his family.
The injured were everywhere in Port-au-Prince.
One man's eyes nearly were swollen shut -- though he said he was able to see a reporter.
Other survivors were walking the streets were searching for a better place, walking with their belongings perched on their heads, coping with unfathomable tragedy.
Click here to get up-to-date information on the Haiti earthquake. For full Haiti earthquake coverage ,watch World News with Diane Sawyer. Check your local listings for times.
One man said he was burying his mother on a hillside because he didn't want her put in a mass grave with dozens of others killed because of this earthquake.
Injured and Lost With Nowhere to Go
When ABC News came across Rosanna Jean Philippe, she was screaming in pain. When the quake struck, she had been with her parents and husband at a prayer service. She was the only one to escape the building.
Today, she was pleading for someone to bring heavy equipment to pull out the bodies.
Bodies were piling up and victims were getting care wherever they could. One gas station was turned into a makeshift hospital with people who had just been pulled from the rubble and had nowhere else to go.
ABC News gave a 52-year-old woman with a broken leg some water and snacks but it was not enough. She said that if she didn't get out of the quake devastation tonight she is going to die.
There were survivors trapped under rubble and in buildings. At a vocational school, there may have been 200 people still stuck inside.
Moving Forward
The children everywhere understood that life had changed forever.
Many people asked reporters us to send messages.
One woman wanted the father of her 4-year-old who is in the U.S. Army to come take his son away. Another man had family on the U.S. East Coast he'd like to get in touch with.
Children said they just wanted their parents to know they were all right.
The hardest part about reporting today was all the survivors who asked for food, water and phone service. While ABC News certainly could not provide that to everyone, we told them that we could tell their stories and spread the word about what they needed.
One woman in the camp, asked how she was doing, replied simply, "I'm alive."