Mikelle Biggs, 11, was alone for less than two minutes when she vanished.
It was dusk on Jan. 2, 1999, when Mikelle and her younger sister Kimber -- lured outside by the sound of an ice cream truck -- waited patiently at a Mesa, Ariz., street corner to buy treats. Kimber got cold and walked home, just four houses away, to get her jacket. When she returned, Mikelle was gone.
"I looked down to the end of the road and I didn't see her," said Kimber.
Mikelle's bicycle was found with the wheels still spinning
and two quarters for ice cream discarded on the ground.
If you have information that might help solve the mystery of what happened to Mikelle Biggs, please contact the Arizona Police Department on their website, http://mesaaz.gov/police/, or by phone (480) 644-2211.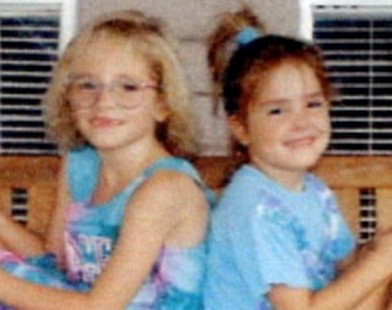 Mikelle's mother, Tracy Biggs, was terrified
. After a fast check for Mikelle at a neighbor's, she called 911.
"After I called the police, it kind of hit me then ... the panic," she told ABC News correspondent Elizabeth Vargas.
"You go cold inside," said Mikelle's father, Darien Biggs. "That first hour was it was really like walking in a dream."
Police responded immediately, and within 30 minutes a helicopter was in the air with a loudspeaker announcing that a child was missing. The Biggs' community quickly became the scene of a desperate search, spearheaded by worried and supportive friends. Neighbor Pamela Morgan remembers the evening vividly.
"From the moment that Mikelle disappeared, everybody just came together ... handing out fliers to everyone and going house to house, street to street," she said.
"All of a sudden, our little safe neighborhood wasn't safe anymore," recalled her husband, David Morgan.
Mesa Police Det. Jerry Gissel was assigned to the case the following morning. He asked Kimber to re-enact her movements from the night before. They determined Mikelle had been alone on the street corner for approximately 90 seconds.
"She was running from somebody, based on the evidence that we do have," said Gissel. "It wasn't somebody that she knew or wanted to be with. She dropped the bike, she was running toward home, she dropped quarters, and it was swift. And somebody grabbed her and, I believe, abducted her in a car and drove away with her."
Police Say 'Sheer Chance' Snatcher Wasn't Spotted
Mikelle lived in a family-friendly and busy neighborhood, but police soon discovered there were no witnesses.
"Sheer chance," said Darien Biggs. "If the person that took her had been off by 30 seconds either way," it's likely someone would have seen it.
Since Mikelle disappeared while waiting for an ice cream truck, police investigated every ice cream vendor who could have been in the area that evening. But there were none. Police began following up on thousands of tips.
"We received an enormous amount of leads. ... Going through all that information was a huge task," said Det. Domenick Kaufman, who joined Gissel on the case. "We've been everywhere, at residences in Mesa, pig farms ... dump sites, the desert ... the mountains. ... You name it."
Police traversed all of Arizona and beyond in what would become the largest investigation in the state's history.
One of the most promising leads came from an e-mail message sent to Darien Biggs, in which the sender indicated he was holding Mikelle for ransom. Police tracked that e-mail down to a location in Phoenix and organized a SWAT team.
"It ultimately turned out just to be a 12- year-old kid messing around on the Internet," said Gissel. "There were a lot of resources devoted just to that one incident. And there were others similar to that."
For Darien and Tracy Biggs, the false leads added unnecessary stress to the agonizing search for their daughter. The oldest of four children, Mikelle was class president and a talented artist who wanted to be a Disney animator.
"All parents think their kids are the brightest and the most talented, all that. Sometimes it happens to be true," said Darien Biggs.
"She had such a good spirit to her," said her younger sister Kimber, then 9 years old. "Anyone who met her just loved her."
Everyone in the Biggs household dealt differently with Mikelle's mysterious disappearance.
"When the other kids would talk about Mikelle, I wouldn't be in the conversation," said Darien Biggs.
While he couldn't bring himself to enter his daughter's bedroom down the hall, his wife found comfort there.
"I would look through her pictures and all her drawings, and I spent a lot of time organizing them," she told ABC News.
Biggs Family Loses Hope: 'I Prayed That She Wasn't Alive'
In the months and years after Mikelle vanished, the Biggses continued to raise awareness about their daughter, attending vigils and conducting interviews with the local media.
"I never broke down, cried on camera," said Darien Biggs. "One, because that's private. And two, because I felt like if I lose it that way, I'm going to lose it completely. ... I do have a family to take care of still."
Although Darien and Tracy Biggs still were publicly pleading for their daughter's safe return, they said that privately they were losing hope.
"I always believed that we were going to find her," Darien Biggs said. "I just never felt like we were going to find her alive."
"It was more comforting believing that she wasn't alive," Tracy Biggs said. "I prayed that she wasn't alive. I didn't want her to be suffering in the ways I knew she could be suffering."
From Brutal Crime, Promising Lead Emerges
Nine months after Mikelle went missing there was another brutal crime in the neighborhood. Dee Blalock, a registered sex offender who lived two blocks away from the Biggses, brutally assaulted his neighbor Susan Quinnett.
Quinnett said Blalock had bothered her with unwanted advances for months. One night, she came home from some errands to find him inside her house.
"He was hiding behind the refrigerator," she said. "I tried to take a few steps, and he already had come forward and grabbed me ... and twisted my arm, and started ... forcing me to the ground."
Quinnett was raped and brutally beaten.
"The impact was equivalent to if I had been in a head-on collision and gone through the windshield of the car," she told ABC News.
Police said Blalock left Quinnett for dead and tried to burn the house down with pizza boxes he set ablaze on the stove. But Quinnett miraculously survived the attack. As she was being taken in the ambulance, she had a revelation.
"I kept telling them, Mikelle Biggs," she said. "Mikelle, the girl that's missing, Mikelle Biggs is in his [property] ... If you go to his house and you dig it up, he took Mikelle Biggs. You have to get him. He's the one that got her."
Darien Biggs thinks police should have pressed Blalock harder when they questioned him the night Mikelle disappeared.
"They allowed them to search, but a very cursory search," Darien Biggs said. "They didn't search the area and they didn't search his vehicle."
Grieving Parents Visit Convicted Rapist in Prison
Blalock has denied any involvement in Mikelle's disappearance, and although police describe him as a promising lead, he is not an official suspect. He was sentenced to 187 years in prison for his attack on Quinnett.
Quinnett was so convinced that he took Mikelle that she offered to drop all charges against him if he would confess to taking the little girl.
She also contacted the Biggses to share her suspicions, telling Tracy, "He was their closure. He was the answer."
The Biggses began writing Blalock in prison in a desperate attempt to find out what happened to their daughter.
In his letters, Darien Biggs asked him directly, "Did you do it?"
Blalock answered their correspondence, writing that he needed to "make things right with you and your family."
Blalock agreed to a visit with the grieving parents.
"I was nervous," remembered Tracy Biggs.
But she was determined to look him in his eyes to decide whether or not he was guilty.
"He just denied, denied, denied," said Darien Biggs.
But after speaking to Blalock through a glass wall for 90 minutes, Tracy and Darien Biggs thought they had found their daughter's killer.
"His movements ... his jitteriness ... he couldn't look you straight in the eye -- just things ... that would indicate that he was lying," Tracy Biggs said.
But the case remains unsolved, and the Biggses do not yet know what really happened to their daughter.
In the meantime, they struggle with living a life of unknowns.
"I'm going to live another 40 or 50 years and just ... never know -- ever? That's what my life is?" asked Darien Biggs. "I don't think I'll ever be complete without knowing."
If you have information that might help solve the mystery of what happened to Mikelle Biggs, please contact the Arizona Police Department on their website, http://mesaaz.gov/police/, or by phone (480) 644-2211.