Cultural Appropriation Out, Cultural Reclamation In at Fashion Week
Cultural appropriation is passé says Indigenous fashion designer Sho Sho Esquiro
September 10, 2013, 2:35 PM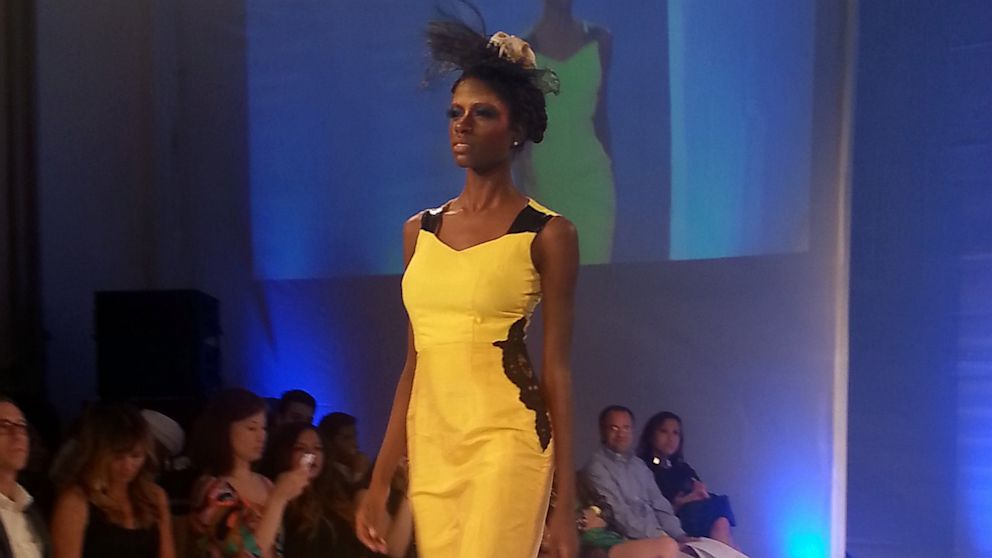 Sept 12, 2013— -- intro: And so, this marks the end of New York Fashion Week Spring/Summer 2014. While there were some clothing lines we loved, like the modern queer aesthetic of the unconventionally masculine collection by Marimacho, there were also some significant cultural appropriation faux pas. Specifically, cholo street style gone disastrous at Rodarte and Native American headdresses made of "antique smudge fans" worn by models walking the runway in Nicholas K's "shamanistic" (yes, people, shamanistic!) journey.
Apparently it is still acceptable to inappropriately appropriate Native American imagery and culture for sport. (And, no, I'm not going to touch the Redskins controversy…right now.)
According to Aboriginal Fashion Designer, Sho Sho Esquiro (who is Kaska Dene/Cree), this type of fashion is "so last season!" Esquiro presented her latest collection in the Grand Ballroom at the New Yorker Hotel on September 6th. Here are some highlights of her show with reflections from Sho Sho herself.
quicklist: 1title: text: For Esquiro, "When you're an artist, you tend to not want to be so literal. To me, headdresses and war paint are not very creative."media: 20215662
quicklist: 2title: text: Esquiro, who first saw her designs on the runway in 2010, is part of a growing number of Indigenous designers in North America and beyond, staking their claim in the fashion world.media: 20216107
quicklist: 3title: text: In an industry that feeds off appropriating elements of traditional clothing from ethnic communities around the world, Esquiro and others are defining what "Native" art and style really are. media: 20216222
quicklist: 4title: text: In her NYFW debut, Esquiro, who is from the Ross River Nation in the Yukon region of Canada, showcased an entire collection inspired by Frida Kahlo and the Mexican holiday, Day of the Dead.
"Over the past seven to eight years, my community has lost seven Indigenous women who were very supportive of me and my dreams," Esquiro said. Grieving the loss of her friends, Esquiro began researching the Day of the Dead. She was inspired by the tradition that involves creating an altar with flowers, food, and gifts for loved ones who have died, hoping to attract the souls of the dead.
media: 20216332
quicklist: 5title: text: This latest collection from Esquiro is much more sophisticated than her equally impressive streetwear designs, which feature Pendleton wool and recycled materials. media: 20216430
quicklist: 6title: text: Native American fashion tastemaker and creator of Indigenous fashion site, Beyond Buckskin, Dr. Jessica R. Metcalfe (Turtle Mountain Chippewa), describes Esquiro's collection as "grown up" and "infused with her colorful urban edge that we've come to recognize as her design aesthetic."media: 20216494
quicklist: 7title: text: Esquiro collaborated with Native American photographer, Thosh Collins (of the Salt River Pima-Maricopa Indian Community), for her lookbook. Esquiro feels it's important to collaborate with an all-Native crew whenever possible because there is a wealth of untapped talent within Indian Country. "I'm not against working with non-native photographers, models, hair make-up," Esquiro said. "But if I have an opportunity to work with our people, I jump at the chance."media: 20216552
quicklist: 8title: text: The show, part of Couture Fashion Week, featured two other Native designers: Cree Nisga'a and Linda Kay Peters.
For information about other talented Native fashion designers, check out BeyondBuckskin.com.media: 20216767