"Brooklyn," some anonymous Brooklynite colleagues declared during last night's VMAs, "is over."
It's true that MTV's thoroughly twerktastic and thoroughly perplexing awards show (after all, the main network no longer plays much of the "video music" for which it is handing out awards) might have handled its trek to NYC's #buzziest borough differently. They could have tried to be a little less like the growing number of tourists who clog my quiet, residential Brooklyn street with their cameras and their white socks and their non-ironic fannypacks. But, still, MTV didn't -- and can't possibly -- bring Brooklyn down.
But, also: Stay the #$%@ out of Brooklyn. (Please.)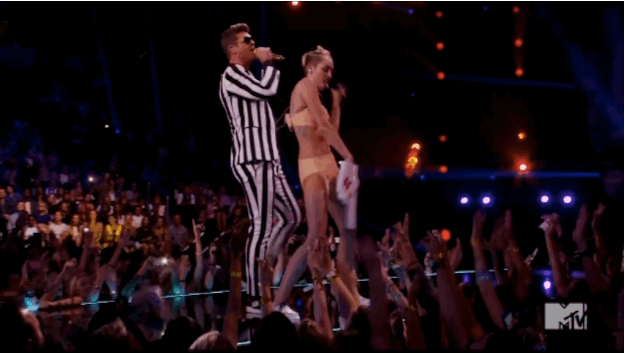 Just kidding. I can't hold claim to Brooklyn. I've spent most of my decade in NYC in this borough, but I realize I am a tiny piece of just one of many waves that takes hold, eroding brownstones into bodegas, and eroding those bodegas into brunch spots serving poached quail eggs over quinoa cakes dusted with charred fennel pollen. But, even then, Brooklyn isn't just a big neighborhood crawling with awkward white people imitating old-timey coal miners. Nor is it a movie set specially designed to give you cred just for deigning to visit it.
Brooklyn is many things, and the section that the VMAs called home this year, the Barclays Center, has never been anything to be over. It's a no man's land nestled somewhere among Park Slope, Ft. Greene, and Boerum Hill that houses an Applebee's, a Buffalo Wild Wing, a Target, and a Chuck E. Cheese, among other suburban mainstays. It's not a "cool" area. It's not "edgy." It's not, really, even Brooklyn -- it's a hub for running errands, catching the train, and spending time with your family. It's necessary. You need places like this. If you're going to send high-maintenance celebrities, hysterical fankids, and a attention-starved hangers-on somewhere in Brooklyn, it's best to make that the most decidedly suburban area of this lovely borough.
More than being a nice backdrop for people to project their fears and desires, Brooklyn is a neighborhood of immigrants. There's Brighton Beach, with its Russian restaurants and grocery store bakeries selling cake by the pound. There's Greenpoint, where you can get some of the best pierogies in the city. There are lots of Italian areas. There are Jamaican neighborhoods. Trinidad is well-represented here. There are plenty of people from West Africa, and pockets of families from Ethiopia. Brooklyn has its own Chinatown, Little Fuzhou. There's also a growing number of French families moving into Cobble Hill, which has a pretty nice Bastille Day celebration every summer. And then on Atlantic Avenue, near where the VMAs are held, there are stores, libraries, restaurants, and study centers for Muslim immigrants from various countries. If you need scented oil and perfumes, this is the place to go. And then there are the various little pockets of Orthodox and Hasidic communities around the borough, and the Greek Orthodox communities, and the Roman Catholics, and the Buddhists and Hindus and Sikhs and, you know. Everyone.
Brooklyn is a lot. Brooklyn is more than Spike Jonze and Spike Lee. It's not a movie and it's not a TV show about girls who make mistakes. It's a place where people live and work and obsess over Brooklyn.
And one tacky awards show isn't going to change that, especially if it doesn't feel it necessary to pay tribute to this borough for, say, all that it's given to hip-hop and rap. Where was Jay-Z, even? And why no mention of the newly-named Adam Yauch Park? It's not Brooklyn that's over, it's the VMAs, and award shows in general. Other than hashtags based on twerking puns, I'm not really sure what the VMAs give artists or fans, and it definitely hasn't given anything to Brooklyn.
I'm just going to end this with the Smith family's reaction to Lady Gaga's performance. They can sum it up better than I could ever hope to: