At least two of the four bank chiefs scheduled to testify on Wednesday in front of the Financial Crisis Inquiry Commission are arriving in Washington by corporate jet. The commission is a 10-member group formed by the U.S. Congress to examine the causes of the financial meltdown.
Bank of America Corp Chief Executive Brian Moynihan and JPMorgan Chase Chief Executive Jamie Dimon used their company jets to travel to Washington for the hearing, company spokesmen said.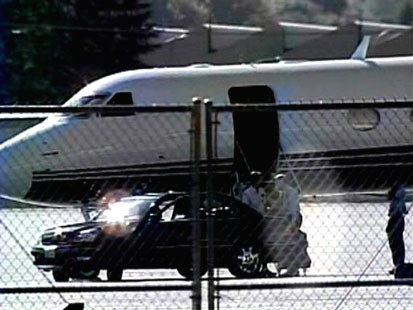 "We use a full range of travel options, including corporate travel, and given a very aggressive travel schedule for a new CEO to several markets, we did not want to miss this important meeting," said Larry Di Rita, Bank of America spokesman.
Bank of America repaid $45 billion in government aid under the Troubled Asset Relief Program on December 9, and appointed Moynihan as CEO on December 16.
Dimon is using his company's corporate jet to fly in from a healthcare conference in San Francisco.
Morgan Stanley chairman and former chief executive, John Mack, flew commercial, according to a company spokeswoman.
Goldman Sachs Group Inc declined to comment on Chief Executive Lloyd Blankfein's travel arrangements.
CEO's travel arrangements to Capitol Hill have become a hot button issue for critics of the auto and financial industries and fodder for late-night television comedians.
Automotive executives drew public outrage in 2008 when they flew on corporate jets to Washington to ask for a taxpayer bailouts.
Lawmakers blasted the executives at the time.
"It's almost like seeing a guy show up at the soup kitchen in a high hat and tuxedo," Rep. Gary Ackerman, a New York Democrat, had said then.
The wave of criticism has led for some companies to rethink their use of corporate jets.
Citigroup, which recently repaid its taxpayer bailout, nearly a year ago scrapped plans to buy a $50 million executive jet that politicians called wasteful. The jet attracted the attention of the White House and television comics alike.
More Bank Execs on Commercial Flights
The result has been more bank executives on commercial flights.
But those flights come with their own risks.
On December 14, Mack, Blankfein and Citigroup Inc Chairman Dick Parsons were stranded at a New York-area airport, unable to attend a meeting with President Barack Obama because their flight was delayed.
The three attended the meeting by conference call instead.
Di Rita said Bank of America wanted to avoid Moynihan being stranded in another location, unable to attend the hearing.
(Reporting by Steve Eder in Washington and Joe Rauch in Charlotte, additional reporting by Elinor Comlay in New York; Editing by Phil Berlowitz)