Large, cage-free eggs from an Alabama farm are being recalled due to a potential contamination of salmonella after at least 14 people reported feeling ill in a multistate outbreak, according to U.S. officials.
"Reported illnesses were confirmed at locations using Gravel Ridge Farm Eggs," the U.S. Food and Drug Administration (FDA) said in a release Saturday. "We are voluntarily recalling out of an abundance of caution."
Gravel Ridge Farms, located in Cullman, Alabama, learned of the salmonella risk on Thursday, the FDA said.
The affected products are large, cage-free eggs either in single dozen cardboard containers or 2.5 dozen flat containers with a UPC of 7-06970-38444-6 and use-by dates of July 25, 2018, through Oct. 3, 2018, the agency said.
The eggs were sold primarily in restaurants and retail stores in Alabama and Georgia as well as restaurants in Tennessee, according to Gravel Ridge Farms co-owner Dustin Smith.
The Cullman farm was a small operation and had just sold eggs, Smith told ABC News on Tuesday.
"Consumers who have purchased these products can return to [the] store for [a] refund or discard the product immediately," the FDA said. "If any consumers have Gravel Ridge Farms eggs in their refrigerator, they should be discarded, regardless of the date stamped on the package."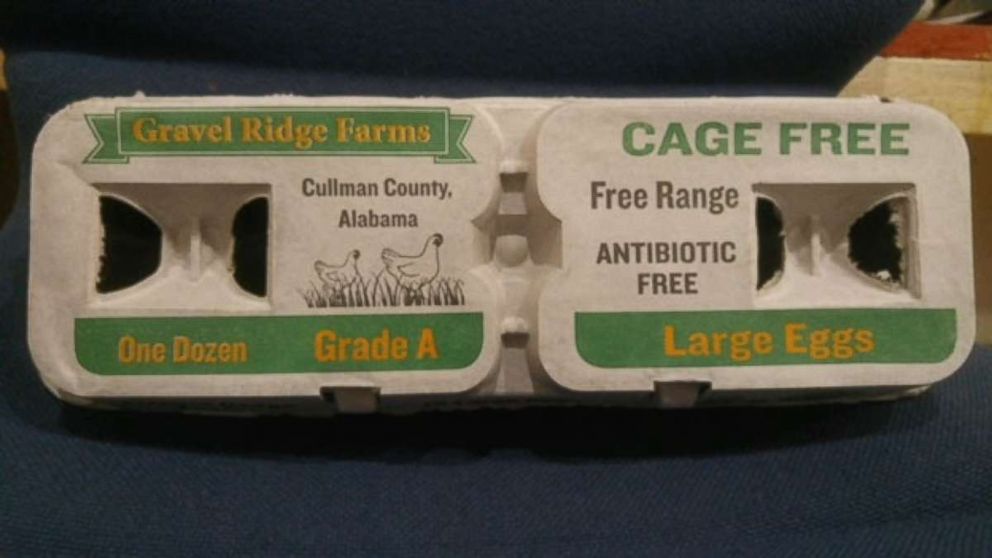 The company stopped the production and distribution of the eggs as an investigation continued into what had caused the problem, Smith said.
"We may very well be out of business," he said Tuesday.
Illnesses started on dates ranging from July 10 to Aug. 7, the U.S. Centers for Disease Control and Prevention (CDC) said, and sick people ranged in age from 1 to 94.
Two people were hospitalized but no deaths had been reported, according to the CDC.
Click here for an FDA list of stores that carry the product.
The 14 people had been infected with salmonella in two states since Friday and the agency also stated that evidence indicated shell eggs from Gravel Ridge Farms were likely the source of the outbreak, the CDC said.
"In interviews, ill people answered questions about the foods they ate and other exposures in the week before they became ill," the CDC said. "Thirteen of 14 people interviewed reported eating restaurant dishes made with eggs. ... These restaurants reported using shell eggs in the dishes eaten by ill people."
The FDA and state partners traced the source of the shell eggs supplied to these restaurants to Gravel Ridge Farms.