The coronavirus pandemic has quickly evolved from a health care crisis to a financial one, shuttering businesses, upending industries and sending financial markets reeling. -Here's the latest news on how the COVID-19 crisis is affecting the economy. For more on financial resources available during the pandemic, click here.
Here's how the day is unfolding. Please refresh for updates.
Louis Vuitton to make masks in U.S.
The luxury goods brand Louis Vuitton announced on Thursday it intends to repurpose American workshops to "produce non-surgical cloth face masks to aid in the battle against COVID-19 within the United States."
The company, which has five U.S. workshops, said it expects to create hundreds of thousands of masks to be donated to local organizations in each state.
"The face masks in production are made of cotton cloth with the ability to be re-used, washed and adjusted to better fit a variety of users," the company said. "In coherence with social distancing and workplace guidelines specified by officials, each workshop will ensure safe and healthy working conditions for all artisans."
Louis Vuitton, which already announced similar plans in France to make hospital gowns, joins a growing list of companies committed to creating personal protective equipment for first responders.
Trump releases guidelines to reopen country
President Donald Trump unveiled his administration's plan to reopen the American economy in a video conference call with the nation's governors.
The guidelines, obtained by ABC News, are broken into three phases. Governors were instructed that they could move through the phases at their own pace, and that the guidelines are not orders from the government, according to a person familiar with call.
Phase one calls on employers to telework whenever possible, have employees return to work in phases, minimize non-essential travel and make accommodations for vulnerable populations.
In phase two, non-essential work travel can resume. Schools, gyms and large venues can reopen with proper social distancing measures. Churches can open with social distancing, and elective surgeries can resume.
The third phase allows bars, gyms and large venues to reopen with limited social distancing and proper sanitation.
Facebook to alert people if they react to posts with misinformation about COVID-19
The social media giant on Thursday announced steps to further help stop the spread of misinformation about the novel coronavirus on its platform.
Facebook's Guy Rosen said in a blogpost Thursday that the company will start showing messages in the News Feed to people who "liked, reacted or commented on harmful misinformation about COVID-19 that we have since removed."
Moreover, these messages will connect people to "myths that have been debunked by the WHO."
Rosen added that during the month of March, the company has displayed warnings on approximately 40 million posts related to COVID-19. The platform also said it removed "hundreds of thousands of pieces of information that could lead to imminent physical harm." One example is that drinking bleach cures the virus.
Facebook's Chief Operating Officer Sheryl Sandberg said on ABC News' "Pandemic: What You Need to Know" that the company has now directed 2 billion people to official health resources around the world "so they can see what's really happening."
"We have a COVID information center and we've put in a 'Get the Facts' portion so that people can see some of the false information that our third party fact checkers have debunked," she noted.
"We are just doing our part to make sure everyone gets accurate information on this virus which is so important at this moment," Sandberg said.
Starbucks announces plan to begin re-opening stores
Starbucks CEO Kevin Johnson sent a letter to staff Thursday announcing plans to begin reopening stores.
"With governments, health care professionals, businesses and citizens all working together, there is evidence many markets have in fact 'flattened the curve' and are now beginning to see a decline in the number of new confirmed COVID-19 cases," Johnson said.
The company has developed a "data-rich dashboard" with information, government data, confirmed cases and trends about COVID-19 that can be used to "influence decisions at the individual store level," he added.
Citing the experience of reopening in China, where the outbreak began, Johnson said this "transitioning" phase "can best be described as 'monitor and adapt.'"
He emphasized that every community will monitor the situation and respond differently. Some Starbucks stores will continue as drive-thru only, others may use contactless pickup and delivery, and some may reopen for "to-go" ordering.
He said local field leaders will look at four main factors: "the local status of the public health crisis, guidance from health and government officials, community sentiment and store operational readiness."
Finally, Johnson said local leaders will keep workers informed of when stores will begin a reopen process and what to expect from a staffing and scheduling perspective.
Johnson's announcement comes as President Donald Trump and other leaders have urged a reopening of the national economy. Trump said guidelines on the reopening process should be coming Thursday.
5.2 million more Americans file for unemployment amid COVID-19 crisis
An additional 5.2 million Americans filed for unemployment insurance last week, the U.S. Department of Labor said Thursday.
This brings the total to more than 20 million people who have already applied for unemployment insurance amid the COVID-19 pandemic, as non-essential businesses across the country have been forced to shutter.
This means nearly all the job gains since the 2009 recession have been wiped out in a month.
The adjusted unemployment rate for the week ending April 4 was 8.2%, the DOL said, which "marks the highest level of the seasonally adjusted insured unemployment rate in the history of the seasonally adjusted series."
The previous high was 7% in May of 1975.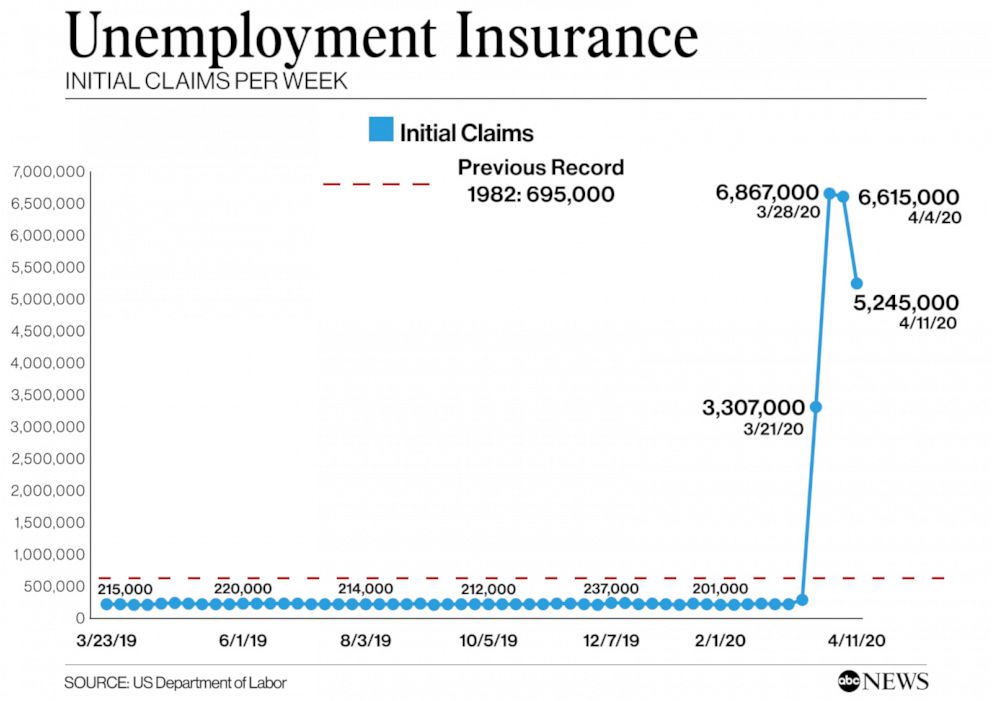 Moody's Investor Services is forecasting the unemployment rate to spike even higher and "average between 8.8% and 16.2% in the second quarter" as a result of business closures and the scaling back of work.
"Job losses have so far been concentrated in sectors directly impacted by quarantine restrictions," Moody's Senior Vice President Robard Williams said in a statement. "However, as shutdowns continue, job losses will likely extend into other areas of the labor market, such as business and professional services where firms may begin to see lower revenues from a second order pull back in demand."
The rampant unemployment will likely further cut back household spending in the U.S., which already saw a steep decline in March, according to Williams.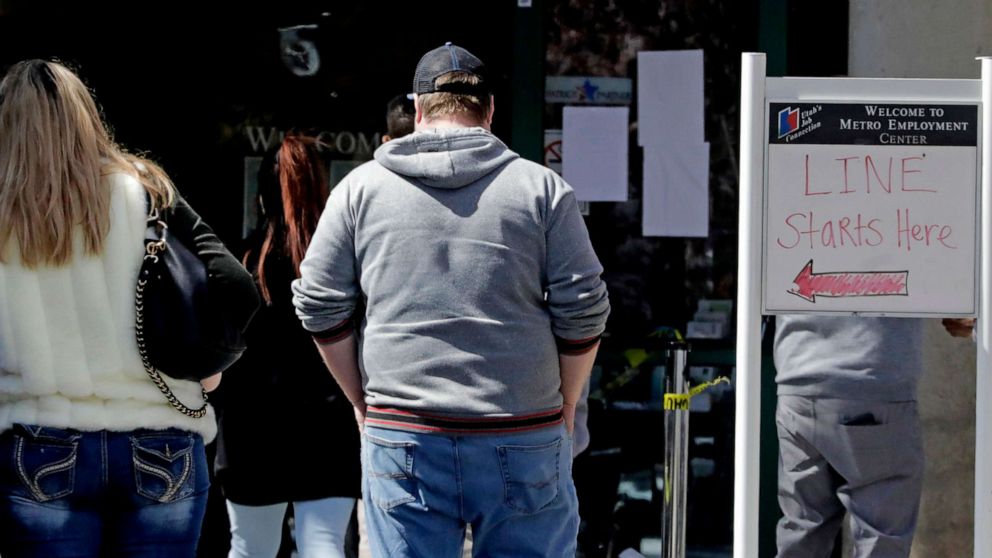 Meanwhile, as the unemployment filings skyrocket, many Americans report ongoing struggles in applying for unemployment insurance across the country.
ABC News' Emily Shapiro contributed to this report.
This report was featured in the Friday, April 17, 2020, episode of "Start Here," ABC News' daily news podcast.
"Start Here" offers a straightforward look at the day's top stories in 20 minutes. Listen for free every weekday on Apple Podcasts, Google Podcasts, Spotify, the ABC News app or wherever you get your podcasts.