It's a jolly holiday season for most, but the timing couldn't be worse for the city of Janseville, Wis.
Two days before Christmas, the last shift of workers will punch out of General Motor's Janesville plant for good. That means 1,200 jobs and 80 years of the city's pride and prosperity are gone.
Karen and Keith Trembula have spent a half a century building GM trucks and SUVs between them, but now they face an uncertain future.
"The hardest part for me now, is what decision do I make? I'm too young to retire," Keith Trembula said.
Since the first truck rolled off the Janesville plant's assembly line in 1923, the city's fate has been linked to General Motors. Unfortunately it has been pummeled by the plummeting popularity of the gas-guzzling trucks and SUVs manufactured there.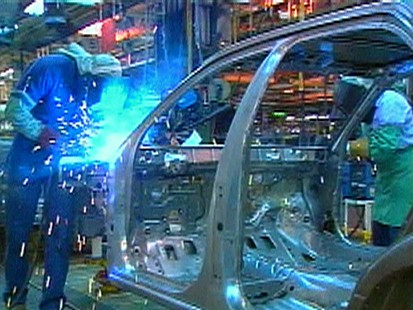 In July, 36-year-old Devon Bliss lost his job with GM supplier Allied Systems.
"I have two kids, two cars, a house to pay for and no job to earn any money to pay for it all," Bliss said.
His wife Tami said they had to make a tough decision and file for bankruptcy. The Blisses aren't alone -- 3,000 auto-related jobs have vanished in the United States since the summer.
For every job that leaves Janesville, there will be less money spent and fewer ways to keep local businesses afloat.
Business owner Chris Brose remodeled his bowling alley before he knew so many customers would be out of work.
"I'm concerned about how many employees will be losing their benefits or will be moving or doing whatever to try to survive. I think next year my business will really tell the tale," Brose said.
At PrimeTime Pizza, business dropped 20 percent when GM cut the night shift, and the owners aren't looking forward to what will come in the new year.
As the GM workers lose their jobs in Janesville, many are looking for other sources of employment.
Devon Bliss was one of the lucky ones. He managed to find work at a local plastics factory. He says he's reinventing himself, the same way he hopes Janesville can.