An 11-year-old California boy had to be pulled from a chimney of his new home Monday after he tried to get into the locked house and let in his family.
The family was painting the interior of the Woodlake, Calif., house before moving in and got locked out.
The boy, Matthew McCammon, suggested that he go down the chimney into the living room and open the door from inside, but his mother, Chrissy Philpot, told him not to do it.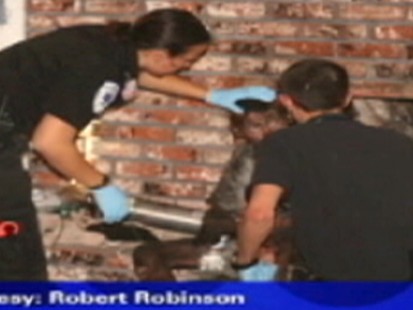 She told the
Visalia Times-Delta
newspaper that when she went in the backyard about 4:30 p.m., she saw his head disappearing down the top of the chimney. Philpot said her son had climbed onto a tall trash can, then onto the roof and down the chimney.
"I yelled for him to get down," but it was too late, she told reporters. "I was getting scared, because I couldn't see his head."
Initially, she heard no sounds from her son, and then, "I heard him screaming and crying and panicking real bad."
He repeated, "I'm OK," Philpot said.
Within 15 minutes though, he was hollering that he was scared.
Woodlake firefighters responded to the family's 911 call, as did CAL FIRE, Tulare County firefighters, and members of the Visalia Fire Department's new Technical Rescue Team, which is trained to perform confined-space rescues.
Woodlake Fire Chief Joe Perez told reporters that the damper over the fireplace prevented Matthew from going all the way down.
Somehow, Matthew managed to twist his body around in the tiny space and was upside down with his hands sticking out through the narrow gap in the damper. According to Perez, he later got himself upright, standing on the damper.
"I asked him if he was breathing OK, if he was hurt," Perez said, according to ABC News Fresno, Calif., affiliate KFSN. "He said 'no' ... it was just hot."
Matthew Freed After Chimney Blown Out With Air Chisel
Woodland firefighters considered pulling Matthew back up the chimney, but reconsidered, and instead, with the help of the Visalia City Fire and Rescue, they blew out the back of the chimney with an air chisel.
After an hour and a half, Matthew emerged from the wreckage.
Except for some bumps and abrasions, firefighters said they saw no signs Matthew suffered serious injuries.