Judge revokes bail for disgraced FTX founder Sam Bankman-Fried
The cryptocurrency executive was living with his parents in California.
Disgraced FTX founder Sam Bankman-Fried has had his bail revoked and he has been immediately remanded to custody of the U.S. Marshals.
Judge Lewis A. Kaplan made the ruling to send Bankman-Fried to jail during a hearing Friday in U.S. District Court in New York City. Bankman-Fried's attorneys shortly filed a notice of appeal of the judge's decision to revoke his bail.
Bankman-Fried will be housed at the Metropolitan Detention Center in Brooklyn while he awaits trial, a source told ABC News.
Federal prosecutors argued in a recent court filing that Bankman-Fried deserves to have his bail revoked and to be detained before he is tried for fraud and conspiracy charges stemming from the collapse of FTX.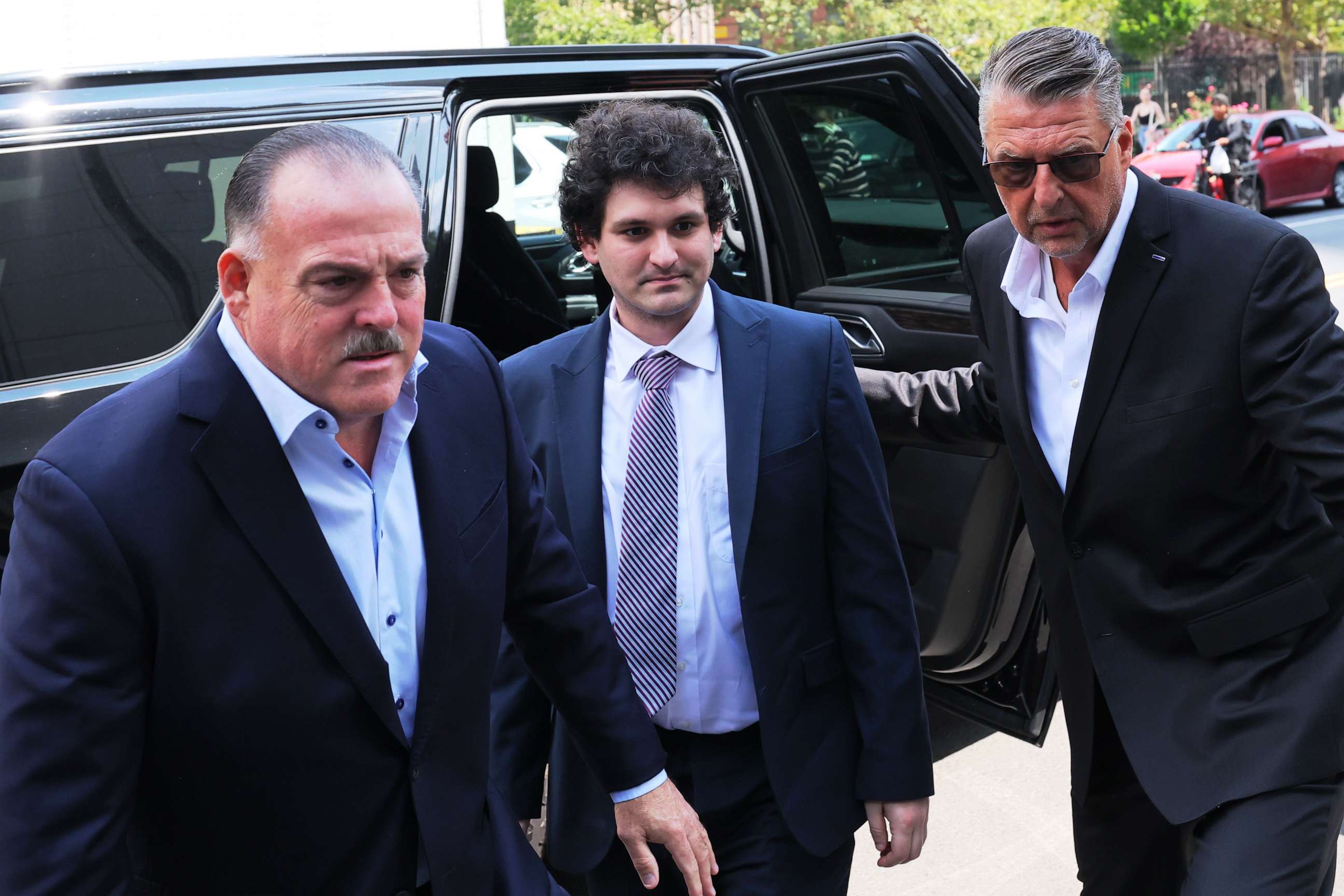 Prosecutors balked at Bankman-Fried sharing with The New York Times excerpts from the personal documents of Caroline Ellison, Bankman-Fried's former girlfriend, who led his Alameda Research hedge fund and who has pleaded guilty and agreed to cooperate.
Bankman-Fried considered those private writings of Ellison "detrimental to her" and accused him of sharing them with the newspaper "in order to affect the public's perception of her," prosecutors said.
Prosecutors accused Bankman-Fried of witness tampering.
"The record here establishes that the defendant went beyond benignly exercising a constitutional right to speak to the press -- he took covert steps intended to improperly discredit a trial witness and taint the jury pool," prosecutors said. "[T]he Government seeks the only appropriate relief consistent with the defendant's escalating evasions of his bail conditions: that bail be revoked and the defendant be detained pending trial."
The 31-year-old was initially released in December 2022 on a $250 million personal recognizance bond signed by his parents and secured by their Palo Alto, California, home. A prosecutor called it the largest pretrial bond ever.
Bankman-Fried pleaded not guilty to 13 charges, including fraud, conspiracy and bribery, after federal prosecutors said he misappropriated billions of dollars from FTX before it went bankrupt. Prosecutors allege he used the money to cover losses at his hedge fund, Alameda Research, to buy lavish real estate and to make political donations.
A campaign finance charge against him was dropped after officials in the Bahamas, where Bankman-Fried was arrested, said they had not agreed to extradite him based on that count.
In a letter to the judge this week, however, prosecutors said they intend to file a superseding indictment next week that will seek to incorporate Bankman-Fried's alleged campaign finance scheme into seven other existing charges.
The trial is scheduled for October.
Ellison pleaded guilty in December to two counts of wire fraud, two counts of conspiracy to commit wire fraud, conspiracy to commit securities fraud and conspiracy to commit money laundering, according to court documents.