For more than two weeks this summer, American athletes competing in the Beijing Summer Olympics thrilled and charmed millions from coast to coast.
Now that they're back, lots of them are again going for the gold. Only this time, the gold will be in their pockets.
Who can blame gold medalists for trying to make the most of their post-Olympic celebrity? After all, those doors have already been opened for them.
Goodbye, Dental School
Today Mark Spitz is an entrepreneur and spokesman for Botox and a pharmaceutical benefits management company called Medco. Back in 1972, he won seven gold medals in swimming, a record that was eclipsed a few weeks ago by phenom Michael Phelps. Spitz's achievement more than 30 years ago instantly made him a national icon.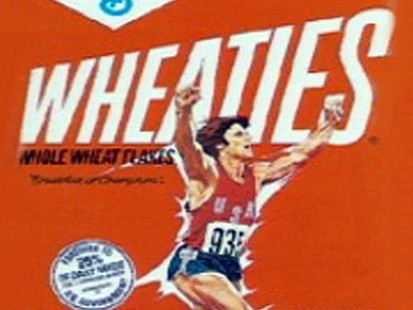 Although he was already in dental school, he never returned, choosing instead to make the most of his newfound fame. Spitz accepted many of the post-Olympics deals that were immediately offered. But he still recalls the one that got away -- a $1 million offer to shave off his now signature mustache.
"A million bucks in 1972 is more than a million bucks today. The caveat to that is that the taxes were like 72 percent, so it was harder to keep the money," Spitz said.
But we become obsessed with our Olympians every few years, only to forget most of them not long after. And the average Olympian is so focused on winning an event that they're often ill-prepared for the morning after.
Even Bruce Jenner knows what an Olympic hangover feels like. The night after he won the Olympic decathlon in 1976, Jenner pondered his future in a Montreal hotel suite.
"I was devastated," he said. "What do I do tomorrow? My entire life had been revolving for the last 12 years of my life around this one moment. I didn't have a dinner reservation that night. I mean I planned for nothing after it was over with."
Adding to his sense of unease, he said, were those around him, who were now thinking that he was a different person.
"You're on this pedestal. I didn't change at all but everybody around you does change quite a bit," he said.
His first job was with ABC, joining legendary announcer Howard Cosell at the anything-but-Olympic "Battle of the Network Stars."
Now Jenner is a reality-TV fixture on "Keeping Up With the Kardashians" as the stepfather to a clan that includes vixen Kim Kardashian.
Of course, Jenner has had three decades' worth of TV and commercials, but it all started when he was about to sign a life-altering deal with Wheaties, just three months after winning the gold. Up until then, he had been living in a $143-a-month apartment and driving an old Volkswagen bug that cost him less than $200.
"We're sitting across the table and the guy hands me my copy and he goes congratulations, you're a millionaire," Jenner said.
Waiting for the Cash to Flow
One Olympic athlete who's still waiting for her million-dollar contract is Tonya Harding, ever notorious for the figure skating soap opera of 1994 when rival Nancy Kerrigan was attacked by a crony of Harding's then-husband. The media frenzy that ensued, through the Games and beyond, left Harding with an Olympic hangover that's 14 years long and counting.
"I was definitely not ready. When you're preparing for skating, you're there to be skating. And then to just get thrown into the media light like that and everyone pulling at you in every different direction, I still deal with that," Harding said.
Harding's post-Olympic resume also features a honeymoon sex tape -- and earlier this year, a tell-all memoir called "The Tonya Tapes." None of it has set her up financially but after more than a decade as a post-Olympic punch line, she remains hopeful.
"I look forward to next year, I look forward to tomorrow. Maybe one of these days, I'll make the money off of the punch line as well," Harding said with a laugh.
Fame? No Thanks
Yet not every Olympian wants to cash in. Eric Heiden won five speed-skating gold medals at the 1980 Winter Olympics in Lake Placid. But after the Games, he shocked his agent Art Kaminsky by turning down a bundle.
"They were going to offer me, $400,000 a year, for three years, to be on the box of Kellogg's Corn Flakes, and I remember looking over at Art and going, 'I don't want to do this, because I enjoy my private life,'" Heiden said.
Although Heiden recalls that Kaminsky's jaw dropped at his response, he didn't want to promote something he wasn't comfortable with.
Instead, Heiden went to medical school after the Games. He's now a top orthopedic surgeon and serves as the medical director for the U.S. Skate and Cycling Association, but he says it might not have happened in today's climate.
"If I was offered some of the endorsements that the athletes get now, I don't think I probably would be sitting here with M.D. after my name," he said.
That's because the numbers that Phelps' people have been talking about publicly -- $100 million over his career -- are indeed eye-popping.
Former figure skater Tai Babilonia, who was also at the Lake Placid Olympics, says the offers were much simpler when she was an Olympian.
"We were happy to get jewelry. We were happy to get a plaque. There's an innocence that's been lost to me. They've got agents, they have managers, they have publicists, they have this and that and we just had coaches," Babilonia said.
Home-schooled from the seventh grade onward, pairs skater Babilonia surrendered the simple pleasures of high school life in California to prep for Olympic glory in 1980 with skating partner Randy Gardner.
"I didn't know any better. I wanted to train for the Olympics and be in the ice rink. That's where I was happiest," she said. "Still to this day, I'm happiest in the rink."
But when Gardner suffered an injury, their Olympic dreams ended instantly. Three months later, she was on the road in an ice show, dealing with her Olympic hangover, unprepared for the real world.
"I just thought when you're the star of an ice show, everything's gonna be done for you and everything's gonna be laid out, and you just have to skate. And that was furthest from the truth. You're out there on your own," Babilonia said.
Alone and away from home, she would call her mother, whose advice was to just plow through it. Along the way, she beat a late-'80s drug problem and now is engaged to comic David Brenner. Today, like many of her fellow Olympians past, she counsels aspiring Olympians to plan for their future, but not to overdo it.
"I just keep saying pace yourself. People are gonna start tugging at you and wanting you to do this and that and your goal is to train correctly and have no distractions," she said. "You can find a balance. But just don't go Hollywood too quickly."