The big night came and went, but didn't disappoint. The 2016 Golden Globes are over, but there are a slew of amazing moments from the show.
The moments start with host Ricky Gervais using his biting humor the entire night, to the big winners, like Sylvester Stallone and Leonardo DiCaprio, and don't forget the list of amazing speeches, this year's show was one for the ages.
Here are the top 5 moments:
1 - Ricky and Mel
Gervais opened the show with his usual brand of snarky comedy, holding nothing back.
"Relax, I'm going to try and be nice," he began, right before poking fun at everyone in the room. "Shut up, I don't care," he said after tackling issues like gender equality and Caitlyn Jenner's transformation in his opening.
Later in the night, Gervais joked about introducing Mel Gibson and having made some comments about the actor years prior. A lot of the interaction on stage between Gervais and Gibson was bleeped out, so it must have been good. The two hugged it out and seemed to laugh through what could have been an awkward moment. Gervais closed the show by signing off for him and Gibson.
2 - Jamie Being Jamie
Jamie Foxx is more than an Oscar winner, he's a jokester too!
Foxx pulled a fast one on the crowd, announcing that "Straight Outta Compton" won for Best Original Score, not the real winner, "The Hateful Eight." He then apologized for making the same mistake Steve Harvey did at the Miss Universe Pageant.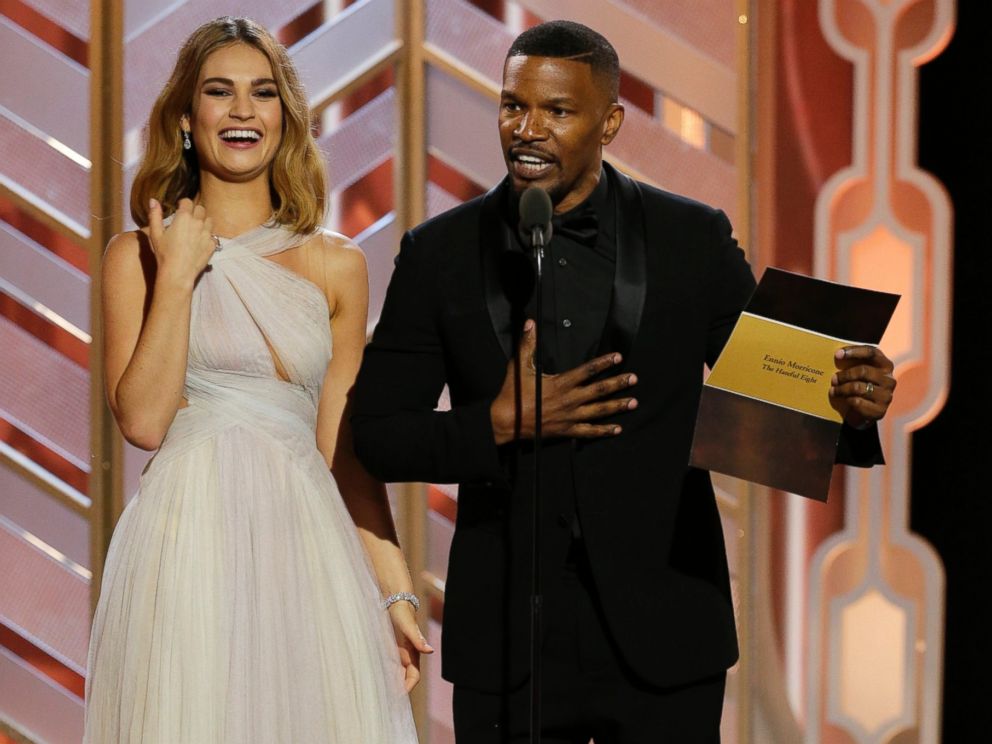 3 - The First-Time Winners
One of the biggest wins of the night was Sylvester Stallone for his classic role of Rocky in the movie "Creed." After the win was announced, he received a standing ovation and then thanked his "imaginary friend" Rocky for "being the best friend I've ever had."
Lady Gaga also won her first Globe for her work on "American Horror Story" and had one of the most emotional speeches of the night.
"I feel like Cher in ... 'Moonstruck' ... this is one of the greatest moments of my life," she said, while tearing up. "I wanted to be an actress before I wanted to be a singer."
Another longtime actor that was actually a first-time winner tonight was Christian Slater for his role in "Mr. Robot." It truly was a night where the stars, new and old, were recognized.
Brie Larson also won for her acclaimed performance in "Room" and wowed the audience with her speech.
4 - Denzel
Tom Hanks said it best when he said you only need one name to describe legendary actor Denzel Washington.
Denzel Washington took home the Cecil B. DeMille Award for lifetime achievement. His "Philadelphia" co-star and fellow Oscar-winner Hanks introduced him and said, "Every generation, film-goers find the artist that defines the time they live in. The obvious power to not only hold our attention, but demand it ... you cannot copy them, you can only sort of emulate them."
Washington took the stage and said, "I'm speechless," while thanking his mother and father, and his current family, who took the stage with him.
5 - The Speeches: Taraji and Leo
Taraji P. Henson won for her role of Cookie on "Empire" and actually handed out cookies on her way to the stage.
"I just did not expect they (would) call my name," she said backstage after her big win. "But when they called my name it was like visceral. I was like, 'Well the cookies are here! I guess I should hand them out.' It was just a spontaneous moment."
When she got on stage, she said, "Cookies for everyone tonight, my treat ... Who knew playing an ex-convict would take me all around the globe?"
A similar moment of exhilaration happened when DiCaprio won for Best Performance by an Actor in a Motion Picture, Drama for "The Revenant." He also got a standing ovation and said "This film was about survival ... more than anything it was about trust and no more deserving of that trust than our direction. I've never had an experience like this in my entire life."