On the set of the new "A-Team" movie, two of its stars, professional fighter Quinton "Rampage" Jackson and South African actor Sharlto Copley, formed an unlikely friendship over their shared lifelong love of the classic 1980s television series.
Poised to be one of the summer's biggest blockbusters, "The A-Team" opens today in theaters. Copley and Jackson talked to Peter Travers of ABC News Now's "Popcorn" about what it means to be part of the new A-team.
"I grew up watching 'The A-Team.' 'A-Team' was my favorite show as a kid," said Copley, who will revive the role of the crazy chopper pilot Howlin' Mad Murdoch.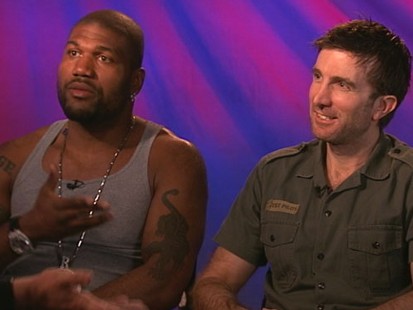 "I had an A-Team gang that I started," Copley said. "I had a rival gang start up trying to become the A-Team. We had a fight down on the field. That was my only little exposure to aggression, was fighting for the A-Team, literally. We won."
Jackson, who will take on the iconic role of B.A. "Bad Attitude" Baracus, made famous by Mr. T, equally loved "A-Team," though he didn't have a need for an A-team gang.
"My father was B.A. to me," Jackson told Travers. "I saw my dad every day. My dad wore the camouflage pants and he was big like B.A., and he talked like Mr. T and we joked around. My dad was like B.A. and, ultimately, I wanted to be like my dad and I wanted to be like B.A. So I became B.A. growing up. That's why I became a fighter."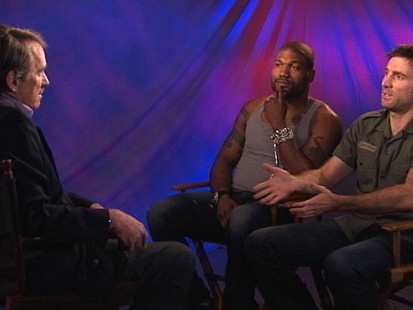 Just because Jackson is poised to become a movie star, don't think he'll be giving up his fighting gig with the Ultimate Fighting Championship anytime soon.
"Acting is kind of gay," Jackson told a Los Angeles Times reporter. "It makes you soft."
Jackson's remark, along with gay slurs he made toward a crew member, landed him in hot water last month.
Earlier this week, he posted a response on his website in which he said, "not only DO I NOT HATE gay people, I actually accept them for who and what they are." He wrote that he and the crew member are actually friends and were simply "trash talking."
Copley's "crazy talking" actually landed him his breakthrough role in last year's Oscar-nominated film "District 9." He learned by emulating the original Howlin' Mad, actor Dwight Schultz.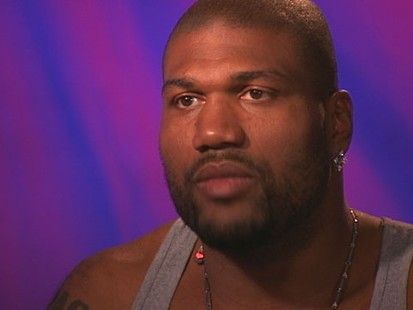 "I grew up being very influenced by Dwight Schultz and doing different voices and different characters, just for fun, not because I'm crazy," Copley told Travers.
The A-Team Then and Now
It's been more than 20 years since the A-Team amped up to give the bad guys a beat down.
In case you're not familiar with them, a primer: The original A-Team was a four-man band of ex-U.S. Army Special Forces/Vietnam War veterans/fugitives on the run for war crimes they didn't commit who become mercenaries for hire. Over-the-top violence and cartoon-like action characterized the 1980s TV series based on their misadventures.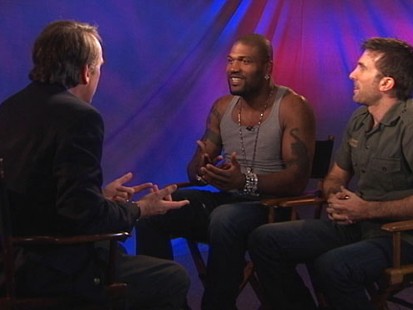 For the big screen, a new crop of actors has been brought in to get the job done. This time, they're united by their shared status as Iraq war veterans.
Below, check out where the former stars of "The A-Team" are now, and who's been enlisted to carry their legacy on to the big screen.
Lieutenant Templeton 'Faceman' Peck
Dirk Benedict played smooth-talking Faceman (a.k.a. Face) in the original "A-Team" series. As the A-Team's resident con man and pretty boy, he charmed his way into getting supplies the crew needed and emerged from dangerous endeavors unscathed, cleanly styled, cigar in hand.
After "The A-Team" went off the air in 1987, Benedict tried his hand at theater, attempting the title role in Shakespeare's Hamlet and earning poor reviews.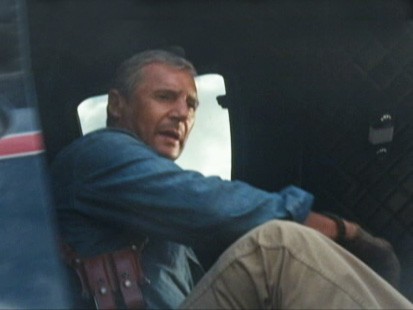 Then it was on to film. He starred in 1993's "Shadow Force" and in 2000 wrote and directed his first screenplay, "Cahoots."
A foreign film and a TV movie later, Benedict dipped his toe in the waters of reality TV, competing in the U.K. version of "Celebrity Big Brother" in 2007. His "A-Team" fame followed him there: A replica of the "A-Team" van brought Benedict and his character's signature cigar onto the set as the "A-Team" theme tune blasted in the background. He ended up scoring third place in the competition.
Benedict divorced his wife, actress Toni Hudson, in 1995. They had wed in 1986 after she appeared in an episode of "The A-Team." They have two sons together. Benedict has another son from a previous relationship.
In 1975, Benedict was diagnosed with prostate cancer and adopted a macrobiotic diet to better his health. He wrote a book about advocating a macrobiotic lifestyle in 1991, "Confessions of a Kamikaze Cowboy."
"Hangover" star Bradley Cooper is charged with bringing Benedict's character to the big screen this summer. With a buff body and an enviable head of hair, he's got the handsome part down. Benedict himself makes an appearance in the "A-Team" movie as well.