Scratch that. Steven Tyler is, in fact, not walking far, far away from Aerosmith, the iconic rock band for whom he's sang, screeched and screamed since 1969.
Tuesday night, Tyler and Aerosmith guitar guru Joe Perry performed the musical equivalent of hugging it out, reuniting on a New York City stage and announcing that Tyler was sticking with the group, contrary to what Perry previously reported.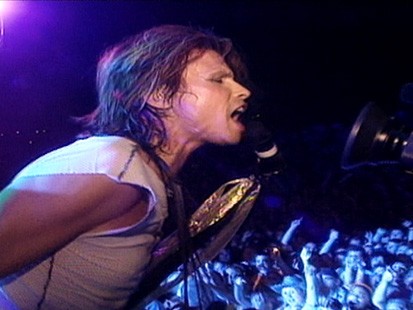 "I just want New York -- New York, I just want you to know I am not leaving Aerosmith," Tyler told a crowd of raucous fans at Irving Plaza, according to British music outlet New Musical Express, aka
NME
. He then launched into a rousing rendition of "Walk This Way" with Perry and co.
Perry didn't seem like he wanted to walk anywhere with Tyler Monday, when he turned their 40-year-long friendship into a public feud through Twitter, proclaiming Tyler's impending absence and insisting the band keep on rocking.
"Aerosmith is positively looking for a new singer to work with. You just can't take 40 years of experience and throw it in the bin!" Perry tweeted Monday. "Band is playing hotter than ever and our songs need to be played live! Don't despair; Aerosmith not splitting up. Promise that's the last you'll hear from me on the subject till we gear up again."
Tyler's whole "should I stay or should I go" refrain started last week when he gave an interview to a British music magazine and said he was preparing to focus on a solo career.
It's not hard to imagine why Tyler would want to bail from the band and kick back a bit -- at 61, the aging frontman doesn't sport the swagger he rocked during Aerosmith's heyday in the '70s, '80s and '90s. In August, Tyler plummeted sideways off the stage during a South Dakota show, injuring his head, neck and breaking his shoulder, and forcing the band to scrap the rest of their 2009 tour, save for two October concerts.
Perry can't have mishaps like that messing up Aerosmith's mojo, and Tyler probably doesn't have a death wish. Which is why, should Tyler break off from the band in the future, Perry might want to think outside the box in searching for his replacement. After all, as many ABCNews.com readers noted Wednesday, no one can fill the boots of the large-lipped, crazy-haired rock icon.
"I thought this was a joke when I read the reports yesterday," wrote Brady Augustine from Vancouver, Wash. "We need to facilitate a sit down meeting right now to resolve the communication breakdown with both of them present. It has to get done!"
"No one can fill Steven Tyler's shoes (or should i say lips)," wrote Robert Quiroga from Pomona, Calif. "He is as iconic to Aerosmith as Michael Jordan is to basketball."
"There will never be a replacement for Steven Tyler," wrote Barbara from Riverside, Calif. "He is the biggest part of Aerosmith. They should just retire and keep their dignity."
Top Eight Contenders to 'Replace' Steven Tyler ... If He Leaves Aerosmith
Well, now Aerosmith gets to keep Tyler and, apparently, their dignity. So we thought we'd have a little fun with our suggestions for Perry, should he need them down the road. Below, eight people who maybe, possibly, in another universe, could dream of replacing Tyler as Aerosmith's frontman.
Perry could keep it in the family. Steven Tyler's 32-year-old daughter Liv may not bear lips as big as her father's, or a voice as distinctive as her father's, or any special singing skills of which to speak, but she does share his last name. (Also -- squint hard and they kind of, sort of look alike.) And Liv shot to stardom after starring in the music video for Aerosmith's 1993 song "Crazy" alongside Alicia Silverstone. All that plus the whole DNA thing seems enough of a reason to pass her the mic.
Who can forget Silverstone gyrating in that sexy school girl outfit in the ultimate Aerosmith video trilogy: "Cryin'," "Crazy," and "Amazing?" "What you did to me took my breath away," indeed. Forget singing. If she sticks to that routine on stage, the band will sell out stadiums well into the next decade.
OK, we're slightly serious here. "American Idol" runner up Lambert was the one of the few people ABCNews.com readers thought might be up for the challenge. "Any guy with that sort of enthusiasm, attitude and passion would be able to rock Aerosmith's hits," T. Wilson, from Springfield, Tenn., said of the dark-haired, eyeliner-loving, leather-clad singer. But on the other hand, as a reader going by "Just a girl" noted, Lambert may not be well known enough. "The guy from 'American idol' w/ black hair that wears eyeliner," she wrote to ABCNews.com. "Can't remember his name."
He flexed his once mighty vocal muscles at the memorial service for his late King of Pop brother, Michael Jackson. He seems hungry for more time in the spotlight. Why not take that show on the road with Aerosmith?
Michael has a fantastic pop star voice. No, it's not Tyler's gritty growl, but it's got a charm all its own. And he does have an affinity for getting caught mid-sex act in public parks ... crooning "Love in an Elevator" doesn't seem so farfetched.
Radiohead's uber-serious frontman could maybe benefit from lightening up. Or, perhaps, he'd take Aerosmith in a completely different direction. We see a mashup of "OK Computer" and "Get a Grip" on the iTunes horizon.
Yeezy's got style and attitude Tyler could appreciate, plus he's always trying to do something different. Following up "808s & Heartbreak" with an Aerosmith album could be the move of the century.
If only to see Mr. Las Vegas himself snap his fingers and shimmy to "Walk This Way" on the stage of the Tropicana. That would be the stuff of legend.