— -- The college football season came to an exciting end during the final moments of Alabama's overtime win against Georgia, thanks to a second-string freshman quarterback and an offensive lineman who threw in a post-game surprise for good measure.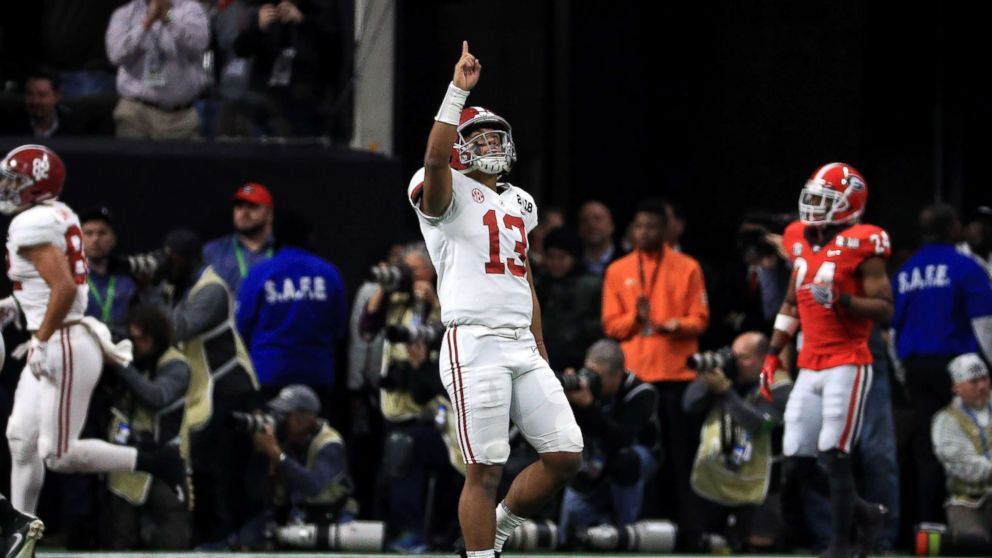 Tua Tagovailoa, the true freshman who replaced starting quarterback Jalen Hurts after halftime, led Alabama to its fifth national title in nine years on a game-winning, 41-yard touchdown pass to freshman wide receiver DeVonta Smith Monday night at Mercedes-Benz Stadium in Atlanta, Georgia.
Being a part of the team's 26-23 win was "a blessing," Tagovailoa told Good Morning America" today.
"It feels really good, you know, it's a blessing," he said. "I mean I got the opportunity to celebrate it with not only my teammates but my family. So that was something special," the quarterback added.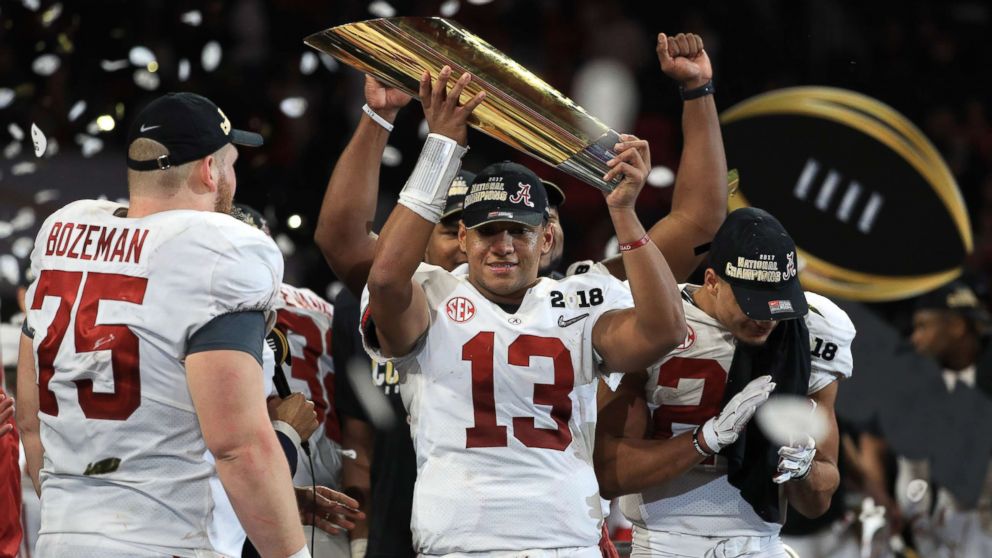 The No. 4 ranked Crimson Tide were down 13-0 to the No. 3 ranked Bulldogs at the half when Alabama head coach Nick Saban made the decision to pull Hurts and play Tagovailoa, something the freshman was not expecting.
"I mean, you got to be ready when your number is called and that was just my opportunity to be able to get in and just show everybody what I was able to do, you know. I was fortunate enough to have that opportunity," Tagovailoa said. "I mean, it was a team effort -- [It] couldn't have been done if the defense didn't give us the ball back, the offensive line didn't do their job and receivers didn't catch, [it was a] team effort."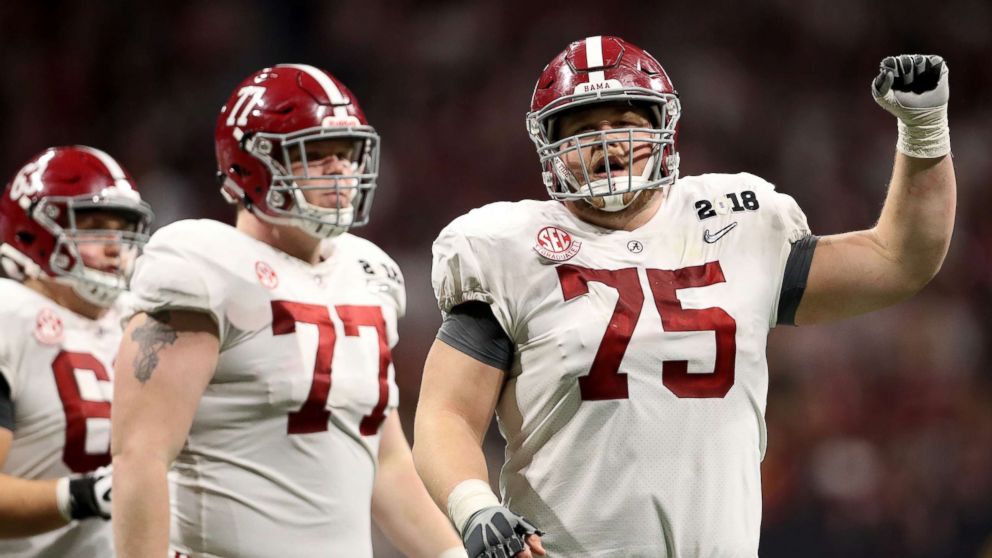 Among the on-field celebrations and fanfare after the overtime victory, offensive lineman Bradley Bozeman had his eyes on another prize.
Bozeman told GMA" he was planning a marriage proposal "ever since we found out we were in" and gave the ring to one of the team's nutritionists, Kevin Murray, for safe keeping until it was time to pop the question.
"[It's] just kind of been in the back of my mind and, you know. It's such a great blessing to be able to give her that special moment and on that big a platform," Bozeman said. "I couldn't ask for anything better."
Both players said the emotion of the win was the culmination of a season of support from their fans.
"You know, I haven't been the starter but I could see the tremendous amount of support y'all have shown us, whether we're playing or not playing, thank you guys so much for that," Tagovailoa said.
Tagovailoa was named offensive MVP for the College Football Playoff National Championship after going 14-of-24 for 166 yards and three touchdowns, all in the second half.