— -- Alec Baldwin has revealed that he almost passed on playing Donald Trump on "Saturday Night Live."
The actor told Vanity Fair for its April cover story that he originally passed on "SNL" producer Lorne Michaels' offer to play Trump but changed his mind after a film role fell through.
"I was supposed to do a film. And the people who were doing the film were supposed to escrow money to guarantee that I would get paid," he said in a video accompanying the cover story. "And they didn't put the money in escrow. And that's when I hung up and said I'm not going to go do the movie and I'm going to go do the thing with Lorne. And I think to myself, 'What if I hadn't done that?' ... It's turned out to be this incredible opportunity."
Baldwin's impression has been so popular that he has parlayed it into an upcoming satirical book and made his record 17th appearance as host of "SNL" earlier this year.
He talks about playing Trump, working with "SNL" stars Kate McKinnon and Tina Fey, and starring in the best role of his life in his new memoir "Nevertheless," due out next month. Vanity Fair published an exclusive excerpt.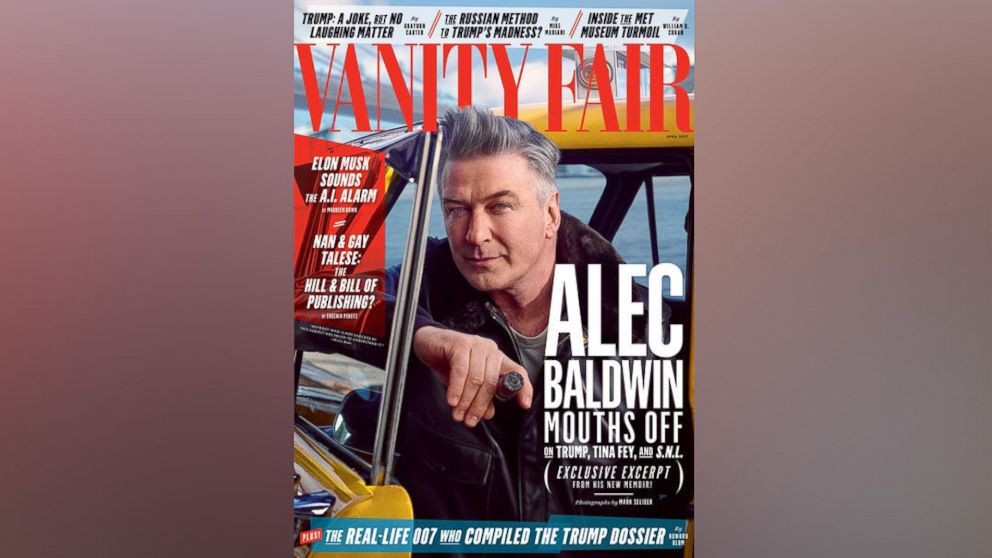 McKinnon, he said, is "one of the three most talented people" he's ever worked with on the show.
"She's funny -- she has that whole comedy DNA thing that Tina [Fey] and all those people I've worked with have," he said in an accompanying video on Vanity Fair.com. "But she's a great actress. You have to have an acting ability to play [Jeff] Sessions ... and to play Elizabeth Warren and then she plays Hillary [Clinton] and then she plays Kellyanne Conway. Truly ... there is no limit to what she can do and I really have fallen madly in love with Kate when I've worked with her."
His first love, however, was for Fey, whom he described in the excerpt as "beautiful and brunette, smart and funny, by turns smug and diffident and completely uninterested in me or anything I had to say."
He added, "I had the same reaction that I'm sure many men and women have: I fell in love."
As it turned out, Fey was already married to Jeff Richmond and Baldwin had to settle for working with her.
He called his role as Jack Donaghy on Fey's show "30 Rock," "the best" job he's ever had.
"As we shot the series finale, on a December night in Lower Manhattan, my building rush of nostalgia for the show hit its peak," Baldwin said. "Freezing my a-- off on a boat floating in a marina in Battery Park City, Jack groped his way toward telling Liz [Fey's character Liz Lemon] he loved her. 'Lemon, there is a word, a once special word, that has been tragically co-opted by the romance-industrial complex.' That night was tough. The best job I ever had, that I will ever have, was over."