The Best of Super Bowl LI Commercials
For non-sports enthusiasts, the ads are the best part of the Super Bowl.,
February 5, 2017, 9:23 PM
— -- Another Super Bowl, another reason to tune into the biggest American sporting sideshow of the year: the commercials.
A 30-second spot in Super Bowl LI is reportedly costing advertisers $5 million this year. At that price, the ads go for $166,666.67 per second.
In recent years, advertisers have started to leak their Super Bowl masterpieces in the days leading up to the big game. But some companies have decided to hold off until the big game to unveil their masterpieces.
Here are the most notable Super Bowl commercials so far:
Procter & Gamble: Sexy Mr. Clean
In his first-ever Super Bowl ad, Mr. Clean is shown dancing around a house as he cleans, with a female home owner watching it all. Mr. Clean's new sex appeal got a lot of attention on social media.
Mr. Clean was also a fixture on the computer screen by tweeting throughout the game under the handle @RealMrClean. The brand encouraged viewers to submit their own "best cleaning moves."
The Mr. Clean ad was one of four ads purchased by parent company Procter & Gamble. The multi-spot purchase was the first time the company has run more than a single commercial during a Super Bowl game.
Audi: Striving for Equal Pay
Audi's Super Bowl LI commercial focused on the luxury car company's commitment to equal pay for women.
The commercial begins with a father watching his young daughter's box car race, where is she competing mostly against boys.
"What do I tell my daughter?" the father asks himself. "Do I tell her how her grandpa's worth more than her grandma? That her dad is worth more than her mom?"
"Do I tell her that despite her education, her drive, her skills, her intelligence, she will automatically be valued less than every man she ever meets?" the father continues.
Then, his daughter crosses the checkered finish line first, winning the race.
"Or maybe, I'll be able to tell her something different," the father says as the two walk toward his Audi S5.
"Audi America is committed to equal pay for equal work," the commercial ends. "Progress is for everyone."
Honda CRV: How Famous Faces Chased Their Dreams
Honda's Super Bowl commercial features several famous faces before they hit it big.
"When you start out, you might not know where you're going," a young Tina Fey says from her senior high school yearbook.
"You just keep going. Keep your focus, and avoid the distractions," Robert Redford says from his high school portrait before all of his female classmates around him swoon.
"Sometimes, you may fall flat on your face," Amy Adams says to her younger self before blowing a chunk of hair out of her face. "But, technically, that's still moving forward."
"You gotta pick yourself up, make some moves, and do it all with a smile," a young Earvin "Magic" Johnson says.
"Believe in yourself," Steve Carell says. "You think that any of these folks believed that I'd make it?"
Other celebrities like Missy Elliot, Stan Lee, Jimmy Kimmel and Viola Davis also make cameos in the Honda CR-V commercial, which is dedicated to "chasing dreams and the amazing places they lead."
84 Lumber's Controversial Commercial
The original version of 84 Lumber's commercial, which tells the story of an immigrant family's journey across the border from Mexico, was deemed by FOX as being too controversial.
In the updated version, a mother and daughter are seen making their way toward a new life. A woman looks longingly at pictures of family before she and her daughter catch a ride on the back of a truck headed in the direction of a barb-wired fence.
The pair walk through farmland and eat street food, finding clues in the form of white plastic bags.
The commercial ends with the mother and daughter walking hand-in-hand as they continue their journey. It then points viewers to a website where they can view the original version.
Lady Gaga for Tiffany & Co.
The star of the Pepsi Zero Sugar Super Bowl LI halftime show also starred in a Super Bowl commercial: she was introduced as the face of Tiffany & Co's new HardWare collection.
The black-and-white commercial begins as Lady Gaga appears deep in concentration while playing the harmonica.
Despite being the queen of dramatic, the pop superstar wears a simple black outfit while she talks about what Tiffany & Co. meant to her as a native New Yorker.
"You're born knowing that Tiffany's is the best," she says. "You know that you will have a truly special moment if you go to the Tiffany's store and look into those windows."
Lady Gaga then muses about her reputation as a rebel and what being creative means to her.
"I always want to be challenging the status quo," she says. "I love to change. It makes me feel alive."
Airbnb: "We Accept"
Airbnb created an advertisement that appeals to the beauty of acceptance.
The Super Bowl ad features up-close images of a variety of faces with the words "we believe no matter who you are, where you're from, who you love or who you worship, we all belong. The world is more beautiful the more you accept" written across.
The ad ended with the hashtag #weaccept.
Airbnb has been critical of President Donald Trump's executive order limiting immigration for citizens and refugees from several Muslim-majority nations.
"Bai Bai Bai"
Pop superstar Justin Timberlake went back to his roots to help promote a fruit-infused health drink that happens to be an antonym of one of his most famous songs with the group *NSYNC.
The Bai commercial begins with actor Christopher Walken speaking the lyrics to the boy band's "Bye Bye Bye."
"I've had enough," Walken says in his infamous voice. "It might sound crazy, but it ain't no lie, baby. Bye, bye bye."
The camera then zooms out to show Timberlake sitting next to Walken, who has a puzzled look on his face.
Timberlake previewed the Super Bowl commercial last week but did not reveal the *NSYNC-themed premise of the plot. It merely showed a silent Timberlake staring into the camera.
Coca-Cola: "Together is Beautiful"
In a poignant commercial, Coca-Cola celebrated the country's diversity by featuring several people singing "America the Beautiful" in different languages.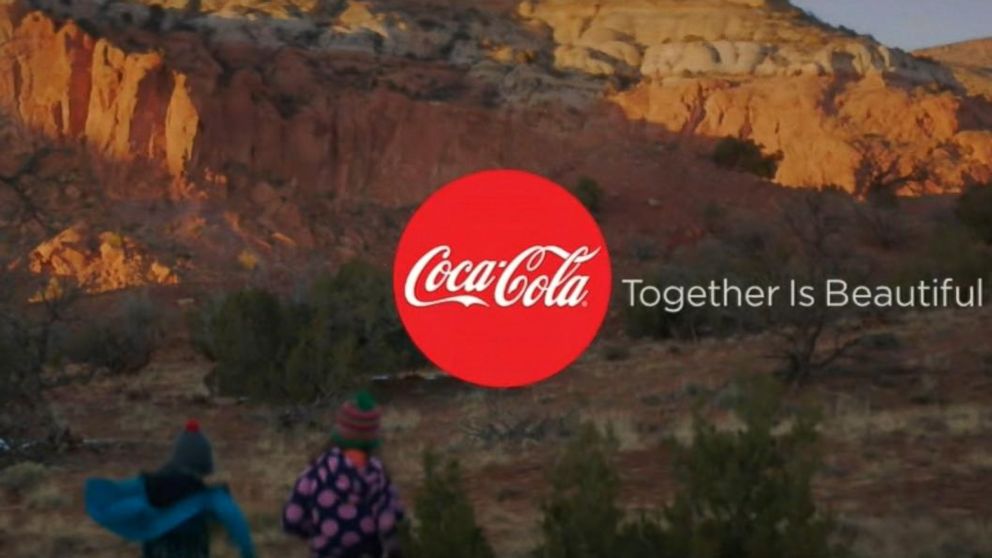 The commercial opens up with a man in a cowboy hat riding a horse. It goes on to depict the simplicity of American life, showing children playing, surfers searching for the perfect wave and teens breakdancing in the street.
Perhaps meant to calm the divisiveness facing the nation after the negative presidential election, the commercial ends with the words "Together is Beautiful."
Car commercials featuring a celebrity endorser are a dime a dozen during the Super Bowl, but Buick's 2017 commercial features two stars: an NFL quarterback and a world-famous supermodel.
In the commercial, two dads are watching their sons play in a pee wee football game. One of the fathers cheers on his quarterback son after he gets sacked and coaches shake their heads in disappointment.
A red convertible then pulls into the parking lot, catching the fathers' attention.
"Whoa," one father says to the other. "Check out that Buick."
"Wow, that's nice," the other father says. "But if that's a Buick, then my kid's Cam Newton."
Suddenly, the North Carolina Panthers' starting quarterback is dominating the field.
Newton then sees a dark-colored SUV pull into the parking lot and says to the coach, "That's a good-looking Buick right there."
"If that's a Buick, then I'm a supermodel," the coach replies, before transforming into former Victoria's Secret Angel Miranda Kerr.
Brett Favre's All-Time Interception Record Re-imagined as a Conspiracy
Buffalo Wild Wings capitalized on a statistic that no quarterback would ever want to be a part of: Brett Favre's all-time interception record.
The extended cut of the commercial opens up in a rural setting with the retired hall of famer displaying his throwing accuracy by lobbing footballs directly at players made of straw.
"Just doesn't make any sense," he says to himself after delivering the football to his latest target square in the chest.
Two men wearing dark suits and fedoras then pull up to the field and ominously tell Favre that they need to talk to him. Once back at the former quarterback's home, they show him footage of a ball he threw moving on its own after it left his hands.
"Not all of those interceptions were your fault," the man tells Favre, who then begins to obsess about who is responsible for his shameful record.
Melissa McCarthy's 'Hero's Journey' for the 2017 Kia Niro
In a hilarious commercial for Kia, actress Melissa McCarthy shows off her comedic chops while trying to save the world.
The ad opens up to McCarthy driving in a 2017 Kia Niro when a phone call comes in, telling her, "The whales need your help."
"I love whales," McCarthy says, visibly distressed by the news.
In the following scenes, McCarthy is constantly getting hurt in her hero's quest. When she goes to save the whales, she gets thrown into the side of a ship. Next, McCarthy clings to the top of a tree as a worker using a chainsaw cuts it down. And as she plants a "Save The Ice Caps" sign, the ice underneath her cracks, sending her into the freezing water below.
Budweiser's Take on Immigration
Budweiser is a staple in Super Bowl advertising, but its signature Clydesdale horses were noticeably missing from perhaps its most patriotic commercial ever, which tells the story of the founder of Anheuser-Busch's journey to becoming an American.
"You don't look like you're from around here," a man in a bar says to Adolphus Busch at the beginning of the 60-second ad.
The next scene shows Busch being thrown from his bunk in the lower deck of a ship sailing across the Atlantic from Europe to the U.S. during rough seas.
"Why leave Germany," Busch is asked as a man treats his injury with stitches.
"I want to brew beer," he answers.
After his documents are stamped, Busch is faced with crowds of men who tell him he isn't "wanted here" and to "go back home."
Then flashes of Busch's life appear, including his struggles to adapt to his new home and his journey St. Louis, the birthplace of the company.
Skittles Reinvents Romance
Skittles' Super Bowl commercial has already made the rounds through the internet with almost 4.5 million views on YouTube as of Tuesday.
In the commercial, a teen throws Skittles at the bedroom window of his love interest to get her attention.
Little does the love-struck teen know that each member of the family inside takes turns picking off the flying Skittles with their mouths.
After each person gets a Skittle, they scoot over, keeping the rotation moving so that the neighborhood burglar, a patrolling police officer and a visiting groundhog each get their turn.
The ad ends with the catchphrase "Romance the Rainbow."
Avocados From Mexico's Subliminal Advertising
Bring on the guacamole. "Saturday Night Live" alum Jon Lovitz makes a quick appearance in an Avocados from Mexico Super Bowl commercial.
The ad begins with several members of a secret society, all dressed in robes and masks, standing in a circle in a dark hall discussing the possibility that someone is leaking information, which includes them faking the moon landing and that there are actually only "49 shades of grey."
"Have they figured out we deflated footballs?" a member asks, referring to the much-talked-about Deflategate scandal that plagued the New England Patriots before the start of the season.
"No, we found a fall guy for that one," the leader says.
According to the leader, the fact that avocados have "good fat" is also a secret that has been released. He then turns to a member named Kyle, who is apparently streaming the meeting, and they realize he is the culprit.
You Don't Have to Fake Your Own Death for Lower Cellphone Bills, Sprint Says
Sprint sent a message to prospective customers saying that they don't need to go to extreme measures to save on their wireless bill.
In the 30-second commercial, a father pushes his car off a cliff, which contained a dummy in the driver's seat that bears an uncanny resemblance to him.
The man's children watch in fear as the car crashes into the rocky ground below, and he turns to them and says, "Well kids, daddy's dead." Then, Paul Marcarelli, the former Verizon Wireless spokesperson who made the phrase "Can you hear me now?" famous, appears.
"Faking your own death to get out of your Verizon contract?" Marcarelli asks.
The boy then turns to his father and says, "Isn't that illegal?"
"What are you, a cop?" the man says to his son, with a hint of nervousness in his voice.
Marcarelli then explains to him that he "could have just switched to Sprint."
"Shoot," the father says sheepishly as his children look at him in bewilderment.
Nintendo's First-Ever Super Bowl Commercial
Japanese gaming giant Nintendo took the plunge for its first Super Bowl ad to market the soon-to-be released Nintendo Switch, a hybrid gaming system due out in March.
Viewers are introduced to the Switch in the 90-second sneak peak of the spot. It can function as a portable gaming device with actual buttons on either side of the screen but can also function as a console similar to the Nintendo Wii.