— -- Mayim Bialik is one of the most recognizable faces in the world, thanks in great part to her starring role in the prime-time comedy series "The Big Bang Theory." Bialik plays Dr. Amy Farrah Fowler, girlfriend to Dr. Sheldon Cooper, played by Jim Parsons. But she's also a real-life neuroscientist. She had been teaching neuroscience and parenting her two children when she realized she needed to make a return to the TV business.
"The true story is I was running out of health insurance," Bialik said in an appearance on ABC's "Popcorn With Peter Travers," "and figured if I could even get a couple of acting jobs here and there, and if it's enough to get you your Screen Actors Guild Aftra health insurance, we would at least have insurance. My then husband was still working on his master's degree. I was teaching neuroscience for about five years. And I was not expecting to be a full-time actor. But this show called 'The Big Bang Theory' brought me on."
Bialik joined the show in season 3 and was made a series regular in season 4. The series is now in its 10th season. The character she plays is a late bloomer and socially awkward, which inspired Bialik to pen an article on her website, GrokNation.com, about the difficult times young girls may face. That article in part led to her writing the book "Girling Up: How to Be Strong, Smart and Spectacular," which focuses on the entire female experience.
"I wrote a book kind of about all things female," Bialik, 41, told Peter Travers, "From puberty and sex and dating and hormones, to how we learn and what we put in our bodies, how we cope with difficult things and how ultimately we can make an impact in the world. The book's written for 10- to 18-year-old girls. But other people can read it who know girls in that age range."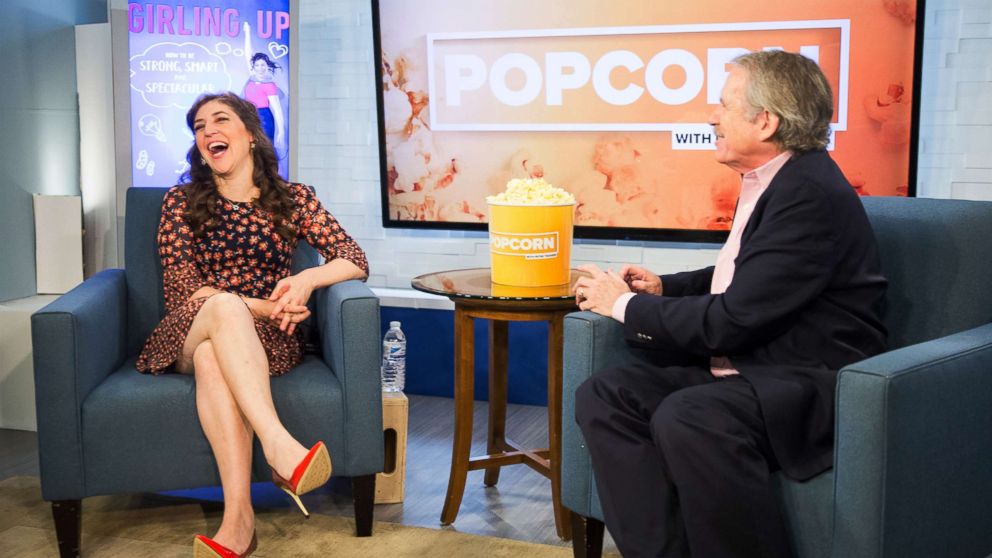 It's a subject she can personally relate to based on her own experiences.
"My first kiss was on camera. My second kiss was on camera. I didn't have a boyfriend until I was out of high school," Bialick said. "I didn't hook up with people. I didn't understand a lot of the things other kids were talking about or were interested in. I arrived at puberty very late. So all of those things lead to a very different kind of female experience."
She added, "When I was growing up, that was when no one talked about things. And I don't just mean in my home, I mean socially we don't talk about things. And when I was 15, if someone had said to me, 'Things are going to hurt in your life, and you're going to feel these emotions and this is what it does to your body if you don't take care of them, here are the three things that you can do, you can teach yourself to breathe, you can teach yourself to meditate, you can find solace in friendship, in music, in art' -- if someone had said those things to me, I think it would have saved me a lot of heartache and a lot of difficulty. So what I decided to do with this book is write the book that I wish that I had had."
Download the all new "Popcorn With Peter Travers" podcasts on Apple Podcasts, Spotify, Google Play Music and Stitcher.
Be sure to watch the full interview with Peter Travers and Mayim Bialik in the video above.