Ten years ago, Darius Rucker found himself on stage as the new kid -- a feeling the front man of the mega-popular '90s rock band Hootie and the Blowfish hadn't experienced in a very long time.
It was 2008. The three-time Grammy-winning singer and rhythm guitarist had wrapped a fresh tour with Hootie and then stepped out as Darius Rucker, a solo opening act for some of country music's biggest stars.
"Brooks and Dunn in Miami, Oklahoma. That was my very first show in country music," Rucker told ABC News during an interview for the ABC's Robin Roberts' CMA Awards special airing this November. "I went on tour with Brad Paisley and Dierks Bentley and I was a baby band, you know?"
"We had just finished the Hootie tour probably six months before this is all happening," he continued. "I'd go from headlining and selling out some of those arenas to being the baby band that gets 30 minutes. I thought, 'this is really cool.'"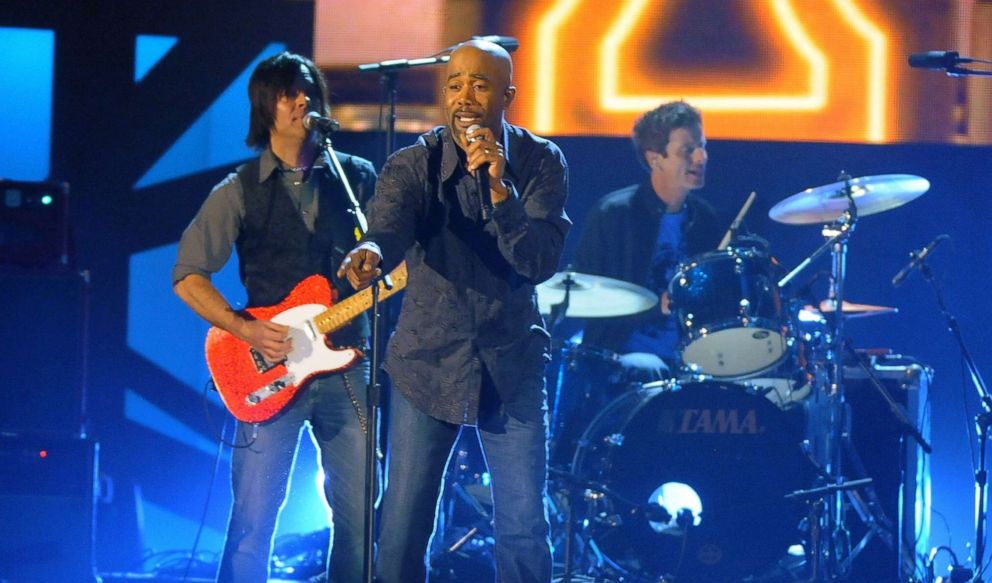 Even during Hootie's early years in the late '80s, Rucker, a South Carolina native, said he long had been thinking about putting together a country album one day.
"Back in 1989, this guy Radney Foster came out with a record called 'Del Rio, TX, 1959' and it's one of those records that changed the way I heard music," Rucker said. "It really hit me hard and I loved it… and I kept always saying, 'One day, I'm going to make a country record.'"
During their heyday in the '90s, Hootie and the Blowfish won Grammys and had chart-topping hits such as, "Hold My Hand," "Let Her Cry" and "Only Wanna Be With You." But after a summer of touring in 2007, the bandmates started working on solo albums.
"All of a sudden, Hootie wasn't going to tour every year anymore," Rucker said. "I was like, 'Well I'm going to try to make a country record.' … I was just going to do it in the basement with my friends, but got a record deal and it's been a pretty cool run."
It turned out to be a pretty solid gamble. Rucker is now a country music superstar, headlining a new tour with Lady Antebellum that kicks off today in Toronto and will run through October. He has put out four country albums, with a fifth due out in October, which has lead him to five No. 1 singles, such as "Come Back Song" and "Don't Think I Don't Think About It," which was the song he performed at the 2009 CMA Awards. That year, Rucker won the CMA New Artist of the Year award.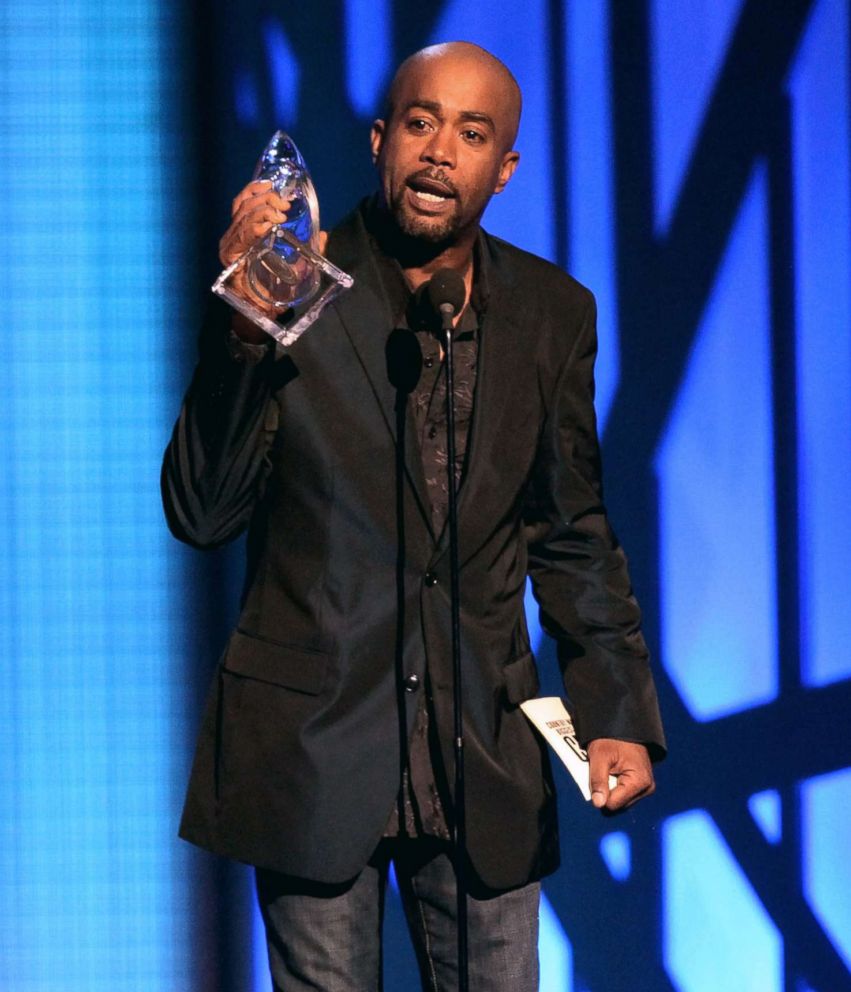 "[Winning that award] was amazing," he said. "That's also one of those iconic moments in my memories of everything that's gone down in the last 10 years, is, you know, getting up and giving Zac Brown [of the Zac Brown Band] that big hug, and walking up there and … I was like, 'Wow, that's really unbelievable.'"
In 2012, Rucker became a member of the Grand Ole Opry.
Rucker has said in the past that country artists who have come before him, such as Kenny Rogers, have influenced his sound, but the singer said he does have at least one "guilty pleasure" country song on his phone.
"Oh absolutely, got to be [Billy Ray Cyrus'] 'Achy Breaky Heart.' If that comes on, I turn it up," he said. "I love that song."
Catch more with Darius Rucker on the upcoming ABC's Robin Roberts' CMA Awards special airing this November.