Eminem blasts Donald Trump in freestyle rap at BET Hip-Hop Awards
The rap superstar held nothing back in criticizing the president on Tuesday.
October 11, 2017, 3:34 AM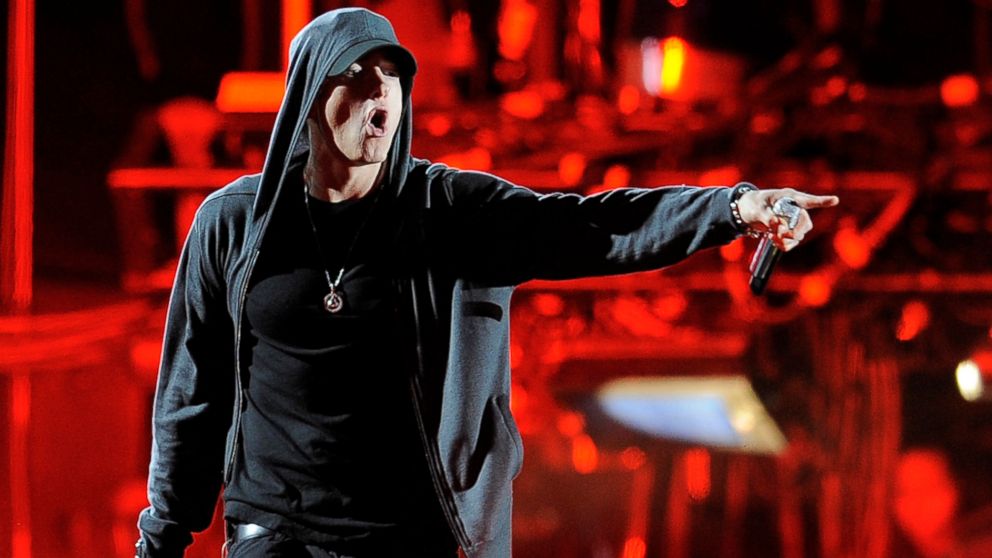 — -- Eminem, in typical fashion, held nothing back in a blistering freestyle rap attack on President Donald Trump aired on Tuesday night during the BET Hip-Hop Awards.
The Detroit-born rapper filmed a four-minute-and-34-second long video, which debuted during the awards show. Eminem, real name Marshall Mathers, blasted Trump for everything from ignoring tragedies in favor of "causing a Twitter storm" to "support for the Klansman" and slandering Hillary Clinton. He also refers to Trump as "this racist 94-year-old grandpa" in the profanity-filled freestyle filmed in a parking garage in Eminem's home city.
The video had 1.5 million views and was the No. 1 trending video on YouTube within hours of airing on BET.
The 44-year-old rapper also tweeted a link to the video, titled "The Storm," which had nearly 130,000 likes and 70,000 retweets within six hours -- not to mention 4,700 comments.
Eminem cited Trump's recklessness in dealing with North Korea, saying the president would "probably cause a nuclear holocaust."
"We better give Obama props 'cause what we got in office now is a kamikaze that will probably cause a nuclear holocaust while the drama pops, and he waits for s--- to quiet down, he'll just gas his plane up and fly around till the bombing stops," Eminem freestyles in the video.
Eminem references the president's propensity for using Twitter -- something the commander in chief will likely use to attack the rapper before long.
"He gets an enormous reaction when he attacks the NFL, so we focus on that instead of talking Puerto Rico or gun reform for Nevada," Eminem raps. "All these horrible tragedies and he's bored and would rather cause a Twitter storm with the Packers."
Speaking of the NFL, former 49ers quarterback and Trump lightning rod Colin Kaepernick tweeted a link to the video soon after it was posted. Kaepernick's kneeling during the national anthem in protest of racial injustice before a 2016 preseason game created the impetus for Trump's criticism of NFL players at a rally last month. Kaepernick tweeted solely "I appreciate you Eminem" with a link to the freestyle.
The rapper has hardly been silent in his criticism of Trump in the past. He released a track titled "Campaign Speech" in October 2016 which also ripped then-candidate Trump, saying America should "be afraid of this dang candidate."