— -- On the same day it was announced by music promoter Live Nation that the remainder of his Saint Pablo tour was cancelled, Kanye West was taken to the hospital in Los Angeles last night, an official told ABC News.
The cause, according to a source, was exhaustion and sleep deprivation. A rep for the star did not immediately respond to a request for comment, but the hospital visit, the source adds, was voluntarily and under the consultation of his physician.
Monday's events are the latest in a line of troubles for the Grammy winner this year. West, 39, has never been one to shy away from voicing his opinion, but in the past week, he's not only walked off stage during a show, but even attacked close friends and constant collaborators such as Beyonce and Jay Z. This is out of character for West, who has always been fiercely loyal to friends and family.
When West debuted his new song "Famous" earlier this year, the fragile friendship between West and Taylor Swift fell apart. In one lyric West raps about Swift, "I made that b---- famous."
West said he ran the lyric by Swift and she gave "her blessings." Swift's rep denied the account and said West did not call for the approval. This was in February and the back and forth carried on well into the summer, until West's wife posted a recording of the two artists talking about the song.
In the videos, Swift thanked West for the heads up, but originally said in February that he never mentioned calling her "that b----."
Also this year West tweeted a cryptic message that he was in serious debt.
"I write this to you my brothers while still 53 million dollars in personal debt... Please pray we overcome..." he wrote, also reaching out to tech giants like Facebook's Mark Zuckerberg for money.
In the summer, West took to social media yet again, this time to play mediator. He weighed in on what he called a "beef" between tech giant Apple and his dear friend Jay Z's new streaming service Tidal.
"This Tidal Apple Beef is f------ up the music game," he exclaimed. West continued that he wanted to get the heads of the music giants together in the same room to work a deal out amid reports of a merger that could bring more music to fans.
"F--- all this d--- swinging contest. We all gon be dead in 100 Years. Let the kids have the music," he added.
Any rumored deal did not come to fruition. After Fortune and Forbes reported about the alleged talks between Apple and Tidal, Apple Music head Jimmy Lovine told BuzzFeed, "We're not looking to acquire any streaming services."
Later in the year, West's fashion line, Yeezy, possibly his greatest passion behind music and family, was also under fire. In September, critics called his New York Fashion Week show "boring."
The Washington Post's fashion critic Robin Givhan wrote that West's show was "worse than bad."
West took these remarks in stride though, writing "Each and every one's time, insight and feelings are invaluable to us. We want to make people feel great. Thank you for embarking on this creative journey."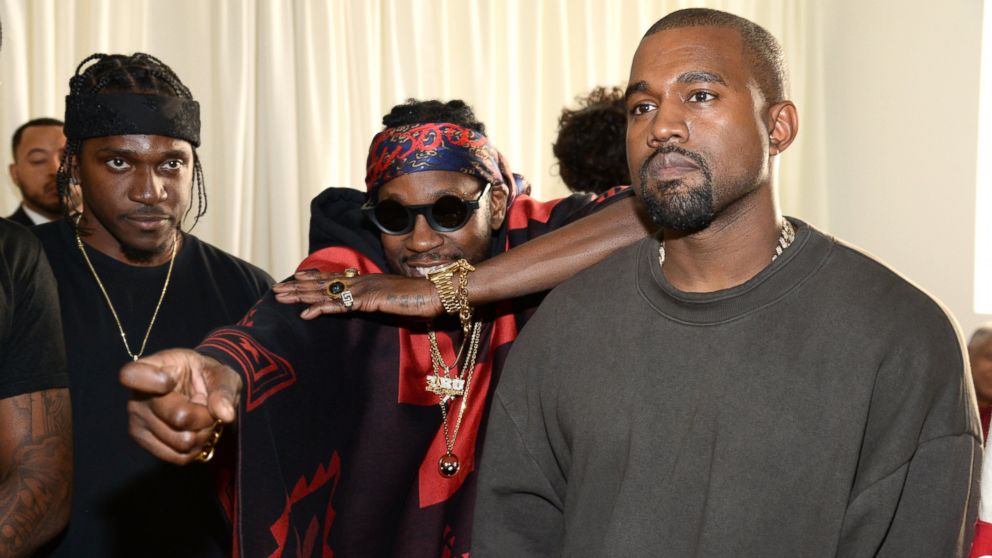 ABC's "The View" later obtained and aired videos and photos of models falling down and fainting during the Yeezy show.
One month after mixed reviews for his beloved line, West cut a New York concert short after hearing that his wife Kim Kardashian West had been held up at gunpoint in Paris.
It was later confirmed that Kardashian West was robbed in a private mansion in Paris during Fashion Week and millions of dollars of jewelry were stolen. Khloe Kardashian later spoke to Ellen DeGeneres about her sister's recovery, saying she was "not doing that well."
"It's incredibly traumatic what happened to her, but our family is super close and great, and we'll get through it together," Khloe Kardashian added.
Then came the events of last week, starting with West saying that if he had in fact voted in the 2016 election, "I would have voted on Trump."
A few days later on Saturday night, he ranted more about Trump and criticized past collaborators and friends like Jay Z, even calling out President Barack Obama who he said "couldn't make America great." He arrived late and left the show early, dropping the mic.
He cancelled his show the next day, followed by the rest of his tour on Monday, then the hospitalization.
Before the news of his hospital stay, West returned to Instagram, a platform he hadn't used in some time, to post grainy pictures of innocuous fashion shots of shoes, belts and hats. Fans were confused, writing "[what] is going on Kanye??" in some of the comments.