John Travolta returned to the witness stand today and testified that the Bahamian medic accused of trying to blackmail him was allegedly threatening to say that Travolta was at fault in his son Jett's death.
The actor was called back to the stand to confirm that on Jan. 16, two weeks after Jett died, he had been notified by his bodyguard and his attorney that someone was demanding $25 million and, if it wasn't paid, a document Travolta signed to refuse transporting Jett to a local hospital would be "sold to the press."
Showing no emotion, Travolta told the court in Nassau that paramedic Tarino Lightbourne allegedly threatened that the leaked document would result in "stories that would imply that the death of my son was intentional … that I was culpable in some way."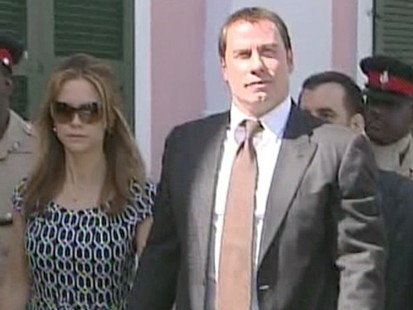 On cross-examination, Travolta admitted that he was never called or threatened personally by either of the defendants -- Lightbourne or Bahamian lawmaker Pleasant Bridgewater, who is also charged with blackmailing Travolta.
The case against the pair has always alleged that the threats were made through Travolta's bodyguards and attorney.
Travolta was released by the judge and is not expected to reappear in court. He left with wife Kelly Preston, holding hands and surrounded by security.
Later today, the prosecution is expected to show a hidden-camera video that could provide incriminating evidence against Lightbourne and Bridgewater.
The video reportedly captured Lightbourne, negotiating with Travolta's lawyer, Michael McDermott, for a payoff to keep do-not-transfer documents signed by Travolta confidential, according to a report by People magazine. Near the end of the 44-minute tape, the pair reportedly settled on a price of $15 million.
"Case closed. Case closed," Lightbourne said in the video. "Once this is closed, it's buried deeper than the Titanic."
The alleged extortion did not stay buried for long, however, as Travolta's bodyguard of 23 years said during the trial that he learned of the extortion attempt and was the one to tell Travolta. Travolta took the two defendants to trial earlier this month.
The paperwork they allegedly threatened to release is a "refusal to transport," which someone would sign when refusing emergency medical services, thereby releasing first responders from liability.
The do-not-transfer documents were signed by Travolta, meaning he wanted son Jett, 16, taken to Florida for treatment. But the actor later changed his mind and accompanied Jett to a local hospital, where he was pronounced dead.
A police report claimed Bridgewater burned her copy of the key medical record in the case, using a candle to ignite the document, and flushed the ashes down the toilet after she got nervous the "incident was about to explode."
Travolta Takes the Stand
Travolta took the stand last week to detail his actions on the night of his son's death.
"I ran downstairs with my wife to help my son," Travolta said, according to The Associated Press.
In his testimony, he said he and Preston were awakened by a nanny around 10:15 a.m. Jan. 2, the day of Jett's death. Travolta said that when he went downstairs, another caretaker was doing chest compressions, and he began administering breathing help.
The testimony was apparently the first time Travolta had talked publicly about his son's autism. He had said in the past that Jett suffered from Kawasaki disease, a rare condition in children that involves inflammation of the blood vessels.
Lightbourne rode with Travolta and his son in Jett's last moments.
"It was me, him and Jett," Lightbourne told ABC's "Good Morning America" Jan. 5. "I'll never forget this day. I saw him lean over and hug his son and kiss his son and tell him he loved him and I did everything I could. I saw love in his eyes, I saw love. [Travolta] hugged him, put his arm around him, kissed him on the forehead and the cheek and told him he loved him. He then turned to me and gave me a hug and said, 'You guys did a wonderful job.'"
People magazine reporter Mike Fleeman, who heard the hidden-camera tape, said it represented a "smoking gun" against Lightbourne but may not be allowed in the courtroom as the defense is strongly opposed to its inclusion in the trial.
Both Lightbourne and Bridgewater have pleaded not guilty to conspiracy to commit extortion. If convicted, they could face up to 10 years or more in prison.
ABC News' Mary Rose Abraham and Lee Ferran contributed to this report.