LeBron James 'Humbled' by SI Sportsperson of the Year Award
James delivered a heartfelt speech in Brooklyn, thanking many.
December 13, 2016, 12:22 PM
— -- LeBron James was honored Monday night in Brooklyn, New York, at the annual Sports Illustrated sportsperson of the year event, which celebrated his commitment to his team, his sport and the city of Cleveland.
James was featured on the cover of the magazine last week when it named him the 2016 sportsperson of the year — his 26th SI cover and second sportsperson of the year award. He is now the magazine's third-most-featured athlete, behind Michael Jordan and Muhammad Ali.
Robin Roberts of "Good Morning America" caught up with James at the ceremony to discuss his impressive journey and the meaning behind this accolade.

Thinking back to James' first SI cover in 2002, with the line "The Chosen One," Roberts asked the reigning NBA champ if he has reflected on the path that led to this moment.

"I haven't yet ... 'cause I'm still walking that yellow brick road," he said, laughing. "Anytime that I hear — like you said, it's my 26th cover of Sports Illustrated — it's like, I never dreamed about that. I was, like, 'Just gimme one, please,' when I was a kid, and I made my own up. It's, it's just too humbling."

Jay-Z welcomed "King James" to the stage, and he was presented with the honor, becoming the second athlete in history to receive the award multiple times.
James delivered a touching and heartfelt speech in which he thanked his greatest supporters as well as fellow competitors in the room and also talked about the inspiration of legends who came before him, without whose hard work James said the night would not have been possible.
"This award is not for me," James told the audience. He said the award was for his family members and the kids in his foundation, and then he dedicated it to the sports legends who shaped this moment.
"This award is for the great Muhammad Ali, for Bill Russel, for Jim Brown, for Kareem Abdul-Jabbar, because at the end of the day, I'm not standing up here if you four gentleman sit at that table in the 1960s ... The most four dominant athletes at that time didn't care what happened to them. They sacrificed everything that could have happened to them," James said.
"But their calling and their reason for doing what they had to do was for a night like tonight," he continued. "That in 2016 ... we all can sit up here as African-Americans, as white Americans, as Mexicans ... and just say, 'Wow, this is an unbelievable night,' in not only sports but in life."
James told Roberts moments before the ceremony that he was both humbled and honored to dedicate the award to his family, friends, fans and foundation. "I'm more happy of the fact that I'm receiving this on behalf of them, because that's — they're my inspiration every single day," he said.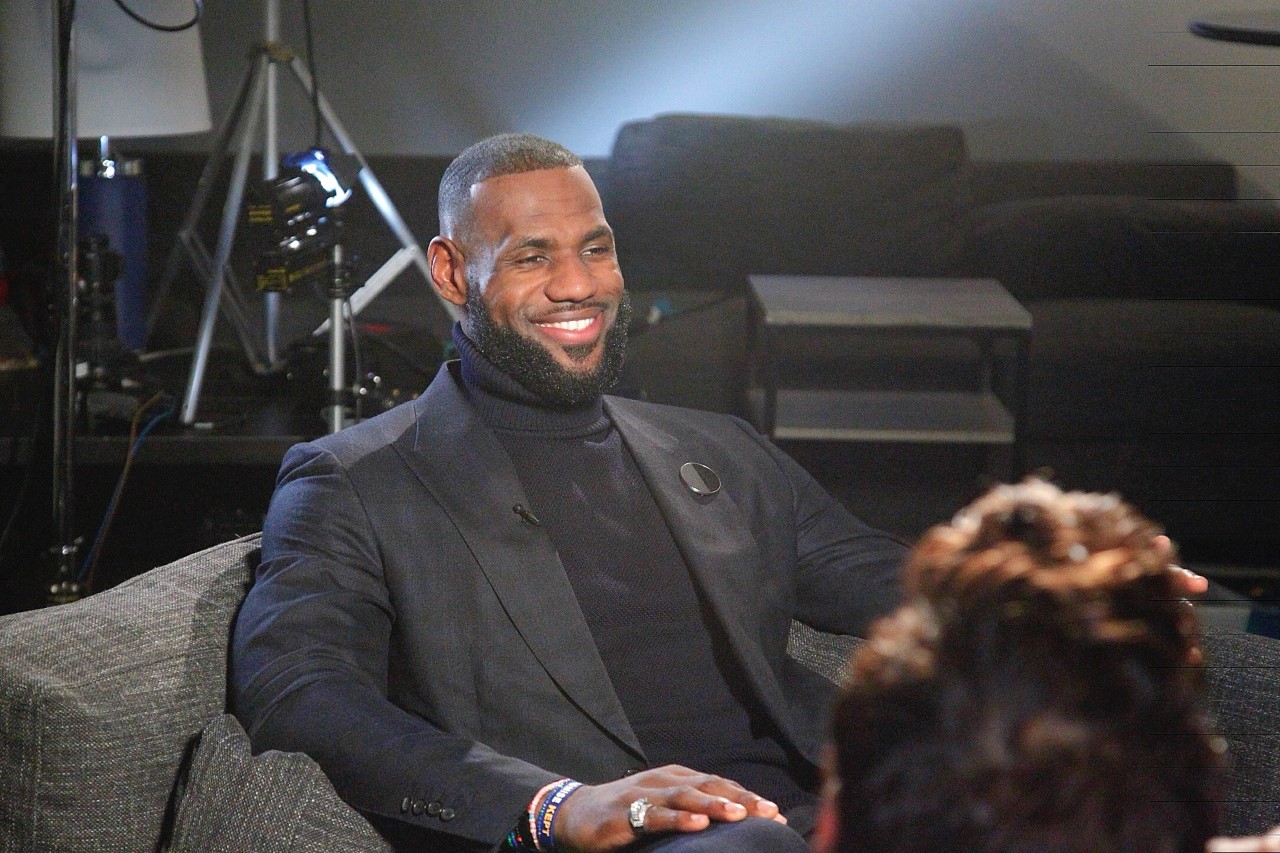 James said his decision to honor four of sport's greatest icons — also known for their activism — came from his early knowledge of the history of sport, and he said asked himself, "What did they do outside of sport that made them so transcendent?"
He said Ali, Russel, Brown and Abdul-Jabbar were good at what they did during times when "definitely nothing was handed to them and everything was earned."
The 2016 sportsperson of the year has a lot of hard-earned and well-deserved milestones to reflect on, but as he concluded in his speech, "It's never about the individual. It's always about the people behind him. It's always about the people that's behind the camera. It's always about the people that don't get the credit. It's always about the people that always sacrifice what they think they could be doing with their lives for the better of the individual."
James said he is excited about his latest endeavor, in television as the executive producer of the upcoming trivia game show "The Wall." He told Roberts that it will give "normal people an opportunity to change their lives."