In the tweet heard 'round the world, Lindsay Lohan confirmed late Friday that she'd failed a court-ordered drug test – an outcome that could send her back to jail, under the terms of her probation. TMZ.com reported that the actress had also tested positive for cocaine last week.
Now Lohan's probation has been revoked, and a bench warrant has been issued for her arrest. The warrant is on hold until 8:30 a.m. Friday morning, when the 24-year-old actress has been ordered to appear in court.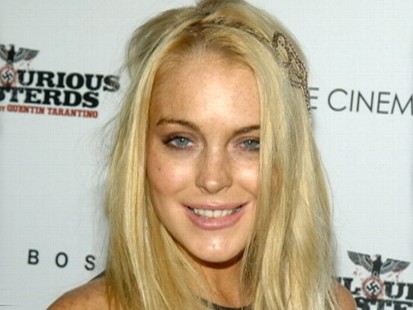 "A judge will routinely revoke probation when he receives a report from a probation officer, under oath, that the probationer has violated a condition of probation, such as illegal drug use," said Dana Cole, a criminal defense attorney and partner in the law firm Cole and Loeterman, in Los Angeles.
Supportive friends and fans may have cheered Lohan's openness and applauded her tweet that said, in part, "…i am trying hard." Foxnews.com reported that the actress had even joined Alcoholics Anonymous.
But the questions remain. With her personal life in such disarray, why would Lohan want to share the turmoil with even more people? Why use Twitter to communicate her shortcomings?
"The time she has already spent in rehab may have had a positive effect on her expressing her feelings, including remorse for having failed the drug test. The tweet may not have been manipulative at all," said Cole.
Shari Corbett, a psychologist specializing in addiction behavior and the senior executive director of Promises Treatment Centers in West Los Angeles and Malibu, told ABCNews.com that "people with substance-abuse problems don't want to relapse. No one wakes up in the morning and says, 'I think I'll humiliate myself internationally today!' Relapses are extraordinarily common. And relapsing is not a logical decision made in the frontal lobe. It's made in the reptilian part of the brain that's associated with craving." It's that craving that may well help explain the significance of the tweet, she added.
Getting Ahead of the Media?
"People that crave attention will tend to over-communicate and also invite over-communication" said Corbett, noting that not every substance abuser operates this way and that many well known celebrities enter and complete a stint in rehab without the media's knowledge.
"Because the news of her failed drug test had already been made public, Lindsay Lohan probably thought it was a better option to go on the offensive by tweeting," said Laurie Puhn, a communications expert and attorney in New York. "Her strategy was to deflect attention away from her failed drug test and to what she tweeted, which allows her to come out ahead in the news."
"Part of her substance abuse is tied to a Hollywood lifestyle, and being on Twitter, which draws in more fans, is tied to that," said Puhn, the author of "Fight Less, Love More: 5-Minute Conversations to Change Your Relationship without Blowing Up or Giving In." "The need for this type of attention is like a drug. So, to be tweeting about a substance abuse problem is like a second addiction. Her tweet sounds like a request for pity."
Cole believes that "the judge will try to address why she did relapse" before sending her back to do more jail time. However, he added, Lohan has now spent time behind bars. "The fear of jail might once have been greater than her experience in jail, and now she knows it's tolerable and not so terrible," he said. "Another short jail stint may no longer be an effective deterrent."
Will Lohan tweet about her odds, too?
"Being able to keep things private in one's own life is a sign of self-confidence because you don't need affirmation from others," said Puhn. "But over-sharing often indicates you don't have boundaries between your public and private life. You don't make your problem more real just because you tell it to other people."
Calls to Lohan's representatives were not returned to ABCNews.com.